Nine News takes Ekka interns
Written by Skye Doherty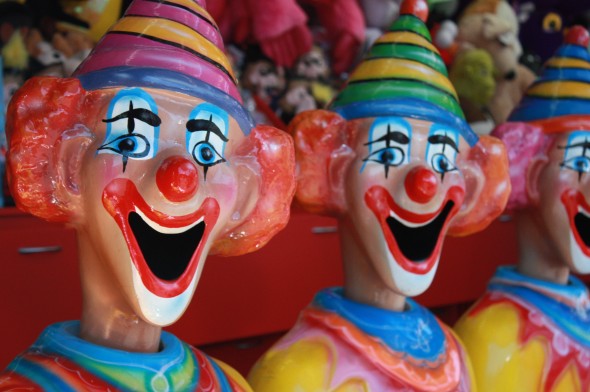 UQ journalism students will report the fun, sights and stories of the 2010 Brisbane Exhibition alongside Nine News television professionals.
Under an exciting new Ekka internship partnership with Nine News, interns will be based at Nine's purpose-built RNA newsroom and work to Nine's news reporters and producers.
And they will be in public view as Ekka crowds walk through the venue watching the reporters at work.
Final semester Bachelor of Journalism students competed for the internships which kick off with three weeks of intensive skills training before the Ekka gates open on 5th August.
The winning interns, Philippa Coore and Sarah Greenhalgh, with the support of Alexandra Taylor, will join the Channel Nine News crew to report the popular ten day event at the specially built Nine newsroom at the RNA showgrounds.
The students will be supervised by Channel Nine produces and reporters and will report stories for news websites and for Nine News.
The school's Journalism Internship coordinator and Journalist-in-Residence, John Austin, said the Ekka agreement takes the school-Nine partnership to a new level.
"Nine News is a great supporter and has provided many students with a genuine television news experience. However, the Ekka placements enable these students to learn by doing the job of video reporters working to real production deadlines and requirements," he said.
Nine News Director, Lee Anderson says Nine will benefit as well.
"We are delighted to welcome the UQ interns to our Broadcast Centre. We are looking forward to having them give our reporters some fresh ideas on daily coverage, and hopefully give them some experience of what's involved in reporting the news."
The interns are thrilled at the prospect of working with the best and say they can't wait to get their 'hands dirty'.
"I am honoured to be selected as one of two UQ journalism students to be an intern. This opportunity enables me to utilise my skillsthat I have learnt during my time at UQ. I am so excited to be able to work … with the Channel 9 team at one of Queensland's highlights of the year, the Ekka," Philippa Coore says.
For Sarah Greenhalgh, the placement is the next best thing to a trip overseas.
"I had planned to go to Europe … but due to unforeseen circumstances was unable to go…which actually worked out for the best. Instead of running with the bulls in Pamplona, I will instead be hanging out with the bulls at the RNA showgrounds …"