November 20, 2010
10:43 am
Tags: entrepreneurship, journalism
Category: Uncategorized
10 ways to make money
Written by Skye Doherty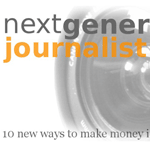 So much talk of free content verses paywalls and failing media business models is overshadowing a key aspect of digital publishing: opportunity.
That journalism needs some new ideas is a given, but what journalists – rather than media bosses – can do about it, is a perhaps a more important discussion.
Journalism is about telling stories for a public benefit and for many of those practicing it day to day this, not the company share price, is the driving factor.
Adam Westbrook has come up with 10 ideas for journalists. His e-book, Next Generation Journalist is on the virtual shelf and any aspiring or disenchanted journalist should read it. The book – a PDF download – is a practical guide to practicing journalism in a new way:
Portfolio career
Multimedia for non-profits
Aggregate content
Make apps
Set up a hyperlocal website
Specialise
Exploit storytelling
Set up a multimedia collaborative
Crowdfund projects
Become an 'infopreneur'
Most chapters include 'how to' sections, eg, how to create a website, how to create a smartphone app etc. Westbrook says he is already doing five of his 10 recommended career paths, and making money.
Check out Next Generation Journalist.