Farmers stand up to mining companies
Written by Shilpa Samaratunge
[media-credit id=69 align="alignleft" width="590"]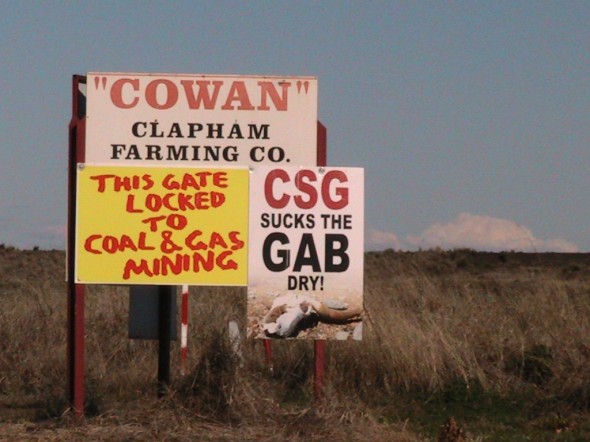 [/media-credit]
Mining companies 'locked out' by Darling Downs landholders
The expansion of the coal seam gas industry in the Darling Downs region has become a grave concern for landholders.  Farmers strongly oppose the coal seam gas giants, which are steadily closing in on their lands and their livelihood.

As cotton farmer Graham Clapham says "We're passionate about it because we have to be, it's our livelihood and our lifetimes work. It's what we leave our future generations. The government and the regulators of this industry take all those things far too cheaply".
Many scientists such as Professor Chris Moran, Director of Sustainable Minerals Institute, believe CSG extraction should not be suspended, but should be permitted to proceed cautiously and with far greater government intervention in research, monitoring and regulation.
Mr Clapham agrees with this view "I think done properly we can have both, we can have a resources industry and we can have our valuable agriculture, but at the moment the mining industry seems to be anywhere and everywhere that it wants to be. That's not the way it should happen".
The senior vice-president of Queensland Gas Company, Jim Knudsen in an address given to the Dalby Chamber of Commerce said "We are obliged before entering a property, to give notice of entry and to negotiate in good faith to agree compensation with the landholder".
Mr Clapham along with a group of other farmers in the region, however, have locked out mining companies from entering their lands, and filed a case in the land courts against Arrow Energy, which is the main mining company with tenure in the Darling Downs region.
"We're doing whatever it takes to ensure that this industry doesn't leave a legacy of destruction for future generations," said Mr Clapham.
The Queensland Government forecasts that the contribution of the coal seam gas industry will generate $9 billion per annum in exports, more than $6 billion in state revenue and would result in creating over 6000 jobs.
Representatives of Arrow Energy were contacted for comments; however no response was received.