September 2, 2011
10:57 am
Tags: cane, cooperative, Features, grower, mill, Proserpine, sugar industry, sugar mill
Category: Uncategorized
Proserpine Sugar Mill sale: a grower's perspective
Written by Kimberley Vlasic
[media-credit id=175 align="alignleft" width="150"]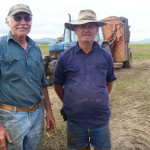 [/media-credit]
Proserpine cane growers Bill Matthews and Bill Camm are unhappy about the sale.
Whitsunday canegrowers speak out about the sale of the Proserpine Sugar Mill.
Marking the mill's 80th year as a cooperative, the controversial asset sale was forced by a $90 million debt and has both surprised and angered growers.
They discuss the decision to sell, potential buyers and how they have been represented – or misrepresented – by the mill board.
Read about the sale of the Proserpine Sugar Mill