Retailers charge top dollar for cheap technology
Written by Brandon Livesay
[media-credit id=130 align="alignleft" width="590"]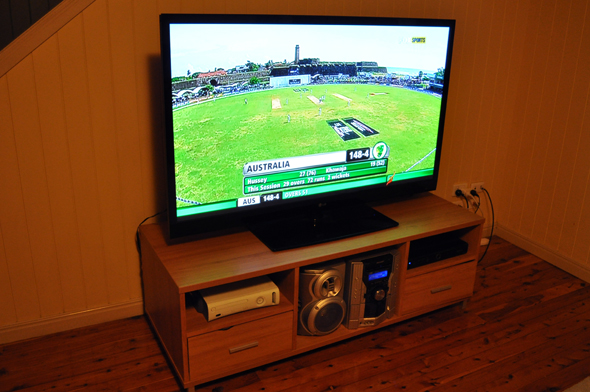 [/media-credit]
Image quality between a $5 cable and a $50 cable is not noticeable
Understanding the sales jargon when buying a new TV is confusing at the best of times. Contrast ratio, horizontal resolution, should you buy LCD or plasma, or is LED LCD the right choice? Consumers need to stay on their toes to get the right deal. But major retailers have a weapon in their arsenal that customers rarely think twice about after dropping hundreds of dollars on a hi-definition television, the HDMI cable that connects peripherals to the screen.
Major Australian retailers have been accused of overpricing HDMI technology in some cases by as much as $130. The issue being that HDMI transfers a digital signal, which is a series of 1's and 0's, so if the cable is connected it either works or it doesn't.  Cameron Clarke from MSY Technology encourages consumers to be wary of claims that expensive cables have better image quality.
"Picture quality will not be affected by cheap cables providing you are comparing them to a more expensive cable that is the same version under 10m," Mr Clarke said.
"After 10m there can be signal loss so higher quality cables will be needed to send the cables over 10m and they would obviously cost more."
"I personable believe that no version 1.3 HDMI cable should cost over $100 as the main feature (transmitting the digital signal) can be achieved from as cheap as $5."
Brisbane local Alec Hearn recently purchased an Xbox 360 at JB Hi-Fi and was astounded at the high price of the HDMI cables that are needed to connect to a hi-definition television.
"The cheapest HDMI cable they had at the time was $60 or $70, and some cost over $100 and I'm a student so forking out a couple hundred for an Xbox and then having to spend another $70 just to connect in HD is ridiculous," Mr Hearn said.
"I shopped around for a cheaper option and found that you can pick one up on eBay for $5, and it works great."
JB Hi-Fi is not alone when it comes to high prices for HDMI cables. Harvey Norman's prices for HDMI cables vary between $50 and $349, WOW Sight and Sound retail cables between $40 and $140, and Dick Smith's Electronics sell cables from $15 to $249.
The Harvey Norman head office and the JB Hi-Fi head office both declined to comment.
For those wanting to know more here is an in-depth comparison of cheap and expensive HDMI cables, and a tutorial that explains the technology.
[polldaddy poll=5468658]