Silver lining for struggling tourism industry
Written by Kimberley Vlasic
[media-credit id=175 align="alignleft" width="150"]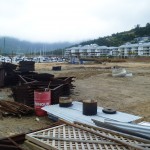 [/media-credit]
The Port of Airlie development recently went into receivership.
Tourism is once again on the rise in the Whitsundays following the most challenging 12 months ever faced by the region.

Natural disasters across Queensland, the global financial crisis, and strong Australian dollar forced the closure of many businesses as well as cutbacks to tourism services run.
The multi-million dollar Port of Airlie development was among those to go into receivership.  But an increase in tourist numbers this month has local business owners and tourism operators optimistic that the region is on the road to recovery.