Brisbane city housing beats young buyers
Ben and Ally are faced with a problem. They can't afford to buy a house.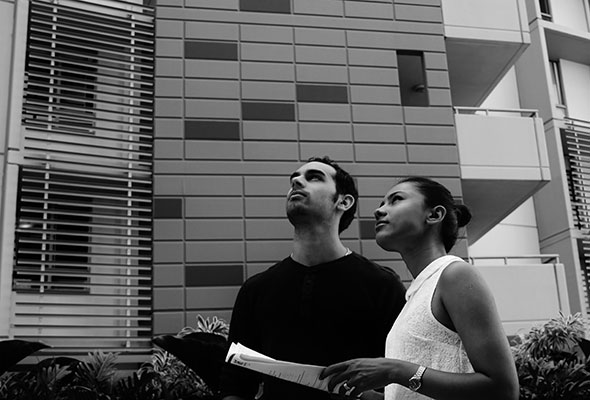 The sunshine beat down on the pavement as they crossed the street and approached the West End real estate office in the late autumn afternoon. Optimistic looks grace their faces and they opened the glass door with a motion of confidence. After an hour or so they emerge from the building with a sour look of defeat. Ben and Ally are faced with a problem. They can't afford to buy a house.
After an hour or so they emerge from the building with a sour look of defeat. Ben and Ally are faced with a problem. They can't afford to buy a house. Well that's not entirely true; they can afford to buy one, just not within 10 kilometres of the city.
Ben and Ally, aged 24 and 23, have been married for just over a year and are looking towards the future. They want to settle down, raise a family and pursue the Australian dream of buying a home that will be a worthwhile investment down the road. These days it just isn't that simple.
We meet at a West End drinking establishment on a roasting Friday afternoon and they settle in to tell their tale of struggle. Ally stares at me with her crystal blue eyes and runs her hand through her long blonde hair as she takes a satisfying pull on her apple cider. Her husband Ben looks like a rugby union player with his scruffy beard and bear like build. A cool perspiring ale is being clenched by his right hand. Their occupations seem to reflect their appearances.
"I do landscape gardening and she works in a public relations role," Ben says as he takes a long drag on a Winfield blue and glances towards the street.
Ally chimes in by saying, "We are looking within 10 kilometres of the city. It's hard to get a loan that's big enough to buy so we are really relying on our own savings. We could afford a place further out from the city but where we'd like to be is near the city which is unaffordable."
She waves to get the attention of the waitress and orders a glass of chardonnay while Ben decides to indulge in a Jack Daniels on the rocks. Like most young people, they prefer to be close to the city and vibe that surrounds it. They don't look too excited at the prospect of living so far away from the city and why should they? So the question arises as to what kind of young couples can afford to live in the city.
"With a lot of young people who can afford to buy in the city, it's not their own money. It's their parents or relatives," Ben says with a tone of disgust. "I think getting within 15 to 20 thousand dollars for young buyers is a tough ask with your own money."
Ally reveals that the Queensland Government isn't helping out either. They decided to axe the $7000 first time homebuyers' grant and replace it with a new plan that aids Brisbane's construction industry on September 12 2012. Fifteen thousand dollars will be given to new home buyers, the only catch is they must buy or build a new home, which is financially out of range for many young buyers.
"All the new homes we could afford on the new government plan are further out and they have mark ups from a developer and we don't want to buy from a developer. Realistically, all the new places are built in mass. If we had a bigger budget we would be more tempted to go for something newer, but it's unrealistic for young buyers," says Ally as she glances at her husband for reassurance.
They reveal that this is their favourite spot and that they had been coming to this bar for years. They love the culture and people in West End and it is going to be hard to leave as it is a hot spot for investors. Ben puts his arm around his wife and whispers something in her ear to make her smile as the last of their beverages are consumed. Before they go I inquire about buying a house together with their family members to counter the high prices. They state that finances and trust are huge issues for their immediate family and bid me a fond farewell.
Approximately 10 minutes later, I meet Charles and Leanne at the same spot. They are a young couple that has actually purchased a house in Zillmere, but it wasn't exactly easy.
Charles and his partner are hefty people and they greet me with a look of hesitancy.  Charles has a thick black moustache and a large Afro that goes with his dark features. His appearance paired with his Italian background makes him strongly resemble one of the Super Mario Brothers. He is a civil engineer who works for the Department of Transport and Main Roads in Brisbane. His partner Leanne doesn't work but she loves to talk.
"We put offers on a few different houses before we got ours and we had some major issues with real estate agents playing along with us, maybe because were younger. The one we wanted was in a flood zone and we wanted it obviously for a lower price and the real estate agent wasn't willing to work with us for a lower price. We made an offer and got one signature from a divorced couple and we were waiting on the other signature and then the real estate agent accepted a higher offer from another investor," says Leanne.
Her voice exemplifies the frustration they have with real estate agents and the hardships they have caused them. Although they own a house, it is still more than 10 kilometers outside of the city and Charles stated his views on the subject, which seemed to closely align with the previous couple.
"For a five kilometre radius, it is like a dream to own a home that close to the central business district," he said. "New prices for a home are unaffordable for young people. We went to look at two townhouses in the city. The first was priced at $500,000 and the second at $525,000. The real estate people claimed that the houses would be the same price for us as first time buyers under the new Queensland Government plan. They pushed the new properties on us which we couldn't afford."
They both order drinks amongst the noise of young professionals who have just knocked off work and are socializing in the hip part of town. The question is brought to them as to how they could afford a house in the suburbs. It turns out they were lucky.
"We qualified for the $7,000 home buyers grant because we purchased it before the government changed the laws. We were a bit rushed. If we didn't buy in a month it would terminate," says Charles with an expression of confidence.
Charles and Leanne start to talk about how they are a few of the fortunate ones to get in on that deal with wide grins on their faces. After a half hour, they finish their drinks and head towards the exit of the bar then disappear into the moonless night. A train ride consisting of 25 minutes is waiting to take them home to Zillmere.
The new housing deal for first time purchasers doesn't seem to work for young couples. It has been criticized by organisations like The Real Estate Institute of Queensland.
According to the REIQ CEO Anton Kardash, "The Great Start Grant offer of $15,000 to build or buy a new home will only ever be attractive to a small proportion of first home buyers. This is because the majority of first-time buyers opt to buy established properties as they are generally more affordable. REIQ research found that historically about 75 per cent of first home buyers buy established over new homes."
It appears that the incentives of the government's offer are heavily favouring the rich or young people with family money.
He continued to illustrate how the hot spots and central business district areas of Brisbane are "popular with upgraders, who are buyers who have perhaps bought and sold a few times and upgraded to a better or bigger home closer to the city each time."
The Queensland State Government answered only one of my multiple questions and then gave me a faulty email address to send the rest of them to. The representative on the phone was as useless as their reconstructed first time home buyer policy.
Inner city home ownership in Brisbane is simply dominated by people with money. People who can afford to buy and re-sell whenever they see fit.
Will Ben and Ally Mills ever be afford a house within five kilometres of the city?
The answer is no. Not without winning the lottery, robbing a bank or finding some other ridiculous way to get a quick cash injection. The future of inner city housing ownership doesn't look bright for young couples. At least for the many couples who are unable to get help from the Queensland Government or from other financial sources.
As Ben elegantly puts it in this day and age, "It's pretty hard to find loopholes around it."
Paul Smith joined the team as manager in July 2013, coming from a background in interactive multimedia and web development. He has worked on many projects involving education, communication and technology.