Cutting the cane
SJC students produced three video news stories on the impact of pesticide run-off into the Great Barrier Reef lagoon
[media-credit name="Carmel Rooney" align="alignleft" width="590″]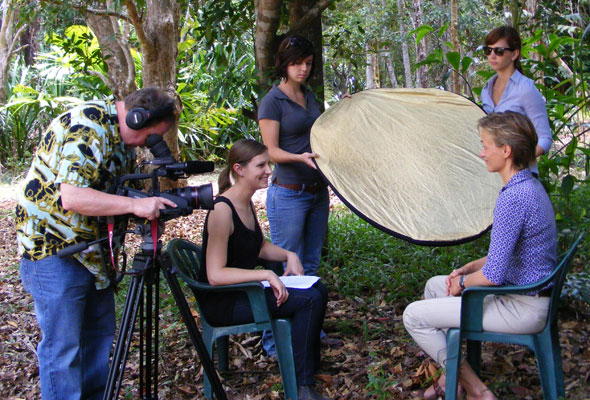 [/media-credit]
From left: Bruce Redman, Melody Pedler, Lisa Machin and Kimberley Vlasic on a shoot
In November 2011, three SJC students embarked on a Work Integrated Learning project with Queensland Canegrowers. The students were given a brief to produce video news stories on the impact of pesticide run-off into the Great Barrier Reef lagoon.
Lisa Machin, Melody Pedler and Kimberley Vlasic worked under the guidance of SJC Industry Consultants – Skye Doherty, Dr Bruce Redman, Carmel Rooney and Anthony Frangi.
Over six weeks, the students researched, wrote and co-ordinated their stories in preparation for the location shoot in Far North Queensland. The shoot took place over four days in Cairns, Atherton, Tully, Innisfail and Babinda. Interviews were conducted with cane farmers in the region as well as representatives from CSIRO, Reef and Rainforest Research Centre, BSES (Bureau of Sugar Experiment Stations) and members of Local and State Government.
The three news stories written and produced by Lisa, Melody and Kimberley were:
The School of Journalism and Communication would like to thank Canegrowers for providing this unique learning opportunity. Lisa Machin and Melody Pedler are now working as reporters for regional news publications.
Paul Smith joined the team as manager in July 2013, coming from a background in interactive multimedia and web development. He has worked on many projects involving education, communication and technology.