The tourist's paradox
By Natalie Fortuna
It's no secret that all over the world where there are landmarks, there are tourists, and where there are tourists, there are tourist scammers.
Go to the colosseum in Rome and try and find a local who isn't trying to sell you a selfie stick or keyring for the "very good price" of €15 – it's harder than you may think.
But perhaps unique to Mumbai, India, where there are landmarks, there are tourists, and where there are tourists, there are tourist-enthusiasts.
Walking around the large paved piazza surrounding the Gateway of India, this couldn't be truer.
As a group of 22 mostly white, English-speaking, and clearly western tourists, we do not so much blend in as we do stand out, despite our best attempts to don Eastern-chic; flowy pants and bangles included.
Cameras at the ready, we take turns snapping away, memorialising our time at the archway to the Arabian Sea.
As I pose for the camera, a young man approaches me and asks to take a photo.
Totally normal, I thought, and agreed, reaching for his phone to take a photo of he and his friends with the magnificent colonial architecture in the background.
"No, no, with you," he said, lifting his phone to the classic this-is-a-good-angle-for-my-nose selfie position and gesturing with his free arm for me to come closer.
Ok, weird, I thought, but whatever, I'll go with it. When in India, right?
I smiled awkwardly, and after the artificial camera shutter 'click' of his mobile phone, I thanked him and began to walk away.
"Please, just one more," he said, calling out to where I now stood, several metres away.
I turned my head to see his friends approaching with wide smiles, ready for their turn to take a photo with the tourist.
"Sorry, I can't, I have to go," I replied, suddenly very aware that I was no longer with my group of 22, and beginning to attract a crowd.
Joined by two of my peers-come-personal-travel-photographers, we slipped away, quickly spotting the rest of our group about 100 metres to the left with their own growing fan base.
It was quickly becoming clear that we were the tourist attraction, and that the gate was not much more than a backdrop.
Unlike at the sights in Europe, the locals were not trying to sell us anything, they weren't swarming with postcards or forcefully trying to make us accept their free rose.
Except for a couple of low-key vendors they just wanted photos, and that was it.
As we lined up for a generic group shot with the Taj Mahal Palace in the background, they lined up parallel to us, dozens crowding around our photographer with their own camera phones at the ready, creating a paparazzi wall.
With all eyes on us, it felt like we came for the Arch, and they came for us.
Although a surreal experience that I'll just have to get used to for when I'm famous , we later discovered that this is in fact pretty normal behaviour here in Mumbai.
"This happens a lot in India, it's a type of compliment," our concierge later told us back at the hotel.
"It's because they think you are pretty," he said, laughing at our confusion.
Hey, if it's a compliment, I'll take it, even if it is doused in culture shock and resulting in countless of photos of my confused-faced on dozens of iPhones in India.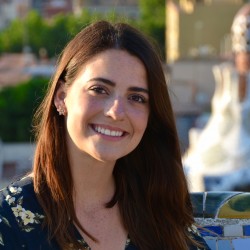 Natalie Fortuna is a final year journalism and communications student at the University of Queensland. Currently reporting from Mumbai, India, she is one of 20 students funded by the New Colombo Plan to strengthen international students bonds while acting as a foreign correspondent in the East.