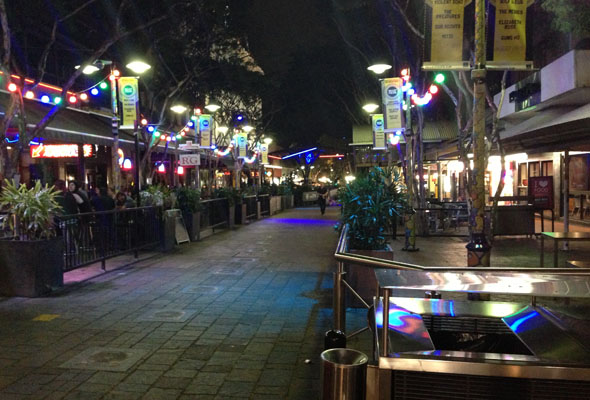 Valley drink safe precinct welcomed
The trafic tale of Jillian Meagher serves as a timely reminder of the hidden dangers that can come from a night on the town.
[oqeygallery id=37]
It could happen to you. The tragic tale of Jillian Meagher serves as a timely reminder to patrons of Fortitude Valley, Brisbane's own clubbing district, of the hidden dangers that can come from a night out on the town.
Efforts to increase the safety of Fortitude Valley, such as the Drink Safe Precinct initiative, have never been more welcomed, with the government extending the program to February 2013 in the event of the trial's success.
The DSP, mapped out below, utilises a joint venture of resources from the Queensland Police Service and the Office of Liquor and Gaming Commission (OLGC). They endeavour to provide a greater police presence, increased CCTV and transport options as well as a safe haven in Brunswick Street Mall known as the Chill Out Zone to crack down on the alcohol-related violence and injury so closely associated with the area.
Erin Mercer, a co-ordinator for the DSP's Chill Out Zone, explains the services on offer to clubbers in need.
"Services include first aid for accidents, assaults or existing conditions, a rest and recover area for people intoxicated … transport assistance, welfare assistance and anything else people may need."
"We work from a harm minimisation framework and with the values of respect, personal responsibility and choice, neutrality and confidentiality."
The DSP trial began in December 2010 and reported 95 arrests for assault-related offences and 1603 ambulance requests within the first 12 months, prompting some bar managers to demand stronger action.
"I think they [the Drink Safe Precincts] have a good effect," explains Steven Hubbard, manager of the Glass Restaurant and Bar located in the DSP, "but once again it's only stage one of something that needs to go a lot, lot further."
The potential dangers of Fortitude Valley have motivated patrons to express caution on traveller-tip websites such as VirtualTourist. "You're as safe as you act," writes user hU0N. "Definitely stay off Alfred, Alden and Ivory St … act sensibly and don't start anything."
Mercer disagrees that there are areas of Fortitude Valley more prone to violence than others, believing it ultimately comes down to individual choice.
"People become vulnerable for a range of reasons and, like anything, sometimes unfortunate and unexpected things happen to a very small number of people in the precinct … like with anywhere you go and anything you do, life has risks."
Minimising these risks can be a simple task. "Stay with your friends, know your limits and have a plan and means to get home safely at the end of the night."
"Basically, watch out for your mates … we all need to look out for and respect each other and help is available if you need it."
More tips for staying safe on a night out are available on the OLGC's website here. The map featured shows the Drink Safe Precinct and it's features, as well as some of the newsworthy criminal activity that has occurred within its parameter over the last few months.
At the end of the day, Fortitude Valley is heralded and enjoyed as Brisbane's playground. Just don't fall too hard from the monkey bars.