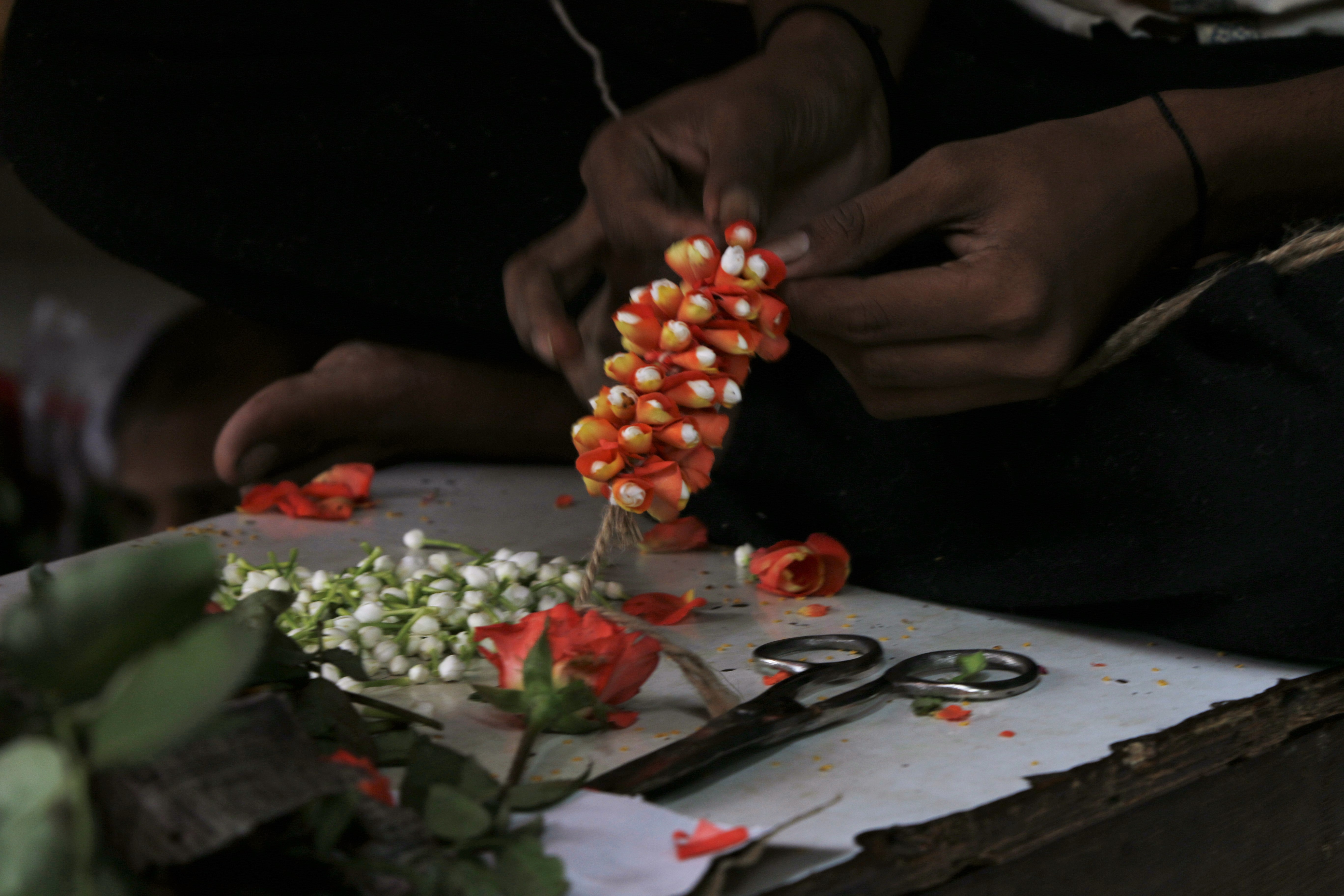 Mumbai in Bloom
By Bridget Sloan
Stepping off the bus after a full day touring Mumbai, almost every memory I have is coated by the sound of the relentlessly busy traffic.
One of the few exceptions was our brief escape into Phool Gully, a wholesale flower market tucked away in the densely populated neighborhood, Dadar, in central Mumbai.
The undercover maze of stalls is Mumbai's biggest flower market, and though it provides an escape from the busy streets, it can be just as hectic during peak hours.
The market comes alive around 4am, when truckloads of flowers are dropped on their doorstep.
When our tour arrived at 10am, the majority of the business was done for the day and the atmosphere was much more relaxed.
The space was oddly comfortable, despite the crowded walkways, due to the fragment aroma of flowers in bloom.
The countless baskets of red, yellow, orange, and pink flowers were illuminated by single hanging lights.
The effect was completely captivating and showcased the undoubtable quality of the petals.
Beyond the single flowers, or even the prepackaged bundles on offer, the market also produces hand made garlands.
Just outside of the market, you can actually watch the talented people making the garlands.
Their hands worked at a steady rhythm, effortlessly threading the delicate flowers with thing twine to produce a variety of designs.
The garlands are a popular item for purchase, as they are commonly used as blessings and offerings at weddings, and other celebratory events.
With the business from local florists, events, and tourists, the market is usually sold out by around 3pm.
A fitting time for knock of seeing as the majority of them have been up since 3am, and have the same early start to look forward the next day.
But at prices a tenth of what you'd see at a local florist, the early start is worth it if you're chasing a bouquet to brighten your day or someone else's.
Bridget Sloan is a third year journalism and arts student, majoring in Film & Television, and Writing. As reflected in her majors, Bridget's passions are concerning new forms of visual storytelling, and manipulating language to engage the reader. In 2016, Bridget was selected as one of twenty students sent to advance their skills as foreign correspondents in Mumbai, India.