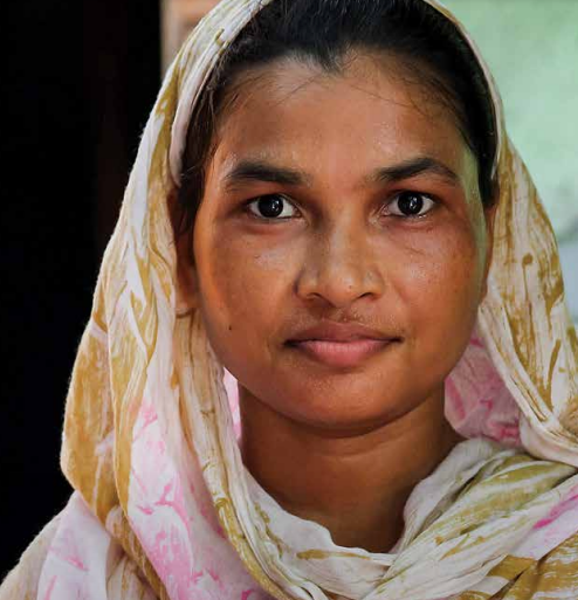 Appreciate Your Pieces
80% of the 75 million people that make today's clothing are women aged 18-25 years old (Emran & Kyria, 2017). Their long hours and days have helped to create a booming economies and large export industries for countries such as, Bangladesh, Indonesia, Vietnam and China (Emran & Kyria, 2017).
The fast fashion clothes worn by myself and many others, is what traps a generation of young women into poverty. This is a misalignment of power and poverty.
Let me put this into perspective…
Meet Fatima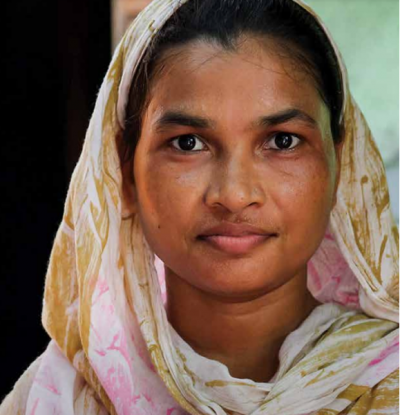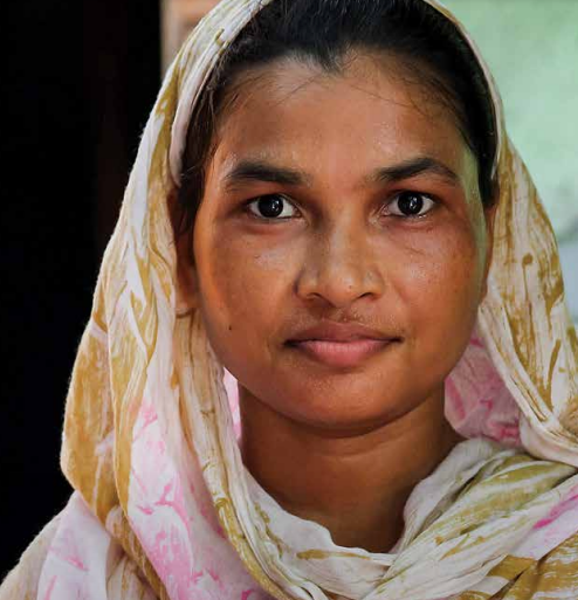 Fatima is a 20-year-old garment factory worker from Bangladesh. Fatima works, on average, six times a week, at 43 cents per hour and until midnight. On top of this, she even asks for overtime hours. However, no matter how hard she works, Fatima is trapped in the cycle of poverty.
Fatima earns her meagre wage by making our clothes. If I converted her paycheck into the average supply chain of Australian garment retailers, this means that only 4% of each piece of clothing made is estimated to be put back into her pocket.
Unfortunately, Fatima's story is not the only one. This story is echoed by millions of women.  Each of these women earning the lowest wages, fuel an industry that has boomed over the past two decades.
What is the story behind fast fashion?
Fast fashion is the belief that we need more, newer clothes because it is what is expected in our society. Cheap, trendy clothing replicating ideas from the catwalk or high-end designs and delivered high street stores at breakneck speed to meet consumer demand.
As much as it is an expression of individuality, it's also can mean conformity. Fashion is necessary to the contribution of the economic and global success. In my opinion, it's a perception that needs to be challenged. It begins with a shift in the way people see their clothing. As such, the clothing we buy, and wear needs to be able to last. It needs to be sustainable.
Reality
I'm guilty of fast fashion.
I have bought clothes for occasional events.
I sometimes buy the newest styles as fast as possible.
I try not to repeat outfits.
And I know I'm not the only one.
Here is an image of my staple pieces…
Here is an image of all my pieces…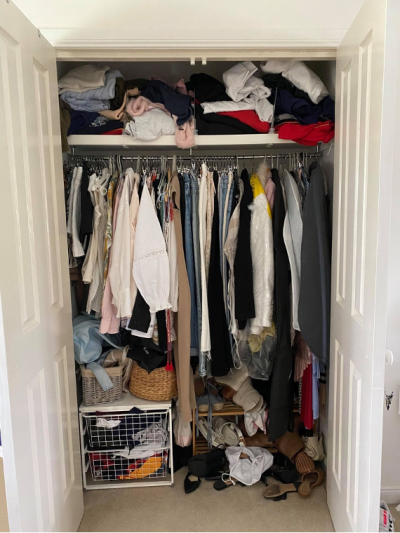 I'm a victim of feeling the need to change staple pieces rack regularly. I feel pressure to keep up with the latest trends and be 'fashionable.' As a result of this, these staple pieces are worn then put into my wardrobe in the hope to be worn for a later use. The fact is, like many, I don't re-wear as much as I should and don't appreciate the story behind each piece.
Fatima's profile fits with the manufacturer of most of these wardrobe items. We need to recognise now the tireless work and the story behind these once 'staple items,' which can be neglected and undervalued.
Working in retail, I see first-hand how fast fashion has created a bleak scenario. With new ranges dropping monthly, consumers expect instant access to latest clothes of their choice, i.e., colour, style and price. This up-to-date fashion mentality is encouraging a "throw-away" attitude. People aren't thinking about the staggering amount of environmental waste or unreasonable labour, rather, they are thinking about making a statement or feeling satisfied.
Environmental Impact
One of the top five polluters of the world is the fashion industry. Synthetic materials, such as polyester, is used in majority of clothing. These materials can take 20 to 200 years to decompose (Kay, 2020). Furthermore, as these fabrics are full of toxic chemicals, there is a large consumption of water used to create synthetic threads/fabrics (Kay, 2020). So, the process of fast fashion isn't so environmentally friendly as you may think…
Other Impacts
If the exploitation of works and environmental impacts that hasn't already put you on edge, here's a few more negative outcomes as a result of fast fashion:
The more you buy, the more you spend, i.e., costly in the long run
Changes how much you value and cherish fashion
Disrespecting small designers, i.e., stolen designs
Changing Habits
If something doesn't change, by 2030 clothes consumption will rise by 63% (UK Parliament Environmental Audit Committee, 2019). The desire for cost-effective, on-trend fashion is costing the earth. Many of us suffer from an obvious disconnection with the value of clothes. Myself in particular, need to alter this clothing relationship in order to help combat the repetitive cycle of production, consumption and waste. The thought of my clothes having just as much impact on dangerous exploited working conditions and the sheer volume of waste and water has sparked an internal change.
Turning Fast Fashion Into Slow Fashion
30Wears
Will I wear it a minimum of 30 times?
Started by Livia Firth, The 30Wears Campaign is to encourage people to buy an item only if they know they'll re-wear it. Steering away from a statement piece I'll wear once; I'm going to invest in something more long-term. By buying items that are basic and can be worn many ways, this will spark a sense of versatility and matureness in my shopping.
Buy Ethically
In investing in well-made ethical pieces of clothing, there will be support shown to local business and proactive action towards doing good for the world.
By making the choice to shop at businesses that offer an ethical range of garments and products as well as use local garment workers, I'll be acting sustainably and helping to protecting the rights and lives of local Australian workers.  As an employee at Witchery, I particularly pride myself in their commitment to Sustainable Farming & Fabrics. I proud to wear their versatile fabrics- viscose- as it is derived from natural wood sources and very soft on the skin! As for homeware, kitchenware and skincare, I'm eager to shop more at eco-friendly, vegan and zero waste Australian retailer, Biome.
Rent or Borrow
Great for the environment and easy on the wallet.
Purchasing a dress for an occasional event that I'll probably wear once is completely unsustainable and highly cost ineffective. Renting or borrowing removes the impulse buying and offers you the option reduce the number of single-wear items. Borrowing clothing from a generous friend is a more convenient and a sustainable way of shopping. As Australian Rental Services, such as One Night Stand, are quickly gaining popularity in Australia, I'm excited to jump on the hire train and choose from a variety of wardrobe options to best suit the occasion.
The Challenge is On
The impact that the fashion industry is having on societies and the environment is detrimental and current. These three key tricks described, will help break my fast fashion mentally and make me question who made this? I have the opportunity to change and improve sustainable practices and quality of life for all, including Fatima.
Join me and commence your slow fashion initiate. Let's, together, advocate for a better, more sustainable future. If Kate Middleton, Duchess of Cambridge, can re-wear clothes to events – we certainty can too.
Reference List
Biome. (2020, n.d. n.d.). Biome Home Page. Retrieved from Biome: https://www.biome.com.au/
Emran, N., & Kyria, J. (2017, October n.d.). Living Wage Media Report. Melbourne: Oxfam Australia. Retrieved from https://whatshemakes.oxfam.org.au/wp-content/uploads/2017/10/Living-Wage-Media-Report_WEB.pdf
Kay, N. (2020, July 12). 6 Reasons To Quit Fast Fashion, Today. Retrieved from Sustainability Chic: https://www.sustainably-chic.com/blog/reasons-to-quit-fast-fashion
ONS Boutique. (2021, n.d. n.d.). About Us. Retrieved from ONS Boutique: https://onsboutique.com.au/
UK Parliament Environmental Audit Committee. (2019, February 19). Fixing fashion:clothing consumption and sustainability. Retrieved from UK Parliament: https://publications.parliament.uk/pa/cm201719/cmselect/cmenvaud/1952/full-report.html
Witchery Fashions Pty Ltd. (2021, n.d. n.d.). Our Good Business Journey. Retrieved from Witchery: https://www.witchery.com.au/about/sustainability/
Business Management & Communications student from The University of Queensland