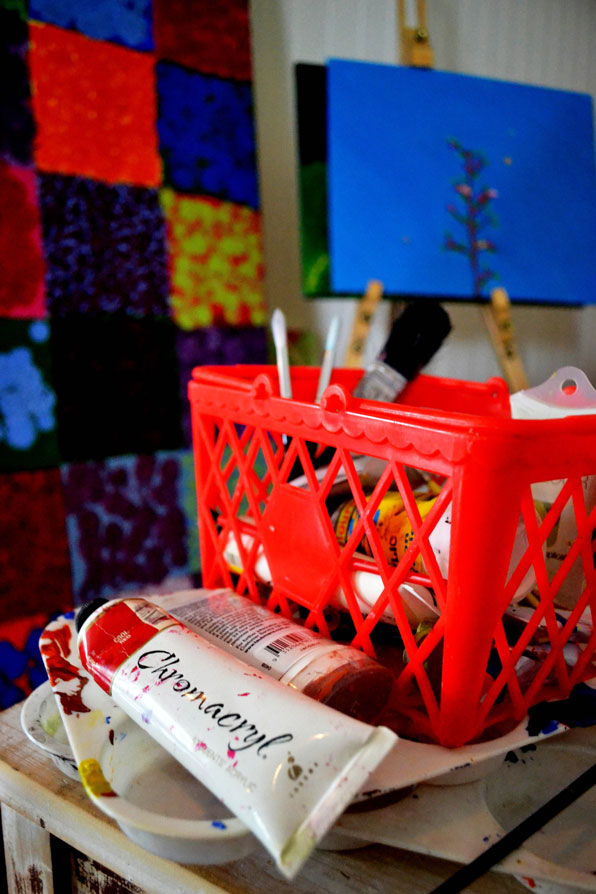 Art for the Heart
Tucked away in the corner of Brisbane Square Library, nestled amongst the dependable order of books, the pages in perfect alignment, a jungle grows. Flowers snapped still in a moment of perfection, their colours leaping from the wall, take centre stage beneath the unnatural fluorescence of the lights and the computer screen's sterile glow.
This is Magda Labuda's jungle, cultivated from her camera's lens. She stands proud amongst her work; this is her 17th exhibition in the past three years, a commendable effort for any artist. For a career as an artist is rarely easy, the road to success is often fraught with difficulty. However this road becomes steep and unmarked, undeniably more difficult when the artist, like Magda, is living with a disability, a form of disadvantage or adversity.
Rates of Australians living with mental illness are reaching new heights with 45 per cent of Australians having experienced a mental disorder and more than 105 000 people homeless on Australian streets each night. A solution to this problem is so far intangible; with the Queensland Government attempting to combat the problem through the Supporting Recovery: Mental Health Community Services Plan. Strategies within the report include the promotion of the relationship between art and good mental health; a notion realised by Pablo Picasso decades ago. "The purpose of art is washing the dust of daily life off our souls," he wrote. It is this wisdom that fuels Art From the Margins, an art program making an impact in the lives of those living with disadvantage and adversity.
Art From the Margins, a Wesley Mission organisation, aims to initiate social inclusion and engagement for people experiencing disadvantage through cultivating and nurturing their artistic pursuits. Art From the Margins helps create opportunities through initiating social engagement, exhibitions, mentoring and workshops for those in the Brisbane community who may not otherwise have the chance due to mental illness, disability, homelessness or isolation.
"One of the vital things it does is it creates a bridge between artists and a wider public audience. It brings to this audience work by artists that would be impossible or extremely difficult to access via conventional avenues." Says Arts From the Margins coordinator Anthony Anderton.
"Generally, the things that accompany homelessness, mental illness, substance abuse and serious levels of disability are stigma, isolation and denial of opportunities. We often see people who are mentally ill, homeless, unemployed, semi-literate and possibly drug addicted. It is easy to see why one feeds into another. Here they get the opportunity to have a voice."
Magda, a participant in the Art from the Margins program, says she was never very good at science however loves art, competing a diploma at the Australian National University. She is a strong advocate for the program. "It is a way for artists who have disabilities and don't have the access normally or the opportunities to go mainstream. It is a good outlet," she says
The Art From the Margins program offers a number of creative initiatives, including a permanent art collection at the St Andrew's War Memorial Hospital composed of program participant's art as well as an annual art exhibition in collaboration with the Brisbane Festival. In 2012 more than 400 pieces of art from 280 artists who would otherwise struggle to receive this opportunity were exhibited.
"The artists get a real buzz of having their work up on the wall," Mr Anderton acknowledges. "What might be dismissed by a relatively small or insignificant event is for many of the artists we work with, quite significant.
"It's self-esteem, a sense of purpose, a sense of achievement."
However the Art From the Margins Program does more than simply showcase the artists creative works. A number of workshops in varying artistic fields are held and participants are educated with skills such as pricing, mounting their work and creating an artist's bio. In 2012, Brisbane art identity Bruce Heiser selected six artists from the program as recipients of the Heiser Gallery Emerging Artist Awards for personal mentoring and guidance from him. Magda was one of the recipients and can't help but grin when she recounts the win. "Finally I was recognised after 10 years!" she laughs.
As a form of rehabilitation and mental health, art therapy has been until recently a dark shade on the spectrum. However the positive impact of art is starting to seep through society and the practice is becoming a more prevalent method. Art therapy educator Claire Edwards says: "I think for a lot of people who have a lot of stuff on their mind it's really helpful for them to get into another state of consciousness without having to take drugs or do anything dangerous… It is a very psychologically healthy thing to do.
"It is a natural way for them to express themselves."
While Art From the Margins is not designed as a form of art therapy, the repercussions of engagement in art are evident. "We had one guy who used to come here who said straight up 'the more I come here the less I go to the hospital,'" said Mr Anderton.
"We get told by people that they value the acceptance. They feel as if they are accepted. When they are here they are not a schizophrenic, they are an artist."
It is Magda the artist that therefore stands amongst her work. Camera on hand, she is ready to capture the world through a slightly different lens.
|By Bridget Wood