Belgian installation artist announces Brisbane project
Artist Arne Quinze has been commissioned by the Queensland Theatre Company to create an outdoor installation in South Brisbane.
[media-credit name="Steph Dooris" align="alignnone" width="590″]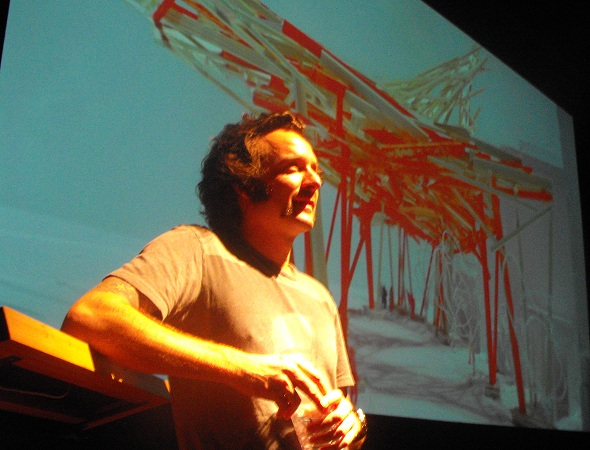 [/media-credit]
Arne Quinze talking at the Gallery of Modern Art about his proposed project with the Queensland Theatre Company (on screen)
Artist Arne Quinze has been commissioned by the Queensland Theatre Company to create an outdoor installation in South Brisbane.
The abstract structure will be outside the theatre headquarters on Montague Road and Mr Quinze hopes it will be used as an outdoor performance space.
The Belgian artist's outdoor installations have appeared around the world, with projects currently underway in New York, Shanghai, Rio de Janeiro, Miami and Moscow.
Previous works, such as The Sequence, a structure he built outside the Flemish Parliament in Brussels in 2008, are known for their towering, web-like quality.
QTC executive director Sue Donnelly says she is proud that Brisbane is punching above its weight in terms of art and culture.
"We want to make our home really exciting by bringing in some public art," she says, "there's a certain synergy between Arne's work and QTC and his work has a big effect on communities… it allows people to come together to talk and share."
Mr Quinze made the announcement at the Gallery of Modern Art during a talk about his work. He outlined the collaboration and showed some preliminary designs of a large, nest-like structure that is haphazard in appearance. However, like his other work, the installation will be assembled with mathematical precision.
"Today we have friends all over the world but we rarely talk to those around us, especially in large cities," says Mr Quinze, "so what I aim to do is to bring people together in a space similar to a modern 'market-place' where people are encouraged to talk to one another."
His aim for all his artworks is to create new spaces that allow for dialogue between citizens and that bring art to the public.
"This fight to bring art into the street is really important because only one or two per cent of the public go to operas and theatres," says Mr Quinze, "so I think we need to reverse that and confront people with art in the streets so that the next step, to go to museums or the opera, is much smaller than before."
Mr Quinze's outdoor 'museums' are made of recycled material, generally wood or metal, and are weather proof. However, he says he will have to adapt the paint used on the Brisbane structure to cope with the harsh Australian sunlight.
His structures are recognisable by their trademark fluorescent red colouring, which he describes as the most human colour.
When asked whether everybody needs to like contemporary installation pieces such as his own, Mr Quinze responded by saying, "I have seen many people really enjoy my art but many have not liked it too. However, I see this as a good thing because as long as a response is invoked, it will encourage conversation."
The installation will be built for the QTC and will be funded in part by the Queensland government through their Art + Place program. Mr Quinze and his team are expected to return to Brisbane later this year to begin construction.