Boost Juice loses its bananas
Cyclones and soaring banana prices have hit Boost Juice Bars
[media-credit id=138 align="alignleft" width="590″]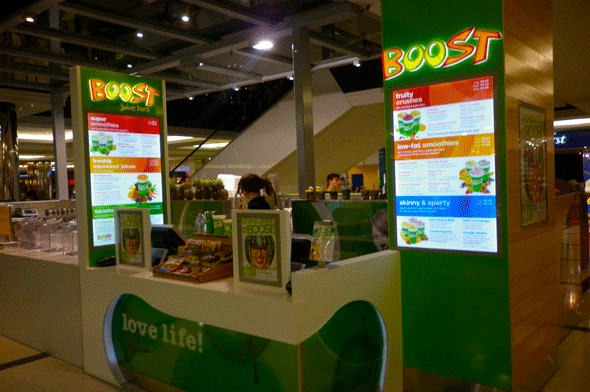 [/media-credit]
Boost Juice Bar at Indooroopilly shopping centre
Since Cyclone Yasi Australia's Boost Juice Bar's banana products have greatly suffered. Due to the recent banana crisis Boost has had to go to great lengths to save the quality of their delicious banana smoothies.
Australia's number one Boost Juice Bars has recently been in crisis due to the current spate of banana shortages since Cylcone Yasi. Early in 2011 Cyclone Yasi devastated North Queensland destroying 80 per cent of Australia's Banana crops. This natural devastation has sparked the recent banana crisis throughout Queensland affecting many local businesses which have suffered due to the skyrocketing prices of bananas.
Boost Juice Bars customer relations co-ordinator, Rebecca Pike, said the recent banana price hike has made the supply and demand for bananas extremely difficult. With such high demand for banana products it has made the prices skyrocket throughout Queensland. Recently bananas prices have reached as high as $15 a kilogram in some areas, comparatively to last year where bananas were selling for approximately only $3 a kilogram.
"This has made it very difficult for Boost Juice to purchase fresh bananas, and at a price that is still affordable to our customers," Ms Pike said.
As a result Ms Pike said Boost bars had to source an alternative by using an imported "fresh frozen" banana product instead.
Caitlin O'Donohue who is a member of the Boost Juice team at the University of Queensland campus, explained that each Boost Juice Bar now had to display appropriate signage to show to the customers that imported and frozen bananas are now being used within the Boost products. Even though the prices still remain the same the amount of the banana product within their products has been reduced to accomidate for the ever increasing prices of bananas.
"Like an original banana buzz originally had a whole banana in it, but now it only has three quarters and yet the prices have stayed the same," Miss O'Donohue explained.
Talking to some Boost Juice customers at the university many said that the new "banana product" tasted a lot differently to their previous Boost products but yet are still willing to pay the price for their banana drinks.
Ms Pike said the banana product would only be a short-term substitute until the Australian banana industry had returned to a level that could supply Boost Juice with sufficient quantities at a reasonable price.
"We will be back buying these local bananas and importantly fully supporting the Aussie Banana farmers," she said.