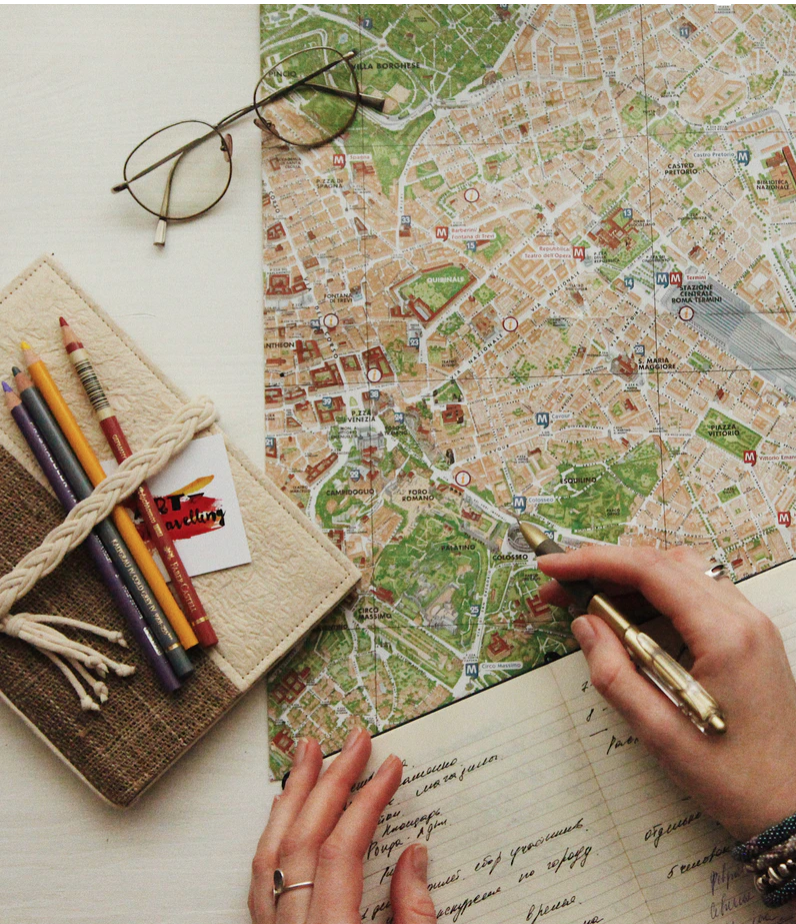 Brisbane 'Sustainability Map' Series
THINK SUSTAINABLE. ACT SUSTAINABLE
Brisbane's "Sustainability Map" – Foodie Edition
By Claudia Ferri
16 October 2020
photo from Unsplash
When you think about sustainability, what's the first thing that pops into your head?  Reduce, Reuse, Recycle?
This is because environmental sustainability has been a concept drilled into our heads since we were kids and has become a growing concern in the 21st century.
But, a sustainable movement can't be effective unless people across the globe are actively engaged and changing their habits to be more sustainable.
Why is it up to us?
We are part of a global community and every step counts. It's not as hard as it seems! Throughout my "Sustainability Map" series,  I will show you how you can change your dining, shopping and clothing habits to think and act sustainably.
First stop, sustainable dining!
Facts for Foodies
Food wastage in the hospitality industry is a hidden but pressing issue that all diners should know about. 1/3  of the food produced around the world gets wasted which is why good food practices are more important now than ever, and you, the diners, can choose to support the eateries fighting back.
Here are some of the best sustainable Brissie cafés and restaurants taking charge to act sustainably!
Brisbane CBD:
Three Blue Ducks –  W Hotel
Three Blue Ducks started with three mates who had a shared belief of a more sustainable approach to living and creating good ethical food. These blue ducks are committed to sourcing their produce from ethical farming and trustworthy local producers. From sustainable farming practices like free-range eggs and line caught fish, to the packing of their foods, rest assured that this food chain takes care into what they are putting in their dishes.
"If we can all be a little more conscious of these issues and make more informed decisions, then we believe it can only be a good thing for our planet."
Felix for Goodness
A hidden gem in the heart of Brisbane's CBD, Felix for Goodness aims to source the best ingredients, as close to home as possible. Most of the products on the menu are sustainably sourced from organic or free-range producers, and they pride themselves on creating minimal waste and ensuring reusability.
"We run our business consciously and sustainably by minimising waste, reusing, and sourcing our wine, beer, produce and animal products ethically."
West End:
Grown
West End's very own plant-based dining and local speciality coffee, Grown is a vegan paradise and a leader in the fight for sustainability. Produced is sourced by ethical and transparent suppliers like, like FoodConnect, who source from local farmers no more than 400 kilometres from Brisbane or family-run farms like The Falls Farm in Mapleton.
Grown has even taken their call to act sustainably one step further by ensuring their food waste is used as compost in the Jane Street Community garden just around the corner, and by minimising the amount of plastic packaging used for its produce.
So eat as much as you'd like! You know your food is coming fresh from Aussie farmers and recycled back into the food system.
"Ethical and transparent suppliers ensure that our menu supports sustainable and fair food systems."
Plenty
Centred around the sentiment 'know your farmer', this café and grocery store is on a mission to act sustainably and showcase what our local farmers have to offer.
With this in mind, it's no wonder that their daily offerings are always dependent on what is in season! The crew is also committed to doing as much "in-house'' work as possible. A store favourite is the rooftop beehives where they source their sweet and smokey honey 'Blend'.
Plenty is as transparent with their meals as you get, connecting you with people who grow your food.   So grab some friends and brunch at this unique establishment, or pay a visit to their cute grocery store and get a taste of what all the fuss is about!
"We aim to forge links between our city community and our regional farmers, and to help our children better understand where this delicious food comes from."
THINK SUSTAINABLE. ACT SUSTAINABLE
Brisbane's "Sustainability Map" – Fashionista Edition
By Claudia Ferri
16 October 2020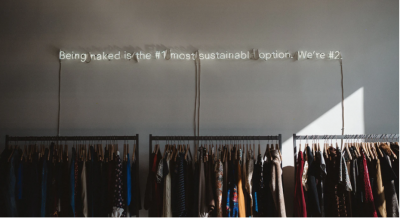 photo from Unsplash
Fashion and sustainability seem like two polar opposites.
While fashion is meant to be short-lived and ever-changing, sustainability calls for the durability and reusability of products.
But many people have seen the fault in our fast-fashion practices and are growing more intrigued by sustainable fashion!
What is 'sustainable fashion'?
Unlike our fast-fashion norms, sustainable fashion enables us to think more consciously about where we are getting our clothes and consider elements like:
organic materials;
free-trade sourcing;
and eco-friendly products like clothes made from recyclable plastics.
Why should you consider to shop more sustainably?
Simply put, you'll be a better person. So here are some of  stores in Brisbane you can try out to make a more sustainable purchase!
OP Shopping
One of the best ways of shopping sustainably while maintaining a low budget is op-shopping!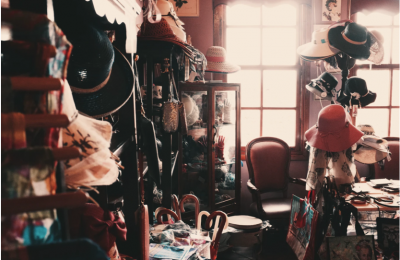 photo from Unsplash
These shops have shed their negative stigma of used clothing and have been revitalised by trendy and eco-conscious consumers!
From designer to vintage chic, everybody finds what they're looking for, and at a good bargain too! So pop some tags like Macklemore or donate some clothes to become part of this second-hand movement!
A few of these OP shops around the Brisbane CBD area are:
Newstead
·      Salvos
·      Vinnies
Redhill
·      Salvos
·      Thrift shop and Eternity Boutique
Stones Corner
·      Lifeline
West End
·      St Veronica Thrift Shop
East Brisbane
·      EBBC Thriftshop
Ethical Fashion Stores
If Op-shopping is not your cup of tea, why not try out some brands making the effort to mitigate their environmental and social impacts!
Pigeonhole
Once a tiny one-stop-shop in Perth, Pigeonhole has spread its wings and opened multiple stores across the country.  With a mixed array of clothing, jewellery and gifts alike, there are so many sustainable options to choose from. Their quirky fashion-line also contains a cute selection of second-hand clothes along with small sustainable gifts like reusable coffee cups and natural soaps.
"Our goal is to inspire human connection. To create and curate products that inspire joy and community, and create lasting memories between loved ones."
SWOP
Located in West End, this is a store that can only be described as the chic version of op-shopping, but still at a good price!
SWOP customers come to search for great bargains from 'pre-loved' clothing or sell their clothes and obtain an award of 50% of the value of your items as credit (to use in any SWOP store) or 25% as cash. This environmentally-friendly practice ensures some degree of zero waste and an exciting way to get rid of your unwanted belongings.
"We believe in a circular fashion economy. We make it easy to buy, sell or trade high- quality pre-loved clothing. It's good for you, your wallet, and your planet."
Gorman
The final brand we are looking into today is Gorman. Founder, Lisa Gorman, launched her store in 2007 and has been committed to sustainable practices ever since. Lisa understands her responsibility to ensure her store follows sustainable practices, which is why a minimum of 25% of her clothing is sourced from organic cotton and sustainable materials (like recycled polyester).
Gorman also manufactures its products under fair-trade working conditions and has worked with Indigenous artists through the Magkaja Art Resource Agency to support local designers!
"Gorman are committed to manufacturing products under safe, fair, and humane working conditions."
If you're interested in sustainable fashion and want to learn more about this growing industry, check out the upcoming:
Textile Exchange 2020 Virtual Sustainability Conference – Nov 2, 2020 – Nov 6, 2020
THINK SUSTAINABLE. ACT SUSTAINABLE
Brisbane's "Sustainability Map" – Shopping for a Sustainable Wannabe
By Claudia Ferri
16 October 2020
photo from Unsplash
What is sustainable living? Does it mean having to change your entire life-style or needing to be constantly worried about the impact you're having on our world?
No! Throughout my sustainability journey,  I have realised that living a sustainable lifestyle doesn't have to be this stressful. You can make small steps to change your habits without it needing to interfere in your daily life!
So my sustainable wannabes, here are two mild changes you can make to introduce more sustainable grocery shopping habits into your life!
1.     Sustainable grocery shopping for busy wannabes
Whether COVID-19 strikes again or you're just too busy to make it to your local grocer, Food Connect is your saving grace!
Food Connect was born from owner Robert who felt great grief for losing his family's small fourth-generation farm. This triggered a passion in him  for creating a fairer food system for all farmers and reconnect customers with their local growers.
Getting food boxes delivered to your homes has become much more of a norm thanks to the help the internet, and now even more so this year, with the fear of COVID-19 looming in the background.
But Food Connect takes the food box concept to the next level by considering your local farmers! The company prides itself on providing seasonably and ethically sourced fruits and veggies to re-localise the food system.
A few of their achievements include:
·      50% of the retail price is returned to farmers (compared to the national avg 14%)
·      A closed-loop food system so that no food ever goes to waste;
·      $28 million generated in our local food economy
So why not give it a try?  Produce boxes consist of fresh and seasonable fruits and veggies and just look at the range of options!
photo from Food Connect
"We believe that changing the way we source and distribute food is fundamental to solving the world's most pressing social and ecological problems."
2.    Hit up the markets!
Another small but fun way to mix up your shopping habits may be to take a weekend trip with your friends or family to the markets!
Hitting up your local farmers markets is a completely different experience to your daily grocery shopping experience.
It is a slow process, reduces the impact of food packaging and allows you to connect with the people who are growing your food!
Here are some of the benefits of coming to these markets!
Amazing bargains and fresh produce
The price difference between shopping at the markets compared to at your local Woolworths are noticeable!
For fruits and vegetables, shopping in the markets can be much cheaper! A few price difference listed by market lover Katie Irwin include:
·      Pink lady apples $4.80 kg / $6.00 kg
·      Brushed potatoes $1.80 kg / $3.50 kg
·      Sweet potatoes $2.90 kg / $5.50 kg
·      Lady finger bananas $3.99 kg / $7.50 kg
·      Herbs $2.00 a bunch / $3.00 a bunch
Products like meats, dairy and fish can be more on the expensive side though due to the products being free-range, organic or coming from small families.
Handy tip: Bring cash to these markets for reduced prices!
The environment will love you
While shopping with a lower budget, you can also be making a more conscious decision on the products you are buying!
Farmers markets have a lot of their produce free of plastic packaging and going to store holders who grow locally reduces the carbon footprint of your purchases.
Note: some of the food at farmers markets are imported so make sure to ask if you would rather shop more local
It can be a fun day out with friends and family
Going to the markets to become more sustainably conscious doesn't have to be a high- pressure experience!
It is the perfect excuse to take a slow stroll around the stalls with your family and friends, soak up some sun, buy some nice food, enjoy the buzz and meet some friendly local grocers!
Locations
Brisbane Central:
Brisbane City Markets
Where: Reddacliff Place, George St
When: Every Wednesday, 8:00AM – 6:00PM
Milton Markets
Where: Little Cribb Street, Milton
When: Every Sunday, 06:00AM – 12:00PM
Kelvin Grove Village Markets
Where: QUT Urban Village, Kelvin Grove
When: Every Saturday, 06:00AM – 01:00PM
Powerhouse Farmers Markets
Where: Lamington Street
When: Every Saturday, 06:00AM – 12:00PM
North-side:
Carseldine Markets
Where: 532 Beams Road, Carseldine
When: Every Saturday, 06:00AM – 12:00PM
Nundah Markets
Where: Bottom of Station Street, Nundah
When: Every Sunday, 06:00AM – 12:00PM
Blackwood Street, Mitchelton
Where: Blackwood Street, Mitchelton
When: 1st Sunday of each month, 06:00AM – 12:00PM
Northey Street Organic Market
Where: Corner of Northey and Victoria Streets, Windsor
When: Every Sunday, 06:00AM – 11:00AM
Southside:
Beenleigh Town Square
Where: Corner of Crete and Kent Streets
When: Every Wednesday, 08:00AM – 02:00PM
Kuraby Markets
Where: 1342 Beenleigh Road, Kuraby
When: Every Saturday, 06:00AM – 12:00PM
Manly Harbour Village Farmers Markets
Where: Manly Harbour, Royal Esplanade
When: 1st and 3rd Saturday every month, 06:00AM – 12:00PM.
Mt Gravatt Farmers Markets
Where: Mt Gravatt Showgrounds, 1644 Logan Road, Mt Gravatt
When: Every Sunday, 06:00AM – 12:00PM