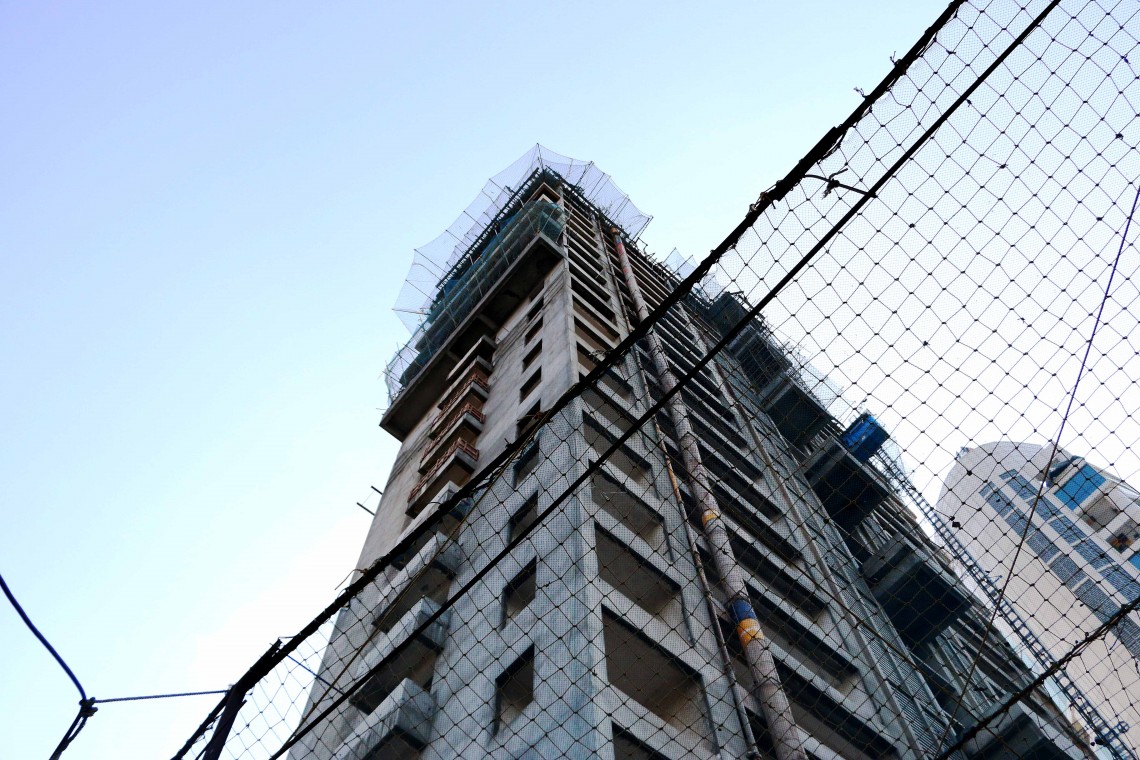 Building lives in construction sites
By Morgaine Auton
In Mumbai, and indeed throughout India, construction workers are often signed to companies. This is no different from anywhere else in the world; companies anywhere can hire out a workforce that travels to wherever construction is.
The difference in India, however, is that workers don't just follow the work – they build their lives around it.
Workers and their families leave their hometowns and villages, and follow their work around the country. Because of the expenses of travelling, and the threat of losing their job to someone else who is willing to put up with more, these people live on construction sites, in tent huts not dissimilar to slums.
Construction sites are littered all along the Mumbai skyline, half finished hunks of metal and concrete thrust upwards towards the sky. Some stand in place of slums, where hundreds of people were displaced from their homes so developers could build on the land. Others replace older buildings with shinier new ones, however in the heat and humidity that envelopes this city, they too will acquire the coating of dirt and mold the flourishes in the damp climate.
Far below, under nets designed to catch unsecured workers, children play in concrete dust and piles of wood. Washing hangs between two concrete beams. Rubble roars down a pipe from the top of the building, clogging the air. Dogs pick their way through the materials, looking for scraps.
Ram Prakash Sharma has been living and working around construction sites for ten years, and now works in Vashi, Navi Mumbai, with a group of 150 workers.
"The people are not just from the Maharashtra only, they are from the Bengal also, Bihar also, just in search of a job, they have come so far to have a job, to earn money, from different states," he said.
Mr. Sharma explained the system for living arrangements.
"People from different states live here … if there's a (group of) single men, they will come together and live in one room … Those who migrate with their whole family will make huts and live there."
He said when the work is finished, "they'll remove (the huts) because they come for the job, now they'll move when the construction work is over."
This nomadic lifestyles allows very little in the way of permanent fixtures. Tent-like huts of tarpaulins and tent pegs lean against the edge of the construction site, metres from wood and concrete, a strange juxtaposition of building longstanding structures they will never live in themselves.
In this all this travelling, there is a small sense of community – the workers are hired together and stay together wherever they travel.
"These workers are fixed – after this construction is over they have to move to (a new place) for the next construction work, and they'll all move together so that the main head won't have to look elsewhere other labourers … they live together and they move together," Sharma said.
The kind of profession where one is able to travel around the country may seem enviable, but Sharma says it is not.
"We have to move for our job, here and there." He is originally from Uttar Pradesh, near the Taj Mahal.
"When you have a famous thing in your own place, why would you go elsewhere? But for the job, we have to go."
The workers' wages come monthly, leaving them scraping by in the days in-between, given a stipend for food by their immediate superiors.
Mahtavi is the wife of one of the construction workers, and with her two small children a boy and a girl, she follows him wherever he finds work in India. They live in the huts immediately adjacent to the work site.
Despite her smiles and positive attitude, there are disadvantages to living this way. "Our husbands are getting work, families are earning, but the children are not studying, because we have difficulty in finding schools."
In their home villages, education may have been possible, but when they move so often, it is difficult to secure an education, Mahtavi explains. When she is pregnant, a woman must return to her home village to ensure the child is properly cared for, but after, they move where they need to for work, and environment where traditional education is hard to come by.
"They're not studying, just wandering around and moving. Just seeing the life around them." She is right. As she speaks, her youngest, a little girl wriggles around joyfully in her arms. Her son, of schooling age, runs around behind her, playing with the stray dogs that wander the site. But as these children grow up without an education, their options are limited, and it becomes harder and harder to learn.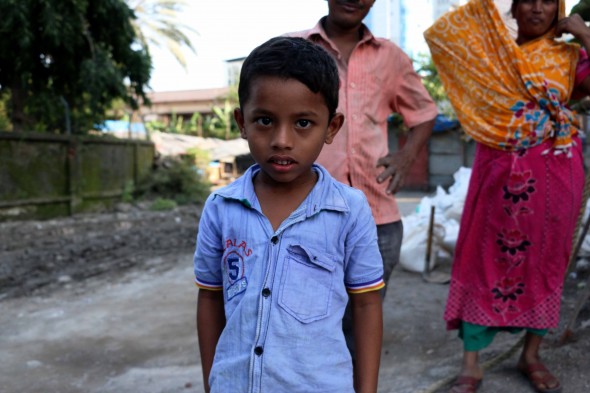 Mahtavi explains that her son was destined for school until the birth of his sister. "The wife is needed for work. Now there is another child, she needs to be taken care of, so her elder brother will raise her. That's why they didn't allow him to go to school." Despite his young age, as the eldest it is now his duty to help in the raising of his sister.
Elsewhere in the world, a system such as this might never flourish. But somehow, out of necessity, in the dust that surrounds construction sites, communities are built. Life continues, in whatever forms it can. As Mahtavi says, "our lives are not so perfect, but they are moving smoothly. We don't have any problems."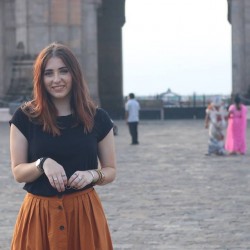 Morgaine is a Bachelor of Journalism and Arts student at University of Queensland, with arts majors in Psychology and Film & TV. She has been a media officer at Powerful Youth's Global Leadership Academy in Canada, and writes articles for Roubler in Brisbane. Her hobbies include photography, painting portraits, and travel. A radio documentary she completed on grey nomads who retire and sail around the world was selected as one of 7 to be broadcast by UQ on JACradio. Through her time in other countries, Morgaine has developed a deeper understanding of how the world works, and love of uniqueness. She loves travelling, exploring new cultures and meeting new people, and hopes to one day work overseas as a foreign correspondent or travel journalist.