Controversial new building set to turn heads
Billionaire Harry Triguboff is due to complete Brisbane's tallest residential building later this year. The 74-storey building called 'Soleil' will reach 234m beating its rival 'Aurora'C by 36m.
[media-credit id=93 align="aligncenter" width="590″]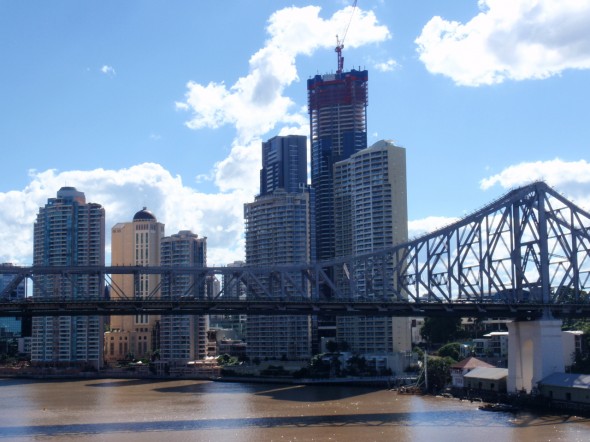 [/media-credit]
Construction on the controversial Soleil tower
Billionaire Harry Triguboff is due to complete Brisbane's tallest residential building later this year.
The 74-storey building called Soleil will reach 234m beating its rival AuroraC by 36m.
Located at corner of Adelaide St and Boundary St in the city, the controversial tower will be home to 2000 people and will be the equivalent of approximately 500 homes.
Included in the building will be three levels of retail and 10 floors of parking.
Mr Triguboff self-funded the project without the help of any backing from the banks which provides a long-term financial advantage.
The location and construction of the building has come under criticism for its aesthetic appeal and the apparent disruption it may cause to the neighborhood.
David Hinchcliffe, the councilor for Central was opposed to it from the beginning.
"When it first came to council, I was chairman for planning and I opposed it because of the concentration of massive numbers of people into that small cul-de-sac of Howard and Macrossan Sts and the traffic issues it would generate. Then after the election, it came back to the planning committee and the new LNP Council supported it."
The building is located at busy intersection next to the Ivory St tunnel and also has access via a small cul-de-sac.
This area is known for high-density traffic especially at peaks times due to its close proximity to the Brisbane CBD.
"This new development will do nothing to improve the already congested CBD traffic with massive numbers moving into small cul-de-sac and future planned hotel around the corner near Howard wharves," said Cr Hinchcliffe.
"BCC planning Committee has failed to undertake thorough planning assessment including infrastructure review before granting approval" said Jane Sorby, director at prominent Brisbane architecture and design firm HBO+EMTB.
The aesthetic design of the building has also come under a lot of criticism.
Kent Excell, director of architecture at HBO+EMTB, said: "The infinity design perpetuates the modern ideals of endless space by creating the tallest building with slender proportions and 'uninterrupted' views with large expanses of glass. It also decorates these with arbitrary blades and circle aesthetics.
"As a consequence it misses the opportunity to celebrate Brisbane by framing specific views or providing sustainable solutions responsive to our local climate and lifestyle. We should listen to and observe what we enjoy about Brisbane rather than decorating the utopian ideal."
Mr Triguboff is a veteran of the high-rise building industry having started his career in the 1960s.
He is also responsible for Sydney's tallest residential tower, World tower and a number of buildings on the Gold Coast.