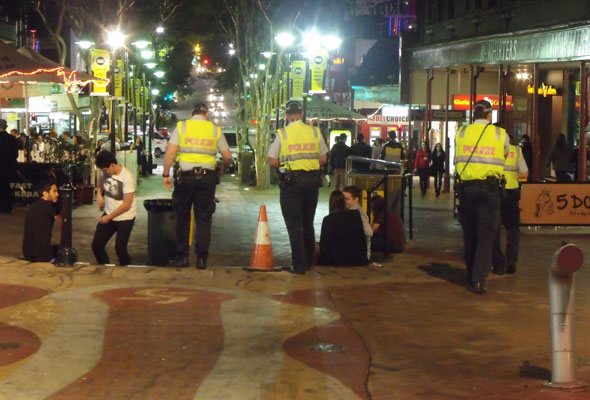 Fortitude Valley safer as trial nears completion
A decrease of violent incidences in the Valley suggests that safety strategies will become permanent.
A decrease of violent incidences in the Fortitude Valley's Brunswick precinct, suggests that some strategies of the 'Drink-Safe Precinct' will become permanent next February.
The Government's $8.5 million trial began in December 2010 and includes safety initiatives such as increased police presence, chill-out zones and secure taxi ranks in the Valley's nightlife hotspots.
The trial was due for completion in November this year however was extended until February 2013 to allow for a thorough assessment of data.
Valley Liquor Accord chairman, Nick Braman, is confident that the valley has been a safer place since the trial began, despite not having access to the data.
"Anecdotally and looking at the trend as each month goes on, there seems to be fewer violent incidences. The severity of the incidences seem to be decreasing as well."
Mr Braman identifies the increased police presence in the Brunswick Street Precinct as the most important strategy in terms of safety for valley-goers.
"The valley suffered for a long time having not enough officers in the area on busy nights. Now the numbers are there so that will continue to be the most important thing," he said.
Another key strategy of the trial, the Chill-Out Zone was created to provide immediate care for at-risk individuals in the Brunswick St precinct.
Angela Driscoll, manager of the government funded Chill-Out Zone, agrees that the police are integral for safety in the Valley and says that the Chill-Out Zone aims to relieve the pressure on police.
"If there's someone sleeping on the ground, rather than the police having to step in, we can take them and they can stay in the Chill-Out Zone for as long as required," she said.
Some however, remain unconvinced by the Drink Safe Precinct Trial. A Nuforce security guard working on Brunswick Street claimed that violent acts continue to take place regularly, depending on whether or not the police are in view. Manager of Gloria Jeans Brunswick Street, Jenny Lu shares this point of view.
"We open 24 hours on Friday and Saturday nights, and there has been a number of incidences in our store."
Despite these observations, Nick Braban has noticed an improvement in the behaviour of revelers.
"Cab ranks are more orderly, people are crossing the road more safely. I think they are also aware of the consequences of doing the wrong thing in the Drink Safe Precinct, they know that they can be banned from the area," he said.