Gold Coast Council charges more for student tenants
Gold Coast homeowner found rates doubled due to the fact that there were students living in his property.
[media-credit name="Brhiannon Stokes" align="alignnone" width="590″]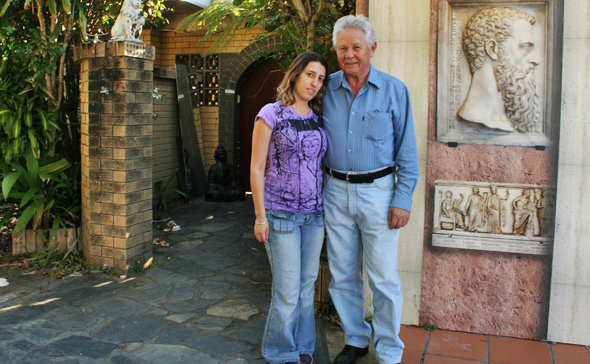 [/media-credit]
Jordan Summersby (left) and Alfred Abraham outside Abraham's Gold Coast property
Gold Coast landlord found his rates doubled after the council claimed he was renting to students.
Landlord Alfred Abraham was surprised to receive a bill for his rates at double the amount he has been paying for the last six years. His rates rose from around $1200 to $3000 in the last half.
Mr Abraham had been renting his Gold Coast property to his step-daughter, Jordan Summersby (21) since January this year.  When he queried the rise with the council he was told it was because the property being rented to students.
According to the council's Revenue Statement and Resolution of Rates and Charges 2011-12 , which gives an outline of the amount of rates charged by property type, the average rate for a rented property of that type should be around $883 (rental property type 2A).
There is nothing in the charges that says renting to students affect property rates.
When Mr Abraham told the council he was renting the property to his step-daughter living there, the council said it would recalculate the bill.
He later received a bill for his usual amount of $1200, but remained confused.
"I don't know what happened," he said, having received no reason why students living on his property would up the rates.
Miss Summersby was equally as concerned, though not only over the price of the rates. She claims that there was no way council could have known if students were living on the property or not.
"The only reason that they have to believe that I'm a student would be if they followed me to university or they've heard me speak about it. They have no other basis for it.
"I think it's pretty unfair, though," she said, standing out the front of the house where she lives with her fiancé.
Mr Abraham said he hoped the problem was remedied.
The Gold Coast City Council would not comment.