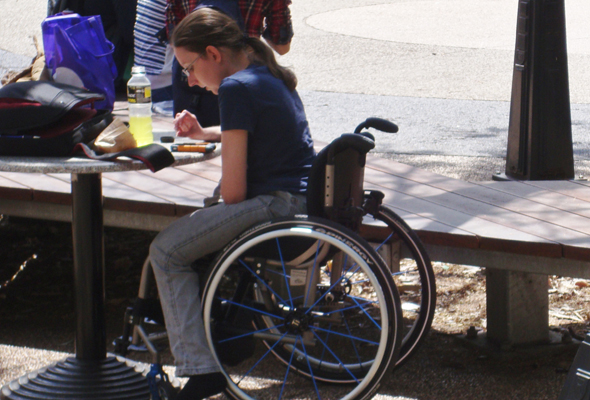 Griffith wins in disability services
Being a physically disabled student at The University of Queensland, Queensland University of Technology or Griffith University is not an easy position to be in.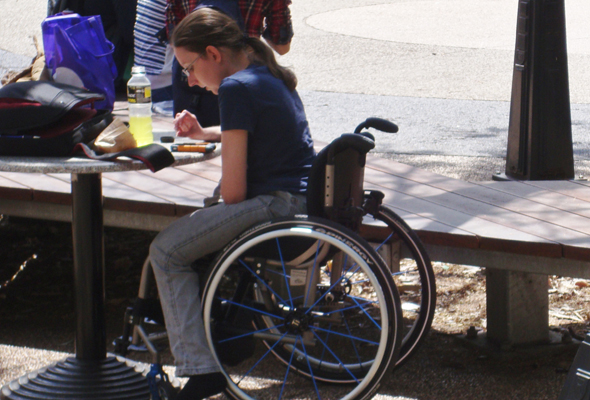 Being a physically disabled student at The University of Queensland, Queensland University of Technology or Griffith University is not an easy position to be in. However, in comparison to the other schools, Griffith University has proved to offer the most services to its disabled students.
There have been complaints from disabled students at UQ, QUT and Griffith but the latter University seems to have more resources available to deal with them effectively.
Griffith also has the most disability advisers available in order to assist disabled students with their needs.
UQ is the only school that does not have a club or representative council for disabled students to voice their concerns. Both QUT and Griffith have one or more.
"Disabled students usually complain about gaining access to public toilets at the campus or the difficulty they have to getting onto sections of some UQ buildings," said Leesa Schwarz, a UQ disability coordinator.
"The disabled students are dealt with by following the student service procedure and there have been complaints."
Naturally some students have spoke out about the challenges in using facilities at UQ and the difficulties they face.
"Some buildings in the campus have no wheelchair access and some buildings just have a few. Some of the roads are too sloping," said Bridget Harrington, a disabled student at UQ.
Bridget was also left helpless when she asked for assistance about whether specific buildings on campus were wheelchair accessible. The councillors claimed they didn't know and couldn't offer her the information needed.
"Some buildings have no wheelchair access. Some have but when I get in I can just move in some parts of the building, such as the Hawken building," said Bridget.
"I know it will be hard for the Uni to fix all those problems, but it will be great if they can be improved."
Students at QUT have voiced their concerns as well.
"There are quite a few complaints from disabled students at QUT," said Robyn Molan, a disability adviser at QUT. "There is no more than ten assistants for students."
In the disability action plan at QUT it clearly states that students should be aware that assistance with personal care such as meals, toileting and pushing wheelchairs cannot be provided.
In the disability action plan for Griffith University, results were published in comparison to the other two Universities.
Griffith had the highest access rate, participation rate and participation ratio percentages.
It also tied with QUT for overall success ratio and held the top spot in three out of the five categories.
Action plans for disabled students at UQ and QUT had no statistics in comparison to the results of the other Universities.
In analyzing and gathering information from disability councillors of the three Universities, Griffith stands out above the rest as illustrated in the graph below:
[table id=10 /]
"We try to ensure the students have the same opportunity as others to reach their full potential," said Judy Hartley, a disability adviser at Griffith University.
"We interpret what is good practice through various sources and are more individual based."
Cancellation of government services, infrastructure flaws and councillor shortages are realistic problems that disabled students must deal with on a daily basis.
The disability plans for the Universities are all closely aligned with the Queensland Government's policies for disabled people and a risky decision was recently made.
The Queensland Government has made things harder on physically disabled students by deciding to axe a taxi subsidy program.
The program would pay taxi drivers an extra $6.50 for picking up passengers with wheelchairs that require assistance.
The extra money is for the time spent on assisting the disabled passengers and in the taxi business, time is money.
This decision has been met with controversy from the physically disabled community and a panel review by the Honorable Scott Emerson, the Transport and Main Roads Minister, will take place due to public uproar.
This controversial decision illustrates yet another blow to disabled students as they occasionally rely on taxi services to get them to and from University.