Gym bounces back after flood
Was it better to have your business flooded or your house flooded during January's devastion? A gym in Indooroopilly, in Brisbane's inner-west, went from being 4.1 metres under water to open in just three weeks.
[media-credit id=116 align="alignleft" width="590″]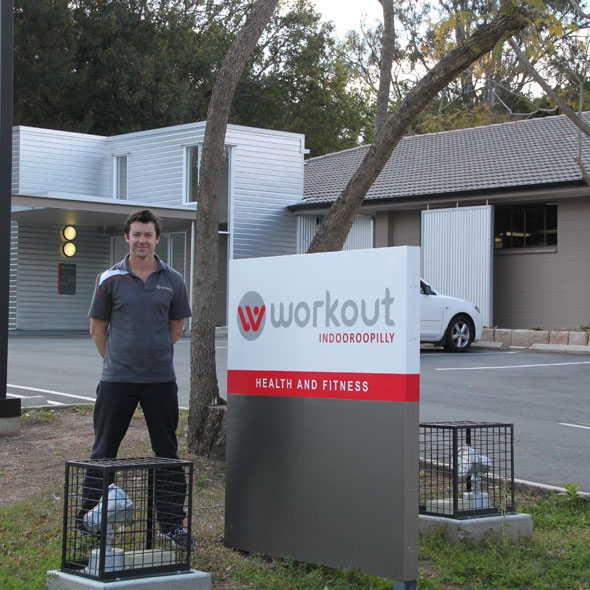 [/media-credit]Anthony Burke, owner of Workout Indoroopilly, standing proudly outside his rebuilt gym.
Over seven months have passed since Brisbane's worst floods in 30 years and if your business was affected during that time it seems you're more likely to be better off than if your house was affected.
Workout Indooroopilly, an independently run gym located on Witton Road in Indooroopilly, had 4.1 metres of water through its premises and lost nearly 100 per cent of its equipment.
However, the gym was only closed for 21 days.
It opened a temporary gym in the front room of the building with salvaged strength equipment and boarded off the rest of the building so the builders could work without hassle.
Owner Anthony Burke explained that without a loyal membership base things could have been very different.
"People are loyal if you give them a reason to be," Mr Burke said.
Workout was entitled to, and received, a pay-out from its insurance to everything it was covered for. The total pay-out of $1 million contributed to around one third of the final rebuilding costs.
The remaining two-thirds came from the owners' pocket.
"We have been lucky that we are an established business and we just looked into the profits," Mr Burke said.
"We also had insurance for loss of income for the staff.
"The staff were around and helping and getting paid which was really helpful."
As a result of the insurance pay-out, Workout reopened completely on May 4 of this year stronger than before with a new logo, new colours and a noticeable marketing campaign in the local area, but most importantly, a brand new state-of-the-art gym.
Adjacent to Witton Road is Twigg Street, and nearly every house on this street was inundated.
Resident Renee Kelder moved into Twigg Street with her husband in March of last year and suffered heartbreak in seeing the water rise past the roof gutters of her first house.
Mrs Kelder was not covered for this particular type of flooding in her insurance policy although was granted a compassionate pay-out which covered about half of the rebuilding costs.
During the weeks after floods, Mrs Kelder and her husband were lucky to find a builder who only charged them for the cost of the supplies to rebuild yet they still couldn't pull off a feat like Workout did and get their house to a liveable state within three weeks.
Mrs Kelder admitted that this kind of help assisted her in moving back into her house around Easter time.
It was still a financial challenge for her and her husband, as the realisation of being a first home buyer set in.
"For us, this is our first house and we have a mortgage," Mrs Kelder said.
"You are already in debt and there is no profit to put towards rebuilding.
"Property values are lower as well so you are ending up with something that is worth less then when you started."
Even with all the assistance and pay-outs, Mrs Kelder and her husband only moved into their house a couple of weeks before the gym.