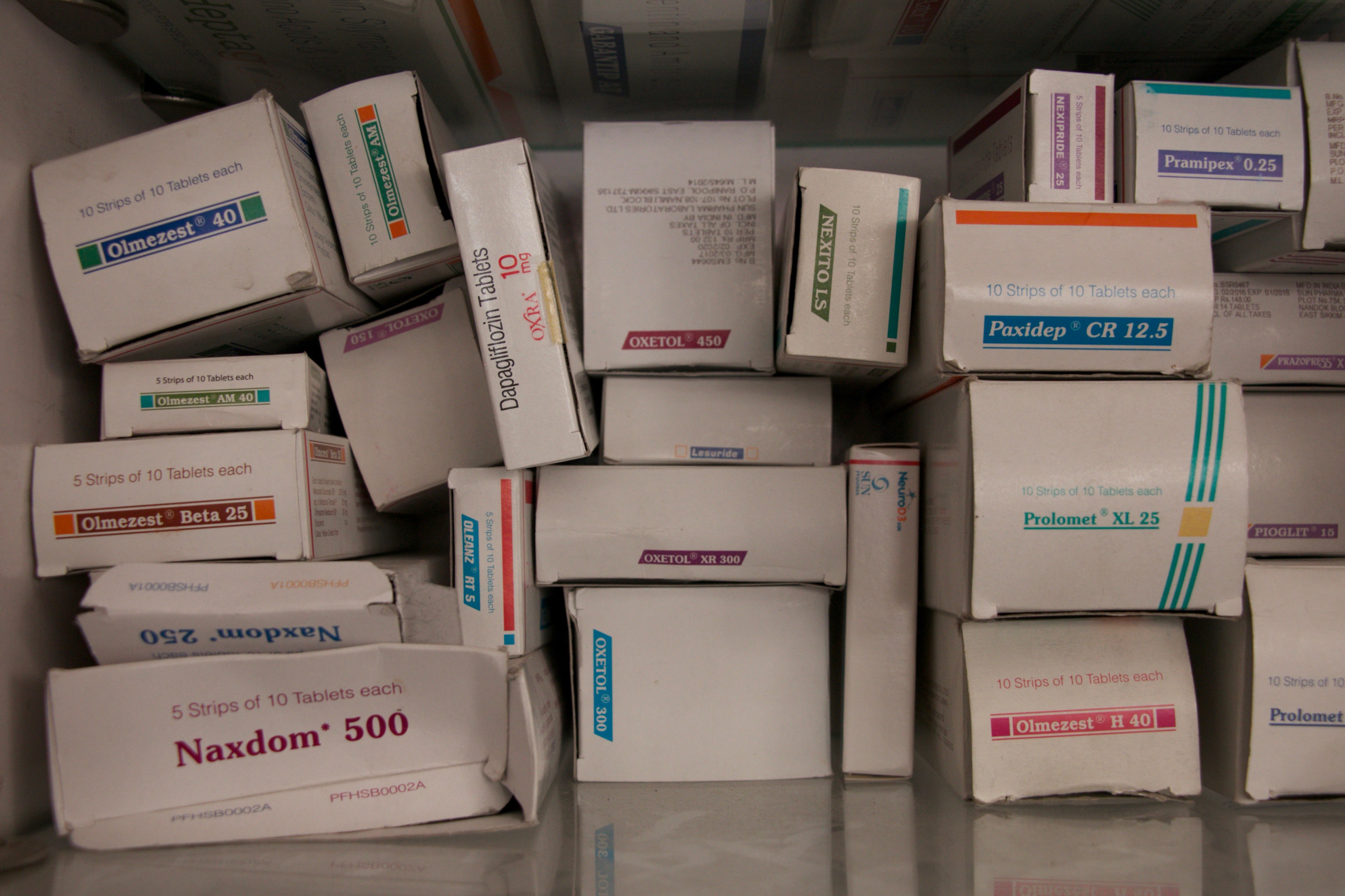 Health is the Industry's Wealth
Tucked away in an alley off the main street of Jaipur, the pharmaceutical and nutraceutical industries are plagued by counterfeit medications and supplements. Boxes litter the front of each chemist with packets and jars spilling onto the side walk. Yellow fluorescent lights shed light on shelves packed tight of everything and anything.
Dr Rajesh Santlani, owner of Santlani Health Care and Enterprises, sits behind his desk surrounded by this chaotic scene. He is well dressed in a button down with his hair combed to either side. Conversation flows off his tongue with ease and confidence. He knows exactly what to say, when. A true businessman he is with pride and ego oozing from his pores.
This picture radiates from every chemist in Jaipur's city centre. The business owners will all tell you that their medications and supplements are approved and up to Indian government standards. It is lucky that too much of the population lacks education and financial stability to know or even care about where these products are coming from.
Over 50 percent of the medications and supplements on the market in India are either counterfeit, not approved or not tested. No prescription is needed for many products, so there is little care taken when researching and educating the population before they purchase items.
CEO of RNCOS Business Consultancy in Delhi, Shushmul Maheshwari, says the industries are rapidly growing and will continue to.
"The increasing population, rising disposable income and growing awareness about health issues and their treatment options, will propel the growth of these industries,"
"In 2016, the nutraceutical and pharmaceutical industry of India were valued at approximately US$ 3 Billion and US$ 20 Billion, respectively."
"The transformation of food habits, less physical work, and increasing desk jobs have driven incidences of lifestyle related diseases," Mr Maheswari says.
Businesses are sourcing products from all over the world to sell. This is regardless of their knowledge of the manufacturing processes the medications or supplements have undergone. Dr Santlani says this can be deceiving for consumers as they think they are buying genuine products.
"From what I have seen, there are many businesses that are only labelling products,"
"Customers who are purchasing these products are not aware of what they have taken and who they should listen to for advice."
"There should be the same control over supplements as there are on medications," Dr Santlani says.
The Indian government does not currently have strict regulations for the testing and approval of products in the nutraceutical industry. This results in a lack of standards for sporting supplements and herbal medications. Mr Maheswari says the government is trying to rectify this issue.
"Nutraceutical manufacturing companies only have to test their products but no approval is needed and won't be until new standards are notified,"
"The rapid implementation of draft guidelines for nutraceuticals will bring clarity for manufacturers here in India."
"They will be able to invest into the industry without fear," he says.
While the government is moving fast to eliminate this problem, the sporting industry in India has already seen cases of dope-laced supplements. The Times of India reported in June this year that the Sports Minister admitted to growing concerns for the safety of nutritional supplements.
The reoccurring incident of supplements such as protein powders containing steroids isn't new for India. Owner of The Protein House and bodybuilder, Mukesh Choudhary, says sporting supplements have a gotten bad name.
"Definitely more and more is needed to be done and the government should be more responsible,"
"Up until now, only 80 to 90 percent of the market has recovered because of the arrival of the GST."
"If the rules and regulations were stricter than they are right now, maybe then things would get better," Mr Choudhary says.
For many professionals, this moral juggle between consumer's health and profit is too complex. Ms. Archana Jain, Nutritionist and Dietitian at Angel Care Wellness Centre in Jaipur, says wealth and greed is overriding the fundamental purpose of taking medications and supplements.
"I don't think it will ever get better, because it is a big Mafia industry,"
"I have seen this industry grow many bounds, the biggest pharmaceutical companies are earning like anything."
"If you are manufacturing a protein product or a vitamin supplement you can sell it to billions of people," Ms. Jain says.
With 28 years of experience under her belt, Ms. Jain continually moves patients away from taking medications and supplements wherever possible.
"People used to be apprehensive about taking these medications or supplements,"
"Things have changed and now people are relying more on these rather than actual food," she says.
The government in India has a policy of supplying the poor free medication when medical assistance is needed. Dr Amit Gupta, Orthopedic Surgeon at the Santokba Durlabhji Memorial Hospital in Jaipur says this is often misused because of the lack of education.
"Obviously people need to be more educated however, in our country it will take more time,"
"People don't know and they will take whatever they have been prescribed by any professional,"
"You need a doctor's prescription, here even a pharmacist will provide drugs without any problem," Dr. Gupta says.
While the misuse of medications has resulted from this initiative and poor education, Dr. Gupta says the government's carelessness is the underlying issue for the lack of testing.
"All the drugs that are FDA approved should be the only medications available in the market and should only be used.
"There are different brands that are coming into our country that are not under control," he says.
While there are already laws in place for the manufacturing and approval of pharmaceuticals in India, locals say it is common for them not to be enforced.
It is alleged that Dr Santlani manufactures and imports products from Africa. When asked about this, he assured that his products are up to Indian standards.
"These medications are made in India only and they get tested by the certified lab,"
"The government is very strict right now and they collect samples on a large scale."
"In Rajasthan there are 50 drug inspectors who randomly collect samples every month," he says.
The Indian government will be enforcing the drafted guidelines for the nutraceutical industry from the start of 2018. The Food Safety and Standards Authority of India (FSSAI) will oversee these guidelines in hopes to eliminate the issue. Professionals fear the laws won't change the bad practices within the industries.
Juanita Egan is currently in her third year studying a Bachelor of Journalism and a Bachelor of Communications majoring in Public Relations. She aims to use the knowledge and experience gained through the India trip to carry through her future endeavors in the industry.