Historic races reveal community spirit
The sleepy town of Leyburn was transformed into a petrol head's paradise for the 16th annual Leyburn Sprints.
[media-credit id=150 align="aligncenter" width="590″]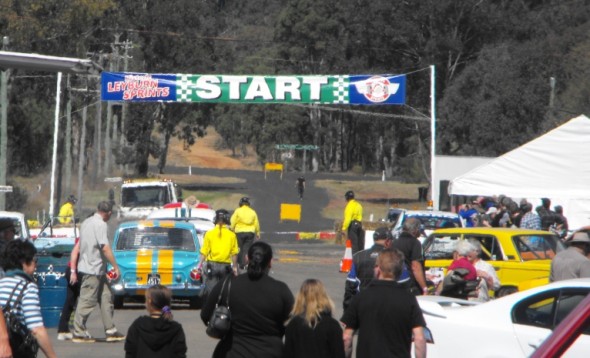 [/media-credit]
Crowds gathered in the small town of Leyburn to watch over 200 historic cars battle it out around the 1.1 kilometre track.
The sleepy town of Leyburn, approximately 80 kilometres south-west of Toowoomba, was transformed over the weekend into a petrol head's paradise for the 16th annual Leyburn Sprints.
The event attracted some of the biggest names from Queensland motor sport including three-time Bathurst winner Dick Johnson and amateur Dakar Rally Champion Bruce Garland.
But for driver Robert Van Weigen the main attraction is the sense of community at the sprints.
"You meet up with people that you haven't seen since last year, the camaraderie and just the country feel is what keeps me coming back," he said.
Driver Tony McLeod agreed.
"Its the people. Its catching up with people that you haven't seen for a long time. It's always warm, it's always friendly, they're a good bunch of people. It's grass-roots racing."
More than 200 historic cars sprinted through the 1.1 kilometre circuit through the streets of Leyburn, with vehicles ranging from a 1926 Amilcar to historic Ferraris, Porsches and Maseratis.
Each year the town plays host to the historic Sprints, an event which has its roots in the first Grand Prix to be held in Queensland.
The Sprints are held each year to commemorate the 1949 Grand Prix, which was held at a disused military airfield near the town.
This is the 16th year that the event has been held. The proceeds from the event are held in trust and are invested back into services for the Leyburn community.
"Even those who don't like motor racing realise that this brings a lot of money to the town. So we all hop in and help," said a spokesperson for the Leyburn Historical Society.
Police reported that the crowd has been very well behaved. "The majority of people out here are just your dead-set car enthusiasts. They just come here to have a good time, they don't come here to cause trouble," said Senior Constable Gavin McLucas of the Allora Police Station.