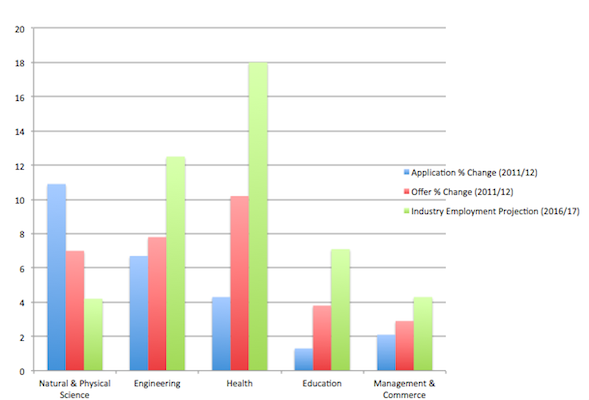 Health beats science in job prospects
Australian students applying for university may be better off studying health rather than science in order to secure a job after university.
The growth in applications by students hoping to study scientific degrees at university is outnumbering industry projections for job availability in the scientific industry, a JACdigital investigation has found.
An investigation into job prospects for university graduates by JACdigital found that applications to study science at Australian universities grew 10.9 per cent from 2011 to 2012, from which placement offers grew 7 per cent, surpassing the projected 4.2 per cent employment growth in the industry for 2016, when most applicants will graduate.
The revelation about the science faculty is just one of a number of findings of the investigation which was compiled from The Department of Education, Employment and Workplace Relations' (DEEWR) 2012 Australian Jobs Report and a 2012 report from The Department of Industry, Innovation, Science, Research and Tertiary Education.
Science was the standout of the investigation (see the graph above) that also assessed industries such as engineering, health, management and commerce, and education. All other industries except science see projected growth for employment in industry outnumber application and offer growth.
The health industry may be headed for a critical shortage as it's employment growth for 2016 sits at 18 per cent while applications fall short with 4.3 per cent growth and offers at 10.2 per cent growth.
On August 31 DEEWR released its report on skill shortages around Australia listing a number of occupations in shortage supporting our investigation. Civil, electrical, mechanical, mining and petroleum engineers are all listed as under a nation wide skill shortage, as are health professions such as nursing and midwifery.
Job advertiser Seek revealed in their July job advertisement report the top five occupations in most demand with nursing/midwifery making the list along with solicitors, architects, insurance brokers and real estate valuators.
With QTAC applications for university places closing September 28th it's an interesting time for Queensland school leavers deciding which degrees will give them the best chance at a successful career.
Current Year 12 student Zoe Leahy who wants to pursue a career in science was optimistic, saying the data encourages her to be more competitive.
"It just shows that you should work hard to be the best of the bunch in order to get a job. At least there's some growth projected instead of the science industry shrinking."
Fellow student Georgie Phillips said it would have little effect on her considerations when applying for university. "It's interesting info but I don't want to study something solely because it guarantees a job, I want to do something that interests me. I'm thinking about studying education so it's nice to see that there is expected to be job."