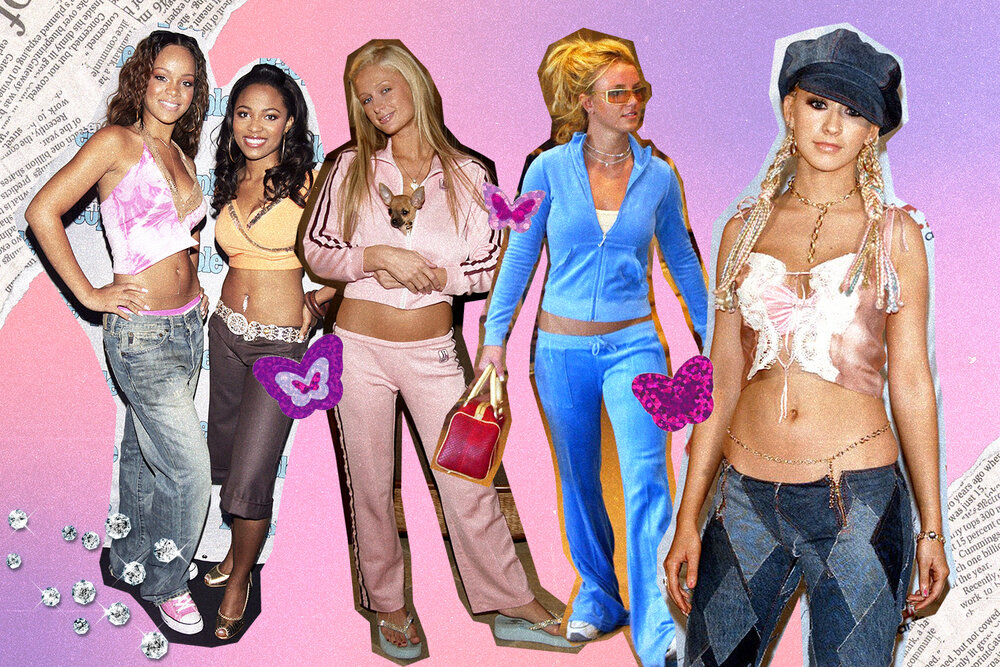 Oh So Retro: Good for the wallet, and good for the planet!
If you've ventured online at all in the last 12 months, you would have noticed that there is one overwhelming trend taking over social media: fashion. From Tik Tok, to Instagram, to Youtube, fashion trends and tips are everywhere. You can find videos for how to turn a skirt into a top, how to have a capsule wardrobe, and even how to dress for your Instagram content photo shoot. However, there is one standout fashion trend that has circled its way back into the limelight, and that's the Y2K/2000's fashion trend. Yes, you're thinking what I'm thinking.  I'm talking claw clips, jelly shoes, mini-skirts, and my personal enemy- low-rise jeans.
Never has there been a time when everybody under the age of 21 (or older, I don't judge) has wanted to dress more like 2005 Britney than 2021 Kim K. For anybody like myself who lived through these trends, it's a little laughable and scary. But for Generation Z, dressing retro (yikes, is the 2000's now retro?) has never been cooler. Think Mean Girls, or 2002 Kids Choice Awards for inspiration. So how do we achieve this iconic look of the past?
Well, I have one overarching tip- op shopping! Now, before you cringe at me and say op shopping is for Grandma's, hear me out. Almost every single trend you can see on social media right now, you can find at an op shop. You just have to be determined, take your time, and know how to look. Not only is op shopping great for your bank account, but it's also great for the planet. The fashion industry, thanks to fast fashion, is now one of the biggest causes of pollution in our world, coming second to oil. We now consume 400% more clothing than we did 20 years ago as a planet, most of which is made up of synthetic fashion pieces. These pieces can take thousands of years to biodegrade and can produce up to 1900 micro-plastic fibers in just one wash. One way to help combat this, and the rising consumption of fashion, is to op shop. This reduces fashion consumption and makes use of many loved items which are sitting around and waiting to be worn.
Initially, when this "Y2K"  trend was taking off (on Tik Tok in particular), op shopping was at the top of its game. The fast-fashion scene was yet to catch up with the demand and op shopping was the only way to go. Unfortunately, fast fashion brands have now well and truly caught up. Everything that was initially being dug up and recycled from op shops, and even parents' wardrobes, is now being purchased from mass-produced companies. This is such a shame to see, as staying trendy and op shopping really does go hand in hand. How on Earth does that work, you may as? Well, let me show you.
Fashion trends go through a cycle. They go from being introduced to being popular, to being rejected and classed as unfashionable or "chuggy" (as the kids call it- it means it looks like you're trying too hard, ouch!). But fashion trends more often than not come back into popularity. Let's take the beloved high-waisted bottoms as an example. They first reached popularity in the 1940's, with a resurgence in the 1970's, before being knocked out by low-rise in the 2000's and coming back in the 2010's. Generally, there is a 20–30 year gap in between a trends popularity stages. This goes hand-in-hand with op shopping. A lot of the time, people are donating their clothing to op shops when the trends have completely changed, or their personal style has changed. This means that op shops are loaded with classic 80's, 90's, and the favoured 2000's styles. For example, below are two photos of mini baguette bags, one of the trends from the 2000's that has been brought back. I want you to have a glance at these two photos and see if you can tell which one is from the 2000's, and which one is a fast-fashion replica.
I'm guessing you probably can't tell the difference, right? I mean, besides the giveaway 2000's camera quality. Well, bag number 1 belonged to the pop culture 2000's queen herself, Miss Hilary Duff. Bag number 2 is a mini bag produced by the popular fast-fashion site Shein. Now while there's no guarantee that going to an op shop will get you a vintage bag held by a pop sensation like Hilary, it's almost certain to yield a similar result to shopping fast fashion. Not only that, but here in Australia you can find items for as little as $1 or $2, and who doesn't love a bargain!
So the moral of the story is, if you're out there thinking "I really wish I was more fashionable", do a little research into the current trends online and pop down to your local op shop. It's better for the environment, substantially more sustainable, fun, rewarding, and probably going to save you a lot of money in the long run. Happy shopping!
Graduating student of UQ in 2021, with a Bachelor of Communications (majoring in Public Relations).