Awarness day focuses on risks of overdose
This week marks National Overdose Awareness day which is a campaign to remember those who have died from having suffered an overdose
[media-credit name="Jemma Fletcher" align="aligncenter" width="590″]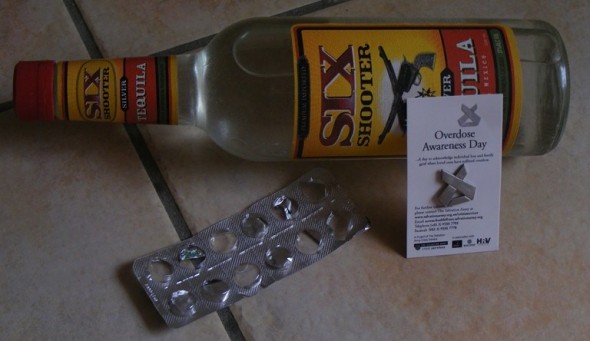 [/media-credit]
An overdose can occur through a variety of substances
Last week marked National Overdose Awareness day which is a campaign to remember those who have died from having suffered an overdose, as well as those who live with the effects of it.
Founder of the cause Sally Finn is deeply committed to spreading the message of this campaign.
"Overdose doesn't only refer to heroin, but alcohol, pills and other drugs too. It is important to clarify that, in order to have a more reflective reality of overdose which allows us to speak more broadly about the issues," she said.
"Overdose Awareness Day has a number of aims which can be read on our website, but it is primarily an opportunity for people to publicly mourn for loved ones without feeling guilt or shame.
"It is also a good promotional time to provide basic information on the range of support services that exist in the local community."
Mickey Grant knows only too well how important support is after she suffered an overdose herself.
"I have overdosed. It was actually on ecstasy, and I thought I would secretly take more than everybody else because I thought I could handle it. But no I couldn't, and slowly, physically wise, I felt like my body was starting to shut down completely," she said.
"They [friends] put me in the shower and I woke up as they were throwing a bucket of ice over me. I started to lose control of my body fluids so then it was time to go to the hospital. I woke up seven to eight days later.
"There's been a couple of close calls but that's the only one that hospitalised me. It was after this that I began to realise I had massive problems, and looked into counseling, and into programs.
"Overdosing is a massive wake up call but I've seen a lot of people overdose, and they're back within 12 hours doing the same thing, if not more. It's pretty sad."
She said people have to want to get clean.
"They have to want to do it for themselves, they can't do it for anybody else. You can't do it for your kids, you can't do it for your mum, can't do it for your dad or anybody else, only for yourself. I haven't relapsed in three years. Everyday I wake up and think 'I'm gonna be clean today'. One day at a time, one hour if you have to, one minute if you need to. It gets pretty hard sometimes.
"I've accepted who I am and what I've done, I'm not ashamed because it made me who I am. I never want to be back there and to do that you have to accept and understand what you have done. I am a bigger and stronger person for it".
Read here for further information about Overdose Awareness Day, and listen to the podcast below to hear more of Mickey's story.