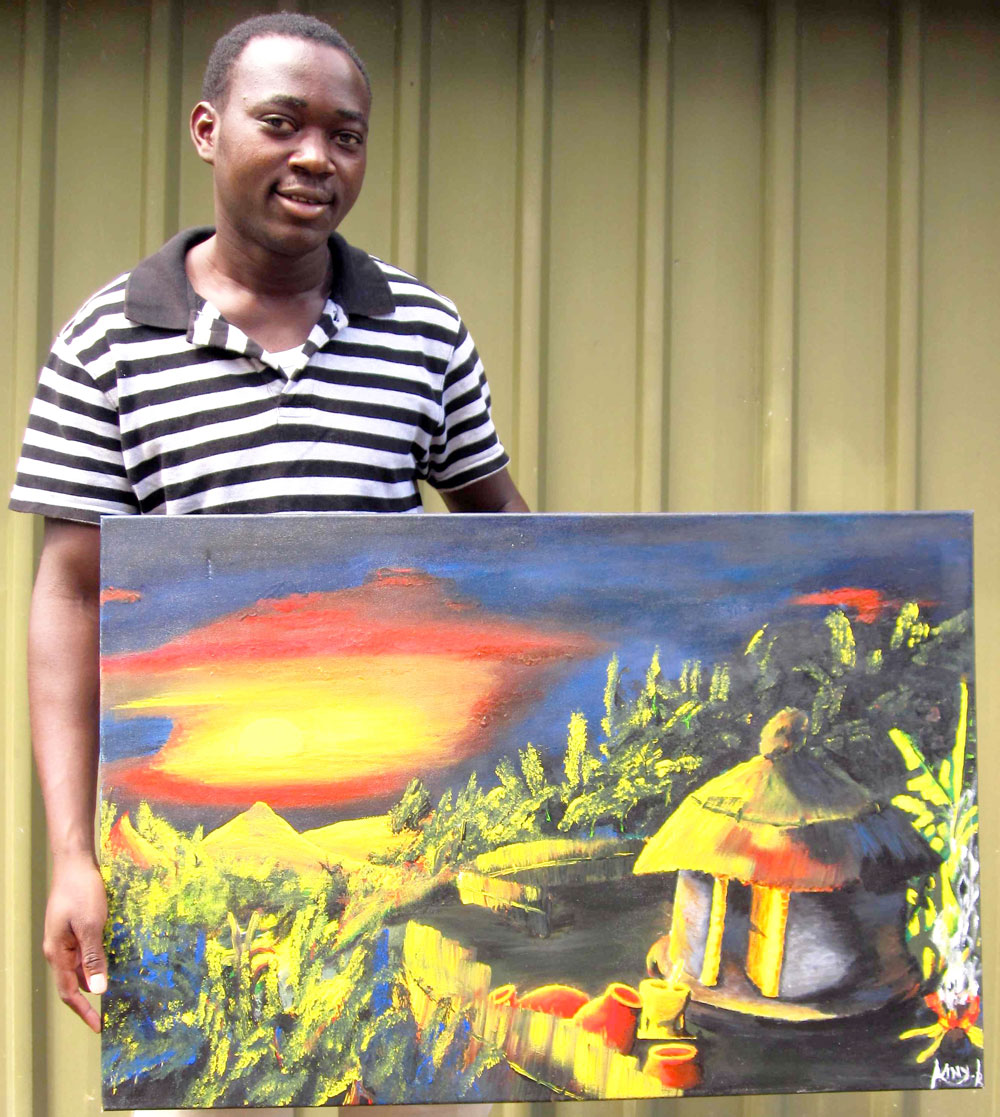 Painting my life afresh
Story by Ervin Liu
Student. Artist. Survivor. Kiny Ruharara is a 19-year-old refugee, whose life story is as gripping as his intensely evocative paintings.
Mr Ruharara, hails from the Democratic Republic of Congo (DRC) in central Africa. He today dreams of becoming an art teacher, but five years ago, he called a Zimbabwean refugee camp "home". He languished in the camp for 18 months, waiting for his Australian refugee status to be processed. "I was among the lucky ones," he grins.
"Most people spend much longer than that."
His family lives in the east of the DRC, where rebel incursions into the mineral-rich region are commonplace and death, a distinct possibility. Anything can happen there – dying or living – so people make accepting tragedies easier by seeing it as a normal part of life, he says of the violence. "Where there is war, lives will be lost." Armed with a good grasp of Swahili and French, and no small amount of resourcefulness, he reached the camp journeying through nearby African regions, Burundi, Tanzania and Malawi, seeking a better future elsewhere. He has graduated from Loganlea State High School since arriving in February 2009, and is now studying civil engineering at the Southbank Institute of Technology.
"I'm studying engineering, but it's not really my passion," he confesses. "What I would really like is to be making art and teaching art workshops instead." In a corner of his living room, sits a small collection of canvas paintings. A landscape piece of a solitary hut on a hilltop – dawn bursting across a painted sky in a blaze of crimson gold – hugs the wall above his collection. "Mostly I do drawing and painting, because they are my favourite way of playing around." The avid basketball and soccer player explains how it took him just two days to paint the landscape piece on his wall.
Ruharara's work has been featured in the Art from the Margins (AFTM) exhibition at the annual Brisbane Festival in 2011 and 2012. AFTM is a Wesley Mission social initiative program and is in its sixth year running, since its inception in 2008. The annual event exhibits work from artists with disadvantaged backgrounds, aiming to help them integrate into the wider community. Anthony Anderton, director of AFTM, explains that the program began with a very specific focus on helping homeless artists, but which has since grown to include refugees and other disenfranchised groups.
The program's refugee segment began with collaboration with refugee support groups, like the Romero Centre and the Multicultural Development Association of Queensland, and it received funding from Multicultural Affairs Queensland. The first AFTM refugee week exhibition featured the work of two refugees – an Iraqi and a Burmese artist – and a smorgasbord of visual art pieces and traditional costumes, topped off with a short film screening. The refuge week has grown to feature the work of over 50 refugee artists in 2011-2012.
Art has helped many cope with trauma and mental health issues. "Artists who come here tell us that the more time they spend working with art, the less time they're in hospital," Mr Anderton says. He sees the program as a means of helping the refugees become an accepted part of a community and to give them a sense of achievement. "Art from the Margins is a really good place to display their stories," Mr Ruharara says. You get to speak your mind and tell your story through your art, he says of the program, and you might even end up changing the negative opinions of some people. Mr Anderton does concede, however, that it is not a cure-all. "It doesn't change the fact that you are an alcoholic, jobless and are suffering from a mental illness," he says of some who slip back into alcohol abuse.
Donata Sackey, senior project manager at the Mater UQ Centre for Primary Health Care Innovation, is a psychologist with 20 years of experience working with refugees. Refugees often feel an initial sense of relief when they reach here, she says, but it is often followed by a survivor's guilt that they have left the family behind. They also don't have very many options to help bring their family to Australia. Mr Ruharara describes his feelings of isolation from his family back in his homeland. It is also not cheap to call home, he says, a 30-minute call would cost about $20, and 30 minutes to talk to people you haven't seen for ages is not nearly enough. He only averages one to two phone calls home a month.
Loneliness and a sense of displacement weigh heavily on the minds of refugees. According to an Australian Broadcasting Corporation (ABC) news report, a study conducted by international policy research agency, STATT, found that 90 per cent of Sudanese refugees in Australia want to go home, citing racism and discrimination among some of the main reasons.
Mr Ruharara admits that he does encounter the occasional problem with racism and is apprehensive of embracing the culture of his adopted country. Change is not something I like and I'm unwilling to adopt Australian colloquialisms because in my culture, language represents a person's identity he explains. But he remains confident with the support of friends from his community.
Some Australians believe, however, that while refugees should be welcomed, they should make an attempt to integrate into the Australian culture.
Peter Lugg, a former conciliator with the Human Rights and Equal Opportunity Commission, believes that different nationalities have contributed to making Australia what it is today. Refugees from any part of the world should be welcomed and helped, although they should make learning English a priority, he says. The last thing he wants is an Australia where migrants live in enclaves without any plans to integrate or positively contribute to the country.
|By Ervin Liu