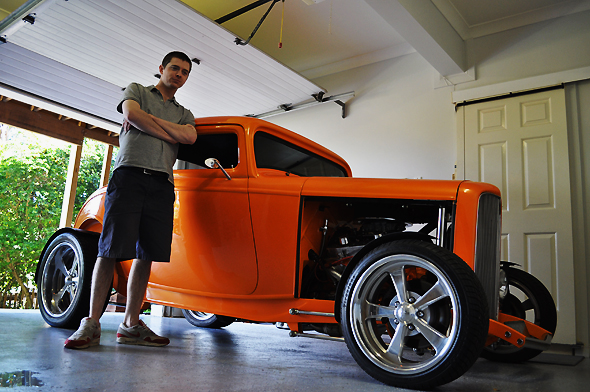 Rain delays 21st Jamboree
Heavy rain caused the 21st anniversary of the Willowbank Jamboree to be postponed until October.
[media-credit id=130 align="alignleft" width="590″]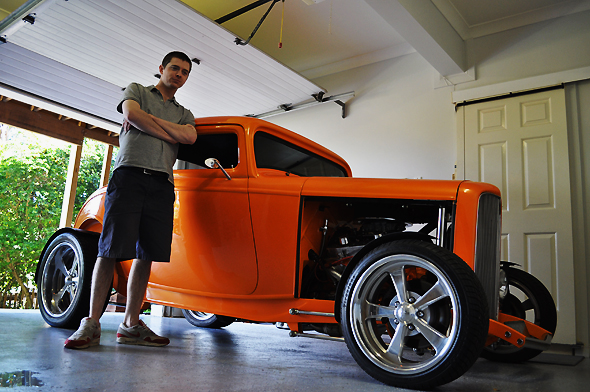 [/media-credit]
Simon Elvish standing next to his 1932 three-window Ford coupe
Rev heads were disappointed after the postponement of one of Brisbane's premiere automotive lifestyle events, the Jamboree at Willowbank. Heavy rain caused the 21st anniversary of the event to be postponed until October 1-2.  The Jamboree was originally scheduled to occur over the last weekend of August.
Owner of a 1932 Ford three window coupe, Simon Elvish (pictured) was frustrated by the rain delay that thwarted his plans on winning the Top Old School category in the Show and Shine event.
"Me and my Dad just had the doors fixed and we were really looking forward to getting the car out on display," Mr Elvish said.
"It's a shame, but hopefully the organizers get some better weather for the new date."
Track official Brian Mclachlan shared the frustration of the spectator's and entrants.
"It is a disappointment especially when you do prepare so much to go into that event," Mr Mclachlan said.
Unfortunately for car enthusiasts, the rain delays are a recurring issue at Willowbank this year.
"We had the Winternationals postponed the first one, and the second one got rained out and they couldn't complete it," Mr Mclachlan said.
But Mr Mclachlan believes that the change in date will not affect crowd numbers.
"Every year there's more and more people, more and more competitors. Every year that the Jamboree happens there's more and more, it's going to be huge this year," Mr Mclachlan said.
Ray Box, the event promoter, issued a press release stating "we have the time to refine what we've already planned and add even more to ensure Jamboree continues to be the biggest of it's type in the world".
With the new date approaching fast, volunteer flag marshal Paul Bailey is excited for what the 21st anniversary of the Jamboree has up its sleeve.
"They have sound offs for cars running massive sound setups, show and shine is amazing, dyno comps, there's bikini contests, there's cars an inch off the ground with airbags and hydraulics that are jumping all over the place," Mr Bailey said.
"It's not just the drag racing anymore; it's a whole automotive scene now."