Slum Children – Beyond the photos
By Morgaine Auton
The children crowded around us, teaching us a handshake where you connected by your forefinger and your pinkie, swivelled around the thumb, and shook hands. It wasn't until later, sitting at lunch with our buddies, that we were told this symbolised friendship. It harked back to Koi Mil Gaya, a 2003 Bollywood film where this handshake was used. It hadn't occurred to me that children of slums would be into popular culture. Perhaps this was my first mistake.
Secondly was my silence. During my time in India, I have come to realise that English comprehension is not a given, and I should not expect it. And while our buddies translated conversation we had with the adults, it was not until we were almost ready to leave, that I realised that it might not always be the case with the children. They bustled around me, so enthusiastic and willing to be a part of my life. I showed them how to take photos on my camera, then videos. As the pictures came up on my screen, they exclaimed with delight "photo!" or "video!" They told me their names, and pointed out their parents and which tent huts were theirs. It occurred to me that these children of the slums knew not only Hindi, but also enough of English to get by. They were more bilingual than most Australians.
Boys held up shiny Samsung phones to take our pictures with their aging mothers. A little girl in a purple dress hugged me, and I caught a whiff of some beautiful perfume from her hair. A boy asked me to take his photo and posed with a mouthful of melon – just to be different. The older teenage boys posed for pictures with their hands in gang signs, chins up, and with trying-so-hard-to-be serious expressions. It struck me as the same as many of my high school photos from home. A girl in a blue shawl pulled her face into a mask of seriousness as I took her photo, and immediately after her face contorted into laughter. Another girl posed for pictures in an emerald green sari, looking like she belonged more to a movie than the side of the road where we met. None of these children looked dirty, or bedraggled, and they were not the sad, helpless street kids we had been conditioned to look for. These children were well cared for, and loved.
These images stood to remind me that we too often take things at face value – at their stereotypical basest component. The children of the slums are people too. Just like everyone, they are proud of their appearance, they buy things they want, they feel curiosity, and energy, and they're kids like you would see in any school or playground around the world. They are every bit the complex, profound, beautiful human beings with a wealth of life experiences I couldn't possibly imagine.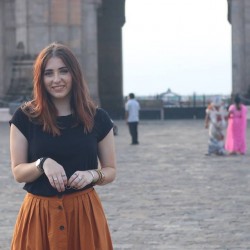 Morgaine is a Bachelor of Journalism and Arts student at University of Queensland, with arts majors in Psychology and Film & TV. She has been a media officer at Powerful Youth's Global Leadership Academy in Canada, and writes articles for Roubler in Brisbane. Her hobbies include photography, painting portraits, and travel. A radio documentary she completed on grey nomads who retire and sail around the world was selected as one of 7 to be broadcast by UQ on JACradio. Through her time in other countries, Morgaine has developed a deeper understanding of how the world works, and love of uniqueness. She loves travelling, exploring new cultures and meeting new people, and hopes to one day work overseas as a foreign correspondent or travel journalist.