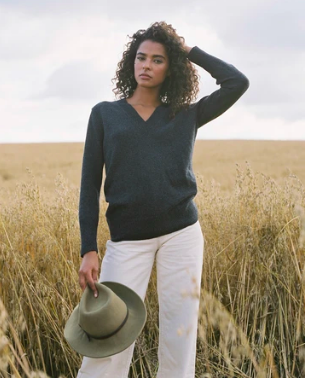 Sustainable Fashion: The clothing brands moving away from fast fashion
Sustainable Fashion: The clothing brands moving away fast fashion
By Courtney Wrigley| Oct 15, 2021
Sustainability and sustainable fashion have become popular buzzwords recently. More and more consumers are beginning to start shopping sustainably, avoiding fast fashion brands. Clothing brands are now realising that to stay competitive they must start embracing sustainability. This has seen some major fashion brands making commitments to incorporate sustainable practices and produce ethical and sustainable products.
The fashion industry is one of the largest polluters, with 85% of materials ending up in landfill. This harsh reality the fashion industry has on the environment has seen the emergence of various slow fashion brands. These slow fashion brands are dedicated sustainable practices, and having a positive impact on the environment and the community.
Below, we list some of our favourite sustainable clothing brands that produce high-quality, environmentally friendly pieces – for all budgets – so you can start shopping more sustainably. Each brand has made it their core mission to create products that are sustainable, ethically made and high-quality without compromising on style.
---
Pricing Guide
$| Typically under $100
$$| Typically $100 – $120
$$$| Typically $120 – $180
---
1. Bogdar
Location| Bulgaria
Ethics| BCI certified, high-quality & biodegradable fabrics, eco-friendly practices, ethical and local supply chain and manufacturing, eco-friendly packaging, gives back to local community
Best For| Chic women's clothing
Product Range| Women's dresses, tops, bottoms, bodysuits and accessories
Size Range| XXS-XL
Price Range| $$$
Using high-quality, biodegradable and recycled fabrics, Bogdar makes sustainable custom-made pieces for everyday women. As part of its commitment to giving back, all manufacturing workers are hired from factories in Bulgaria that have closed. Designed and ethically manufactured in Bulgaria, this Bulgarian family owned independent fashion label offers contemporary and luxurious custom-made outfits including: dresses, pantsuits, sets, jumpsuits, and jeans. All pieces are mad from sustainable fabrics like organic cotton, organic silk, Tencel, viscose and faux leather. With minimal waste production and top notch quality, Bogdar has the ability to make an impact one piece of clothing at a time.
2. Omnes
Location| London
Ethics| FSC and OKEO-TEX certified, digital-textile printing, eco-friendly practices, recyclable and deadstock materials, eco-friendly packaging, giving back
Best For| Casual women's clothing
Product Range| Women's dresses, tops, knitwear, trousers, loungewear, sets and accessories
Size Range| 6-20 (UK sizing)
Price Range| $$
Omnes is on a mission to change the way people shop, wear and think about clothing. Omnes offers casual yet stylish clothing for women of every size and shape. This London based brand creates products using only recyclable and deadstock materials in an ethical environment. Omnes commitment to change people's shopping habits and their sustainable practices are detailed on their website. They are also one of the first UK businesses to incorporate digital textile printing in an effort to reduce and energy usage. Plus, each piece of clothing has a label made from recycled plastic that has been removed from the ocean.
3. Kotn
Location| Canada
Ethics| Certified B Corporation, biodegradable fabrics, ethical supply chain, non-toxic certified dyes, plastic-free packaging, giving back
Best For| Men's and Women's essentials
Product Range| Men's and Women's sweatsuits, sets, jeans, loungewear and homeware and bedding
Size Range| XXS-XXL
Price| $
Kotn is the destination for luxurious, timeless and long-lasting essentials made from the finest Egyptian cotton. This certified B Corporation is the fourth highest impact scored apparel brands in North America. Kotn sources all of their biodegradable materials through the Better Cotton Initiative and family operated farms in Egypt. Kotn has worked with 2,390 small farms in Egypt to ensure their businesses can flourish and be highly successful. In addition, Kotn's partnership with the ABCs Project has helped build 10 primary schools in Egypt impacting over 100,000 lives. Creating high-quality, sustainable products that are built to last years into the future has also been at the core of Kotn's mission.
4. Stefania Vaidani
Location| United States
Ethics| OEKO-TEX certified, recyclable fabrics, giving back
Best For| Fashion forward Women's clothing
Product Range| Women's tops, pants, beachwear, dresses, loungewear, suits, coats and knitwear
Size Range| XS-XL
Price| $$
Born in Greece, Stefania Vaidani believes that sustainable clothing should be both high fashion yet affordable. Each piece of Vaidani clothing uses sustainable fabrics that are hand-designed for each season and embellished with hand-made unique buttons. Vegan leather, organic cotton and recycled fabrics used for Vaidani clothing are all Oeko-tex certified and free of harmful chemicals. Each season Vaidani collaborates with a non-profit organisation to offer support to those less fortunate. In addition, Vaidani also donates old stock to women's charities in order to avoid wastage and the burning of materials. This is the go to brand for women looking for stylish and sustainable staples.
5. Navygrey
Location|London
Ethics| Ethical supply chain, fair work environment, reusable plastic free packaging, natural and high-quality fabrics, limited run batches, carbon-neutral
Best For| Fashionable, high-quality knitwear
Product Range| Women's cardigans and sweaters
Size Range| XS-XL
Price| $$$
Navygrey's effortless and simple knitwear is made from 100% natural fibres handpicked from eco-friendly sheep farms. Navygrey's mission is to "create products that sustain the environment and regenerate the land, resources and communities that rely on that land." All knitwear by Navygrey is created with 100% natural and hand-picked Scottish-spun Lamb's wool sourced from Responsible Wool Standard certified farms. Plus, all jumpers are packaged in un-dyed 100% organic cotton reusable bags. This is a fantastic brand for high-quality, long-lasting knitwear.