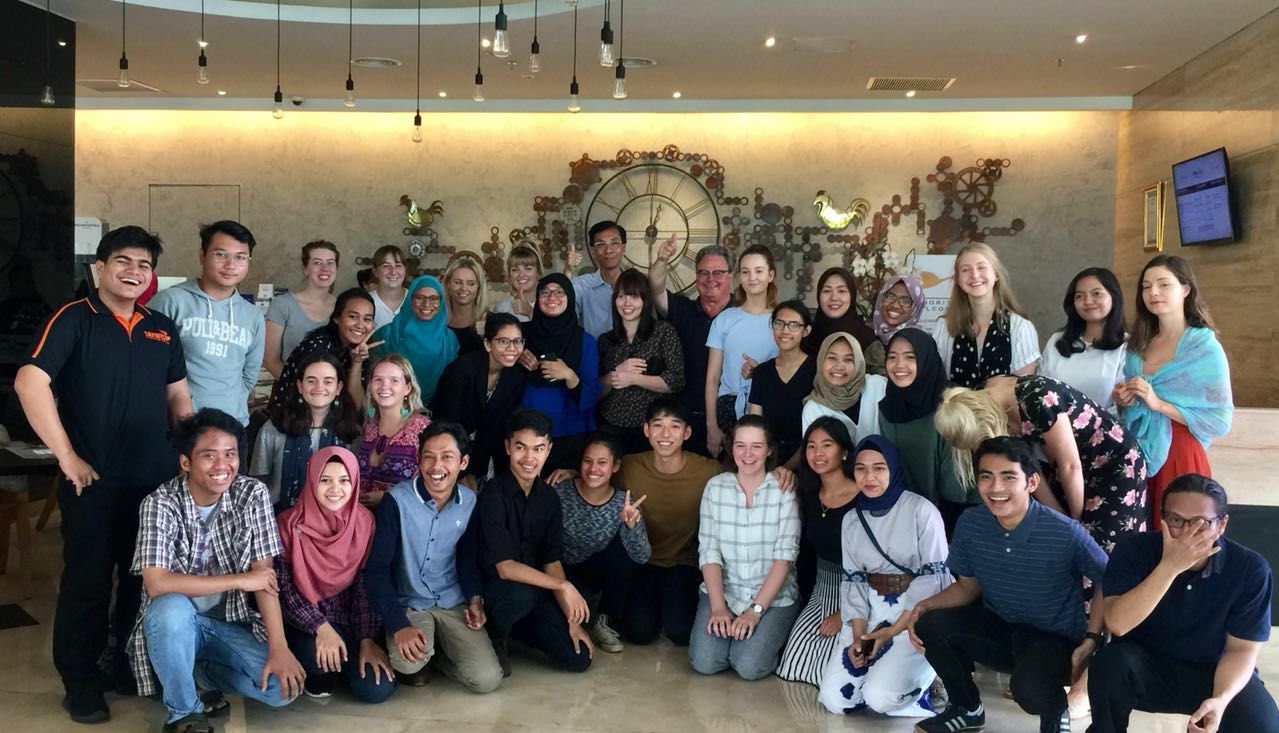 The Making of a Foreign Correspondent: UQ in Jakarta 2018
Fifteen journalism students are in Indonesia this month to learn how to become foreign correspondents during a field-reporting trip.
They have researched a wide range of subjects and plan to produce a full suite of multimedia productions, from audio and video documentaries to photographic slideshows.
Chloe Belchamber will be investigating pollution caused by 'fast fashion'. She says, "20 per cent of global water pollution is a result of textile processing, making it the second largest contributor of fresh water pollution in the planet". Chloe explains that Indonesia is one of the world's biggest textile manufacturers, so it is confronting the problem of how to deal with the health, environmental and social impact of pollution.
In a related story, Marian Faa is exploring the environmental impacts of instant noodles. More than 15 billion packages of instant noodles are consumed every year in Indonesia. Marian says, "From production, to retail, to consumption and finally disposal, I'll be following the journey of a packet of instant noodles and will take the audience into factories, shops, homes, lives and natural environments of Indonesia. It will expose, contextualise and humanise Indonesia's growing garbage crisis."
Marian hopes to produce a newspaper story for News Limited where she now works as a reporter in Warwick, even as she completes her degree at The University of Queensland.
To prepare for their international reporting experience, the students have been trained in technical production by the SCA's Media and Production Support team led by Paul Smith, and in advanced reporting and production by lecturer Bruce Woolley and UQ's new UNESCO Chair of Journalism and Communication, Peter Greste – both former foreign correspondents.
Students have also been working with "buddies" from Universitas Indonesia's School of Communication who helped with identifying stories, arranging interviews, organizing logistics and providing translations.
All the stories produced by the 'UQ in Jakarta 2018' students will appear on the SCA students' website, jacdigital.com.au. Follow them as they explore the colourful culture, history, politics and religions of Indonesia.
This is the eighth overseas course the School of Communication and Arts (and previously the School of Journalism and Communication) has undertaken. Previous groups of students have travelled to Vietnam and India.
The courses, JOUR3122, are generously funded by the Australian Government's New Colombo Plan – an initiative of the Department of Foreign Affairs and Trade.
Applications for New Colombo Grants are now open for 2019 and beyond.
Bruce Woolley has been an international journalist, broadcaster and academic for the past 40 years, working on four continents (Australia, Asia, North America and Europe). He now teaches journalism at The University of Queensland including these overseas Field Reporting Courses which have included India, Vietnam and Indonesia. Bruce was a former foreign correspondent for the ABC and a senior producer for the Canadian Broadcasting Corporation.