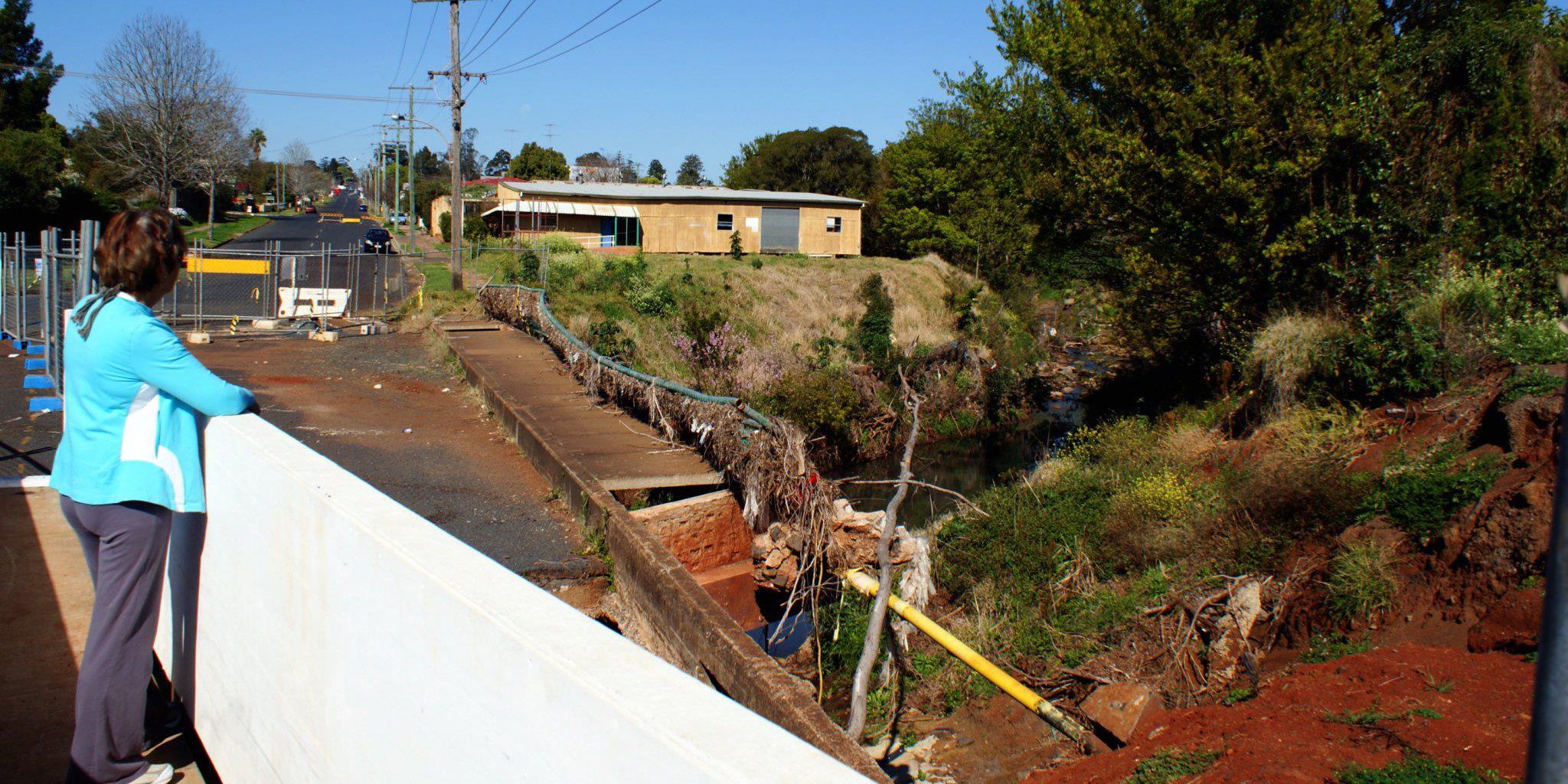 Toowoomba locals still waiting for Council to clean up
Toowoomba residents are still waiting on the council to clear away the debris and repair the Jellicoe Street Bridge
It's been eight months since the 2011 floods, and Toowoomba residents are still waiting on the council to clear away the debris and repair the Jellicoe Street Bridge.
Toni Jensen lives alongside the creek and is concerned by the lack of action that the Toowoomba Regional Council has taken to clean up the area.
"We haven't heard much at all," said Mrs Jensen.
"I think they really need to manage it a little better, at least come and have a look and see where the obstructions are.
"They said we could do it ourselves, to get a group and clean it up ourselves."
Rachel Hawkins, another local, said the council had refused to clean up the waterway near the Jellicoe Street bridge.
"The report says they're not going to start until February next year."
Although the Toowoomba Regional Council has partnered up with DOWNS Group Training to speed up the rebuilding of local businesses, it appear the residents are left to clean up themselves.
Infrastructure Services portfolio leader Cr Carol Taylor said in a Toowoomba Regional Council press release that the council had received $18.5 million for flood repairs, "including $2.67 million to reconstruct the Jellicoe Street bridge in Toowoomba".
Toowoomba Regional Council was unable to comment on whether the flood repairs budget included cleaning up the debris, nor why it has taken so long for repairs to be approved.
"Residents are angry and scared as council's lack of response to cleaning up the debris will clog up the water flow and cause the water to rise quicker and will possibly wipe out houses," said Ms Hawkins
"With the wet season of summer storms now here the council need to be clearing up the waterways to ensure January's floods do not occur again."
Mrs Jensen was concerned for her the safety of children: "My kids used to come down and play at the creek. You wouldn't want kids down here now, it is bad."