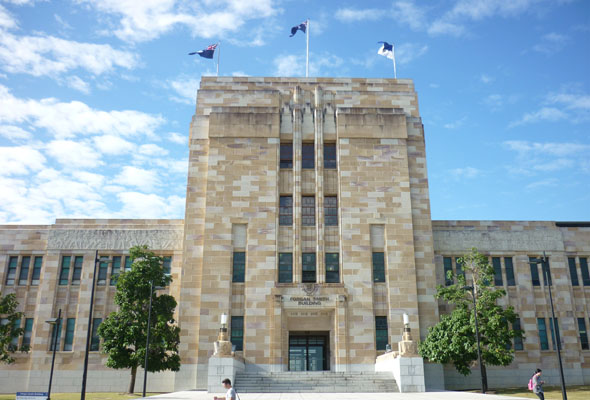 Are university rankings a true measure of quality?
Queensland boasts a number of universities but one consistently tops the world university rankings as the best. But many within the university system have called the rankings unhelpful and discriminatory.
Queensland universities compete with one another to be considered the most desirable by school leavers and more recently international students.  The University of Queensland, the state's oldest and largest tertiary institution, is consistently ranked the state's best on global reviews.  However, many have questioned the relevance and value of these rankings locally.
The rankings criteria vary slightly across particular review scales but they all focus on research and global reputation as core measurements of quality.  Other factors, which are weighted in the analysis, include academic reputation, staff to student ratios, innovation and outstanding alumni achievements such as number of Nobel Prize Winners.
There is disquiet that a number of these criteria disadvantage newer universities and favour the older, more established universities because of the self-perpetuating nature of the "good standing" of an established institution, particularly ones with powerful alumni.
Professor Jayne Clapton from Griffith University is skeptical of the ranking's significance, "they [rankings] are too focused on elitism and not enough on diversity and inclusiveness. They use normative measures and benchmarks which I would question," she said.
Dr Gai Harrison, a senior lecturer at the University of Queensland agrees: "I have no real faith in university rankings. Ranking systems have encouraged universities to compete to improve their reputational standing rather than the quality of their teaching and learning".
[table id=3 /]
Source: Table has been adapted from data available on The Australian
Across three different rankings, UQ emerges pre-eminent coming in at number 74 in The Times Higher Education world university rankings followed by Queensland University of Technology (QUT) with a range between 276 and 300.  Griffith University comes in third amongst Queensland universities with a range between 351 and 400.
UQ is a member of the Universitas 21 which ranks the world's top 21 research universities.  Additionally, UQ is the only Queensland member of the Go8, a coalition of Australian tertiary institutions with a specific focus on research.
Research facilities are a significant factor in the rankings but some argue this does not necessarily translate into quality.  "The university with the bigger research budget will automatically rank higher and is assumed to have preeminence – a distinction that hardly amounts to good science," said Robert Nelson, associate director student experience at Monash University.
Similarly many argue that the capacity of rankings to meaningfully capture the student experience of teaching is dubious.  Jim O'Brien from James Cook University believes the rankings have little to do with teaching quality and says UQ's prestigious reputation rather than superiority explains their high rankings.
"UQ is a much bigger university, it's situated in a capital city and has a much larger pool of students, they have a lot more money and they've been operating a lot longer," he said.
Others argue that it is not so much quality between universities that is the issue but rather inequalities within the university itself.
"From my experience, there are many talented and innovative teachers in all disciplines but there are also areas where people are struggling to teach well – this is pretty much the case between most universities," said Merrilyn Goos, the former director of UQ's Teaching and Educational Development Institute.
Earlier this year the government launched a controversial education comparison website, MyUniversity.  The initiative has been met by fierce criticism by industry professionals labeling it another unfair league table.
"If students were looking to base their choice of institution on whether the campus has an ATM, this site is useful.  If, however, they want an indication of the quality of teaching and research at any given institution, the information provided relies on a set of indicators under question for many years," said the National Tertiary Education Union secretary Jeannie Rea.
It is also unclear how the relevant the rankings are for students and prospective employers.  Third year law student, Lucia Hatten, chose QUT over the University of Queensland in full knowledge of the latter's status.
"Whilst UQ has an excellent reputation, QUT's central location, focus on practical course work and lively student community made it a clear winner for me," she said.
Similarly the CEO of Multicultural Development Association, Kerrin Benson, explains she mostly disregards tertiary origin when choosing prospective employees.
"I hire graduates from across Australia and I hardly ever take into account what university they went to.  It's more about their grades, previous work experience, referees and a willingness to work hard," she said.
The competition between universities for research dollars, student fees, and for recognition in these review scales is, however unlikely to fall away in the current economic climate marked by underfunding of the tertiary sector
In 2008, the Bradley Review, a Government-commissioned report on Australia's higher education system revealed that Australia was the only OECD country where the public contribution to higher education remained at the same level in 2005 as it had been in 1995.
"Over the past two decades universities have had to contend with reduced public funding. Consequently, universities have to constantly look for alternative sources of revenue, and this distracts staff from what they should be doing: teaching and research," said Dr Harrison.
While universities continue to pick and choose which rankings or achievements to highlight in their marketing, it seems that many within the tertiary sector, not to mention those outside, have little faith in them as a measure of quality.
Related Articles:
University ranking rankles: playing the prestige game – The Conversation
Four Australian unis make global top 100 – The Sydney Morning Herald
Changes to Higher Education budget – ABC Radio National
[polldaddy poll=6545552]