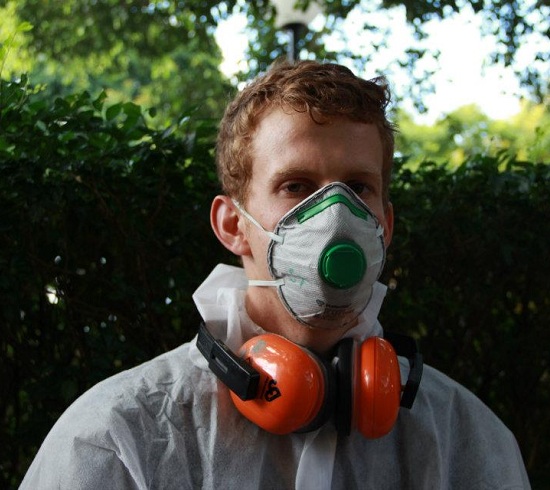 Students angry over gas research funding
University of Queensland students say $7.5 million of energy company funding compromises potential research findings at the new Centre for Coal Seam Gas.
[media-credit name="Abraham ONeil" align="alignleft" width="590″]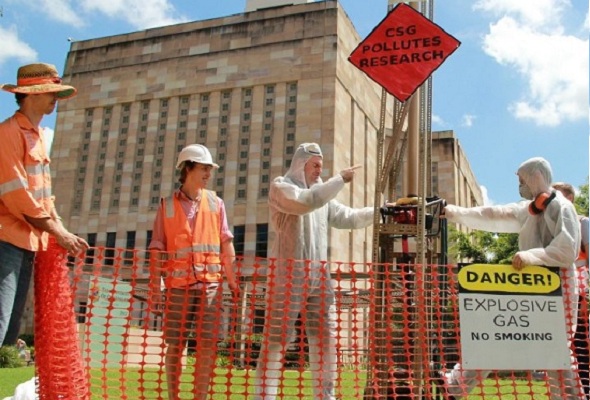 [/media-credit]
UQ Students Demonstrating in St Lucia
University of Queensland students say $15 million of energy company funding compromises potential research findings at the new Centre for Coal Seam Gas (CCSG).
The students have been conducting a series of novel demonstrations at the University's St Lucia campus after discovering that the Queensland Gas Company, Arrow Energy and Santos had each committed $500,000 annually to the CCSG for the next five years.  This represents 12.5 per cent of the CCSG's total funding and demonstrators argue that this should not have been accepted.
It is also funded by the University of Queensland, and is currently seeking further funding from industry and the government.
A life-size gas drill rig was built at a central hub of the St Lucia campus, where campaigners wearing faux-mining attire aimed at involving the greater student body.
The demonstration was organised collaboratively by the National Union of Students, the UQ Climate for Change club, and the UQ Environment Collective.
National Union of Students Environment Officer Neha Madhok said students could not be assured of the objectivity of the research at the facility.
But CCSG interim director Professor Chris Moran says partner members do not need to be coal seam gas companies, and that industry collaboration is not unusual. "Globally, a great deal of world-class research is undertaken in partnership with private funding sources," he said
"This is encouraged in Australia and is emphasised in two significant government programs, ARC Linkage and Cooperative Research Centres (CRCs), as well as a myriad of other initiatives."
UQ student and campus environmental campaigner, Abraham O'Neil claims UQ has been dismissive of student concerns about industry involvement in the CCSG's governance up until recent media attention.
"The university has built a reputation as a research leader in renewable energy technologies, and as a recent signatory of the Tallories Declaration, has committed to integrating sustainability into its research, teaching, operations, and outreach activities," he said
"The immense public controversy over coal seam gas mining, and the environmental and social issues at stake, means it's crucial that the CCSG maintains its independence and scientific integrity."
The CCSG, established in December 2011, is governed by university policy and procedures which were set up in order to provide integrity and peer-reviewing of research.
Prof Moran says it is governed by CCSG funding members, UQ academics and government representatives.
But this has not alleviated the concerns of students.
"Increasingly large numbers of students and staff are demanding that the University disclose whether the CCSG's research agenda will be independent of the interests of its industry sponsors," says Ms Madhok.
"The CCSG raises fundamental questions about UQ's commitment to scientific research integrity.  The Centre's research agenda must be independent of the interests of industry," she said.
The CCSG claims to be the pre-eminent global authority on vital issues relating to Coal Seam Gas.
Prof Moran met with invited students on April 5 and 10 to discuss the centre and there was a public information session on April 16.