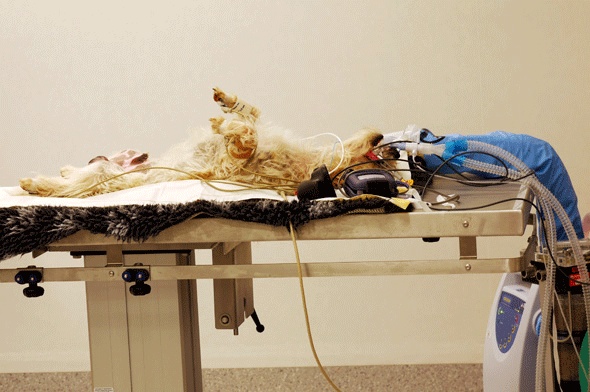 UQ defends vet training practices
The University of Queensland's school of veterinary science rejects claims that their vet training practices are unethical, pointing out that thousands of animals are being euthanised each year due to overpopulation.
[media-credit id=63 align="aligncenter" width="590″]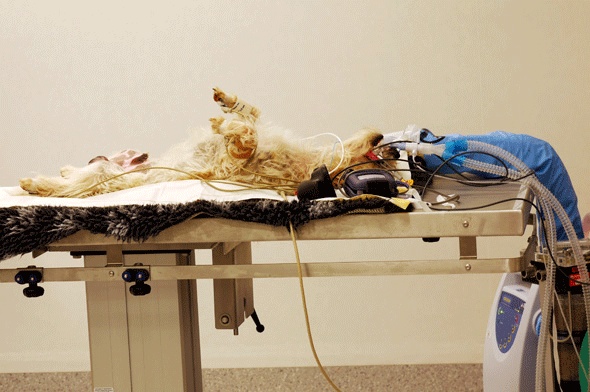 [/media-credit]
A dog undergoing desexing surgery at the University of Queensland's Gatton campus' Small Animal Clinic
The University of Queensland's school of veterinary science has defended its practice of putting down animals used for trainee vets to practice surgery.
Its practices came under scrutiny in 2008, when former Lord Mayor Campbell Newman pledged to put a complete stop to City Council pounds' donations of unwanted animals for surgery training.
Dismissing the claims, manager of its Clinical Studies Centre Rebekah Scotney said that the public needed to face the harsh realities of the fates of unwanted pets in animal shelters.
"Animals that arrive at the centre's doorstep have generally been rejected by other rescue organisations – RSPCA, Best Friends Rescue, Animal Welfare League, and so on – and are already on the euthanasia list," she said.
Mrs Scotney believes that the methods used to train veterinary students are not in any way cruel to the animals.
"They were already on the death-row and we've behaviourally assessed them to be unsuitable for rehoming," she said.
"They are put under anaesthesia and operated on and euthanised afterwards, and these procedures are painless and do not cause them any suffering at all."
"It is sad, but that's what's happening in Australia at the moment, where there are more than 100,000 dogs and cats that are euthanised every year because the animals have nowhere to go."
RSPCA's spokesperson Michael Beatty confirms that there is a permanent issue of overcrowding in every shelter, and believes the public has been long aware of what this means for the animals.
"Cat season seems to be lasting longer and longer and the sheer weight of numbers means that 12,000 cats are euthanised every year just in Queensland alone," he said.
"Still, the public continue to act irresponsibly by not desexing their pets to keep the population down."
However, most are not aware that the University provided some animals with a reprieve from the pound's death row, and Mrs Scotney is quick to point out the distinction between the two organisations.
"We don't usually take animals from the general public," she said.
"They need to remember that we're a university, not a shelter."
The lucky ones that are found suitable to be rehomed are put into teaching and research programs where students carry out non-invasive procedures electrocardiography (ECG) and radiography.
They are then desexed and microchipped, before being put up for adoption.
"My staff and students are extremely passionate about animals and caring for these animals is like second-nature to them," Mrs Scotney said.
"We are very fortunate to be in the position to be able to afford some of these animals a second chance and a new lease of life."