UQ students go potty
UQ students unite with their love of Harry Potter.
[media-credit name="Jemma Fletcher" align="aligncenter" width="590″]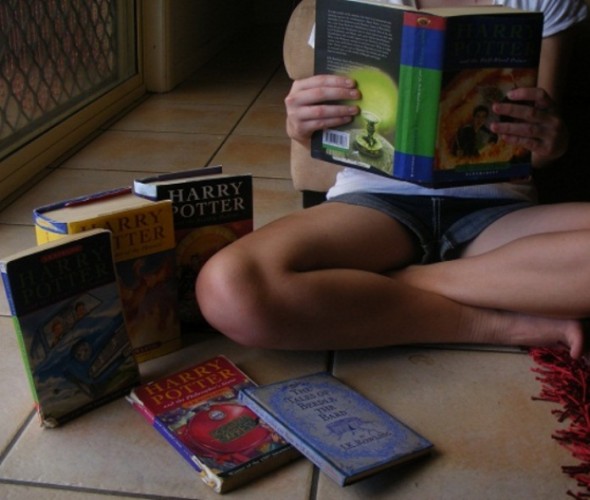 [/media-credit]
Members unite to discuss what they love about Harry Potter
A new society that has erupted at the University of Queensland over recent weeks is the UQ Harry Potter Alliance.
The upcoming group currently has an online membership with up to 500 members on it's Facebook page as well the option to sign up officially as of September 15th.
President Natalie Morris – aka the Minister of Magic – talks about how she launched this club.
"I started it because I came to market day last year and there was no Harry Potter club which upset me greatly. I figured that Harry Potter is pretty universal and there are a lot of people who may want to join it.
"It has taken off which is really exciting, and we're hoping to do things like trivia and movie nights, Yule Balls, drink butterbeer, and basically just chill out with people who like Harry Potter."
Quidditch organiser James Morris enthusiastically explains why he is a member.
"I joined because I'm rather hyperactive and I really want to play more quidditch. I helped organise the quidditch competition at my high school so I'm glad that I can carry on with that at uni.
"There are so many things you can do in this society. We have wizard duals planned, and a death eater procession through the uni on Halloween which will be really fun to do. It's a nice combination of sport, social and relaxation."
Another member of the club, Alexandra Varipatis also comments.
"You get into those passionate conversations about Harry Potter where everybody just looks at you weirdly so this is a place where you can talk about it safely."
Within UQ culture, clubs and societies are a vital contribution to the student experience, according to FRESH president Ben Gorrie.
"If we're talking about clubs and societies, this is probably our biggest focus and certainly one of the things I'm proudest of. Joining a club is one of the best ways to improve the student experience as it allows you to meet people and get involved with more university events".