Veterans just want a fair go
The latest figures that examine the disparities between the regular old-age pension and typical veteran's pension, have the ex-service community reaching out to student associations.
[media-credit id=135 align="aligncenter" width="590″]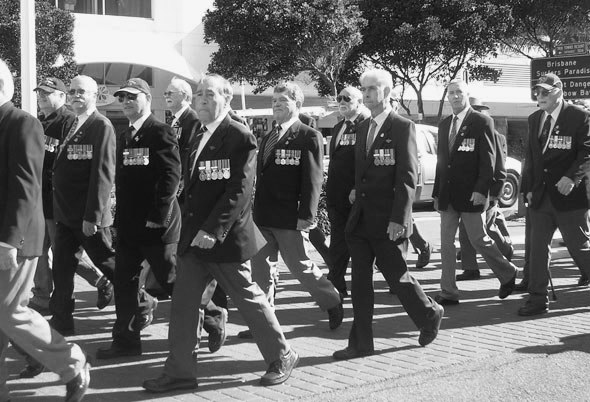 [/media-credit]
Members of the Far East Strategic Reserve march for equality at their last reunion.
Recent data from the Australian Defence Force Welfare Association has highlighted a current disparity that ranges from $3,000 to $5,000, between the regular old-age pension and a typical veteran's pension.
The issue of veteran's welfare has become particularly important as Australia's involvement in Afghanistan is drawing to a close, following Australia's 29th casualty.
Gary Linaker, past president of the Far East Strategic Reserve (FESR), an ex-servicemen and women's advocacy group, believes that all hope for their cause rests with the leaders of tomorrow.
"We would love to see a student group that was concerned with veterans affairs. Apart from ANZAC Day, most people tend to overlook our involvement in the community after we leave active service," Mr Linaker said.
"We are not campaigning for anything unreasonable, just to be treated the same as others. Students are particularly great at giving a voice to minorities."
At UQ there are approximately 28, 000 students who align themselves with a club or society, most of which are concerned with human rights, political movements and multicultural themes.
"In no way am I discounting the struggle asylum seekers face, yet their living conditions are often far superior to that of many veterans I've met," said Mr Linaker.
"The issues we're facing today will be the issues students will face in the future, if it is not dealt with now. Mark my words."
The FESR, similar to other ex-service associations, are heavily involved within the Queensland veteran community and frequently organise reunions, services and campaign meetings.
"Aside from the pension inequity, our key project at the moment is meeting the challenge of funding a National Memorial for all military persons who served within the FESR," Mr Linaker said.
"We've been through worse than this before and once we even things out, and we will, it will be on to the next hurdle."