Volunteers needed at Yeronga State High
Completing High School is a challenge. It is more of a challenge for Yeronga State High School's students who speak English as their second language
[media-credit id=66 align="aligncenter" width="590″]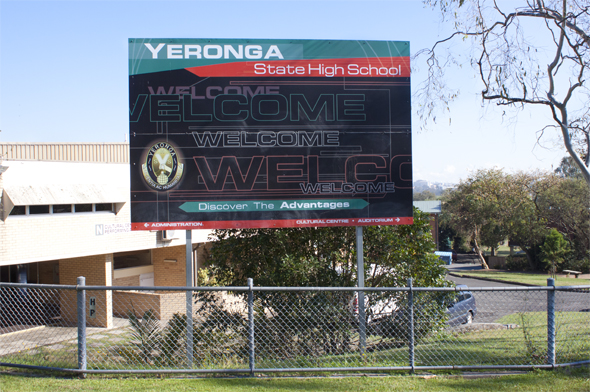 [/media-credit]
 The front of Yeronga State High School.
The need for volunteers at Yeronga State High School is greater than ever.
The school's volunteer co-ordinators Enija Neskovic and Sandra Bantick say the school helps 290 English as a Second Language students, 90 per cent of who are refugees from war-torn countries with very little schooling. They have all suffered trauma and many have only one or no parent.
As a result, the school depends on volunteers to help students develop literacy and numeracy skills.

The volunteer program was initiated to provide additional learning support to students lean English.
Initially in 2001 The University of Queensland's Golden Key Program sent volunteers to the school to assist students individually. In 2003 the number of students needing extra support grew, and YSHS created a larger volunteer program to both enhance students learning in the classrooms and provide support for teachers.
The ESL program aims to improve a student's self reliance, improve their skills and give them the tools to develop confidence in themselves. Having high confidence gives students the ability to achieve future career and education goals. By having volunteers assist within their classes it lowers the adult to studio ratio. In turn the students learning capacity is increased.
Ms Neskovic and Ms Bantick say the because the students are in high school for only a few years, concentrated effort is needed.
The effort pays off.
Homa Forotan arrived in Australia as a refugee in 2005 from Afghanistan. She started Yeronga State High School in 2004.  She graduated in 2006 obtaining an Overall Position number one, the highest possible OP score within Queensland. In 2008 she was named Young Queenslander of the Year.
Last year, four international students at YSHS applied for tertiary admissions, along with 64 domestic students: 60 were offered a first round offer to their requested course during January. International student's application outcomes are not published to QTAC therefore the outcomes of the applications are unknown.
However the disparity between domestic and international applications to study further tertiary education highlights the need for volunteer's contribution within the learning program.
According to census information gathered in 2006, "Analysis of the country of birth of the population in Yeronga in 2006 compared to South East Queensland shows that there was a similar proportion of people born overseas but a larger proportion of people from a non-English speaking background."
According to the report, 21 per cent of the population was born overseas; and 12.7 per cent were from a non-English speaking background, compared with 21.2 and 9.5 per cent  for South East Queensland.
The YSHS volunteers currently assist in the Work Preparation and Community Studies classes.
In Queensland to work with children you are required to obtain a Blue card. The application process can take anywhere from four to eight weeks.
To find out more information about volunteering at the school contact Ms Neskovic on 07 3249 1427.