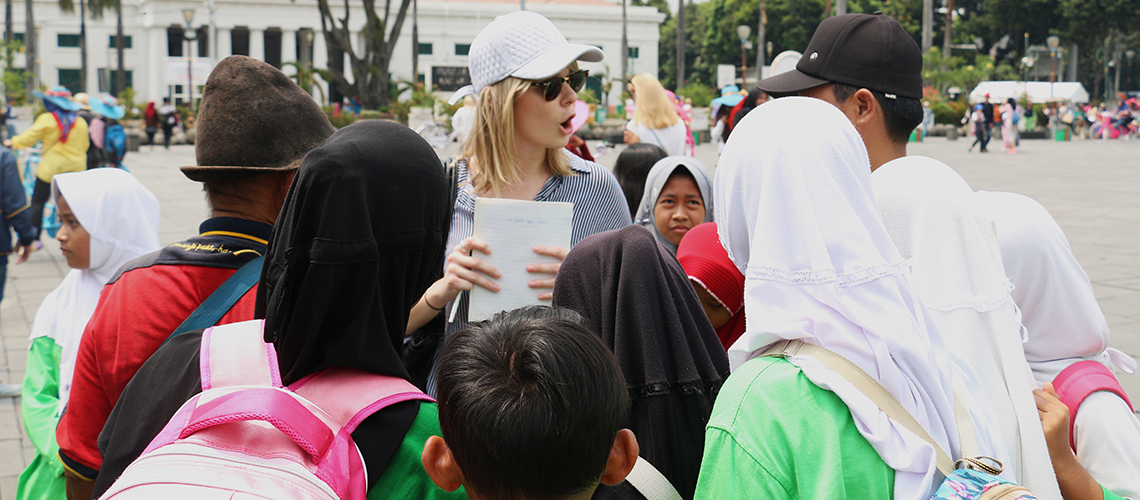 Are Western tourists sightseeing or the attraction?
"Bule, Bule! Photo, photo!" is the phrase every western tourist in Jakarta, Indonesia hears. To Indonesian locals, western tourists are like celebrities, and they won't miss any opportunity to snap a picture.
Indonesians' fascination with western tourists can probably be traced back to Dutch influence in Indonesia, most prominent in the 1800's. Nur Qolbi, a student at Universitas Indonesia, says this caused them to think more highly of western people than they do of themselves.
According to Statistics Indonesia (BPS), the number of foreign tourists in Indonesia in 2016 increased by 18.5 per cent to 1.04 million. Australia dominated the scale, generating $1.8 billion for Indonesia's economy last year, which helped create millions of jobs in the country's tourism industry.
Hendy Sigit Prabowo, tour guide at Himpunan Pranuwisata, says Indonesians are fascinated with western tourists because they look like movie stars. "They have different coloured skin and blonde hair. Because western tourists are from a different country and have a different culture, Indonesians want to respect and honour them, and get to know them better."
To catch western tourists, Indonesian locals like to hang out at the typical tourist destinations, like Fatahillah Square in Old Town Jakarta. It's common for them to request photographs with westerners, or photographs of themselves taken by them.
Western tourists are less popular with wealthier Indonesians. Ms Nur says this is because they have more opportunities and don't need to look up to westerners as much.
"Television is the most powerful medium in Indonesia because almost everyone can access it", says Ms Nur. Yet, only the well off can afford cable television, which is where western movies play. As lower class Indonesians aren't therefore used to seeing western tourists, they are usually intrigued when they are within reach in their country.
It's true that Jakarta is not your usual tourist precinct, with just under 10 million residents and the world's worst traffic. But according to Trading Economics, this chaotic city still manages to lure in about 150,000 tourists each month, and locals just can't get enough.
Teilya Macfarlane is a fourth year Journalism and Laws student at the University of Queensland. She has a passion for social activism and wishes this to shine through her reporting in Indonesia 2017.