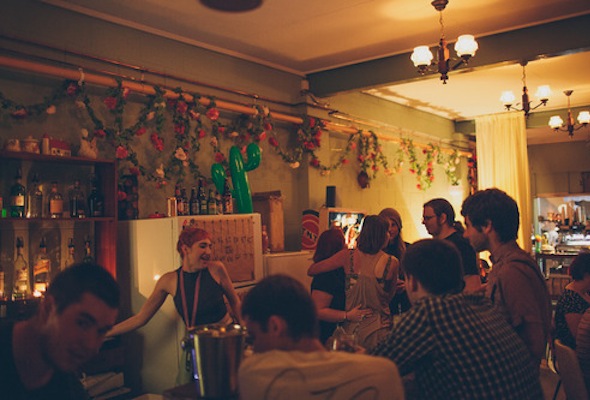 New bar gives Brisbane something to sing about
The Southside Tea Room is the new place to go for intimate live music shows. The owners, members of prominent Brisbane band The Grates, bring their passion for music and all things quirky to the table in this gem of a venue.
Brisbane City's latest and most promising acoustic-friendly bar has emerged in the most unlikely place.
It's called the Southside Tea Room, found in a strip of nondescript shops on Wynum Rd in Morningside and is the newest venture of Patience Hodgson and John Patterson of The Grates.
The cosy venue emerged in August as a café and espresso bar open only during the day, but Patience and John have since put together a charming back room for acoustic acts to perform and for its patrons to knock back a few drinks.
The majority of live music on offer in Brisbane is usually confined within Fortitude Valley, with the exception of some shows in West End's Hi Fi Bar or at Riverstage.
So its great that a place as accommodating as this has staked its turf on a new side of town.
There have only been a few shows there so far, but given the great feedback from patrons and acts alike, the venue is building a name for itself as the new place to go for an intimate live show.
It wasn't very long ago that Patience and John themselves were gigging around Brisbane before the band released their first, second and third highly acclaimed albums and got big enough to open their own cafés and bars.
With this in mind its easy to understand that the handful of musician's that have played there so far have been eager to praise the two entrepreneurs for setting up the perfect venue.
Triple J Unearthed High Winner, Andrew Markwell, was the second ever live act to grace the stage at Southside and said he thoroughly enjoyed the opportunity to play and the atmosphere of the venue.
"I think as an under-age performer it is sometimes difficult to find gigs that are of as high quality."
"Usually I'm restricted to playing opening sets in nightclubs and cafes where my music is merely background noise; at the Tearoom it was truly a performance space."
"It's a beautiful venue both aesthetically and in mood, and I really enjoyed playing there," he said.
No doubt there will be a slew of musicians lining up to praise the Grate's love-child after a few more shows like Andrew Markwell's.
Brisbane's music scene will surely benefit from the fresh new change of pace to be had at the Southside Tea Room.
[polldaddy poll="6596734″]