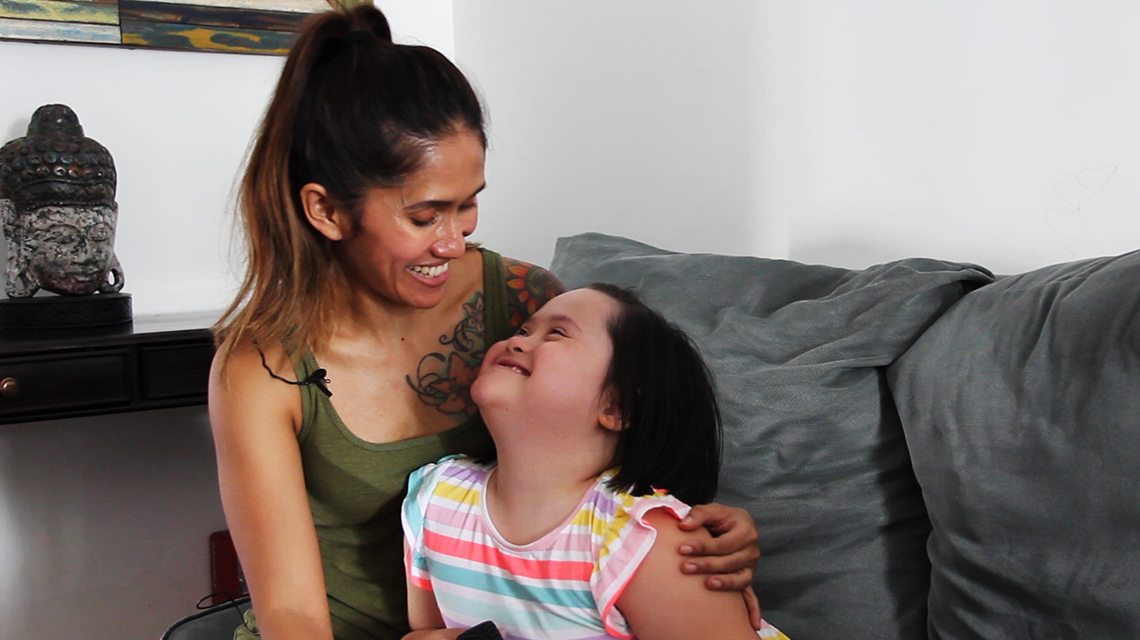 Nothing can bring Evi down
People with Down syndrome in Indonesia are often stigmatized by society and viewed as simple and incapable. Their struggle for social inclusion is only heightened by a lack support from the healthcare sector and Indonesian government.
However, with the uncompromising love and support of her family, Evi Lugvianty, an eight year old Indonesian girl with Down syndrome, has been able to grow and learn just like any other Indonesian child her age. More astoundingly, Evi is self-taught and fluent in both Bahasa Indonesia and English.
Meaghan Crooks explores Evi's life and shows that when faced with stigma and adversity, nothing can bring Evi down.

We had been sitting at the dining table for about thirty minutes talking about Evi.
She was still at her therapy session but was due to arrive home at any minute.
Although Evi was not at home, her presence in the house was strongly felt with large, framed photographs of her as a baby and a toddler scattered across the wall.
Captions like "My Princess" made it clear to me that there was a lot of love for Evi in this house.
She arrived home after we had had a lengthy conversation with her mother, Vitri Lugvianty, who had warned us that when Evi entered a room, she became the star. Vitri was absolutely right. All attention turned to little Evi as she walked in, wide-eyed and smiling at the new and strange people in her house.
"Evi, come meet my new friends, come say hello to my new friends" Vitri said as she introduced us.
One by one, Evi silently took our hands and held them to her cheek, a gesture used by Indonesian children as a sign of respect to their elders. A moment later, she called out in perfect English.
"Do you want to see my dolls? Do you want to see my backpacks? Do you want to see my clothes?" Evi's excitement boiled over as she took us on a tour of her room.
As an eight year old Indonesian girl, Evi attends Mutiara Harapan Islamic School and like many girls her age, she adores the colour pink. Fluent in two languages, Evi can speak, read and write in Bahasa Indonesia and English. This might come as a surprise to some, especially in Indonesia, because, unlike many girls her age, Evi also has Down syndrome (DS).
Caused by a triplication of chromosome 21, Down syndrome is typically recognisable through people's flattened facial features and upward slanting eyes. The disorder is usually accompanied by an impaired ability to learn and it is this intellectual disability which is the root of stigma surrounding DS in Indonesia.
About 300,000 people in Indonesia are reported to have DS but a lot of the Indonesians do not understand what Down syndrome is or how the disorder affects people. The Indonesian public often view people with Down syndrome as retarded or idiots. According to Ariyani Saida, Vice Chairman of the Persatuan Orang Tua Anak Dengan Down Syndrome (Parents Association of Children with Down Syndrome, POTADS), the public's perception of people with DS is improving but it is up to families to accept their children with DS before society will accept them.
"Awareness or consciousness from the public towards Down syndrome kids and people has changed" Ms Saida said.
"Society doesn't think that people are gifted with the Down syndrome disability as a punishment or karma for the parents and family because Down syndrome is purely different genetics and they can grow like other normal kids" she said.
"If the support doesn't come from the family, who else? In POTADS, we empower parents to support the growth of each child with Down syndrome disability. So the family itself needs to empower them."
That is exactly what Vitri and her family did for Evi.
At first, Vitri saw Evi's DS as a punishment and a curse, she questioned God as well as herself and was embarrassed to tell anyone about her DS baby, even her father.
"The first two weeks after the doctor told me 'oh yeah, you have a Down syndrome baby' I was just depressed" Vitri said.
It was not until Evi was born that Vitri realised she was not cursed or punished, she just had a different path to travel in life.
"Me and my husband realised that she was an angel, a blessing in disguise" she said.
"And my family, they were supportive and if it's not because of Evi, we would not be here today, you know, we view the world differently, like more positive, more resilient and everything. So she has lots of impact in our life."
Neither Evi's parents nor her disability have held her back in life. With no formal education, and against the predictions of her doctor, Evi picked up English and Bahasa from her parents at a young age.
"At first the doctor said to use one or the other [languages] because it will confuse her but I never limit her capabilities" Vitri said.
"We didn't really teach her how to speak one or another language, she just picked it up as me and my husband have been speaking in English on a daily basis."
According to Dr Rhonda Faragher, senior lecturer and researcher on the education of children with Down syndrome at the University of Queensland (UQ), it is a significant benefit for anyone to learn a second language but this benefit is multiplied for people with DS.
"We can think in different ways if we've got different languages that we can access and it's quite a detriment for those of us who are monolingual, not to be able to think in different ways" Dr Faragher said.
"I think there is a real advantage … for learners to learn another language with Down syndrome, partly because it continues to break down the myths that people can't learn or if they do, they're remarkable."
[soundcloud url="https://api.soundcloud.com/tracks/318765951″ params="color=00aabb&inverse=false&auto_play=false&show_user=true" width="100%" height="150″ iframe="true" /]
Listen to Dr Faragher describe how teaching a child with Down syndrome differs to teaching other children.
It's not just Evi's parents which support her though, Evi's extended family form a strong and critical support network. Vitri says her father, step mother and sisters all help to baby sit and care for Evi and, despite being younger, Evi's brother, Adam, has been known to defend Evi at school when kids ridicule her DS.
But family can only help so much, according to Dr Faragher, outside support can significantly help or hinder the development of people with DS.
"We also do know that it's not just genetics, that environmental changes to support good education, quality health care, makes a huge difference to the outcomes for individuals."
Alongside POTADS, which mainly supports children with DS and their parents, Indonesia also has Ikatan Sindroma Down Indonesia (Indonesian Down Syndrome Society, ISDI), which is more focused on supporting adults with DS. Whilst these support groups work tirelessly for the inclusion of DS people in society, according to Sri Handayani, Chairman of POTADS, the government and health sector still have a long way to go in terms of their support for people with DS.
"We want support from the government, the Ministry of Social [Affairs], the Ministry of Health and then also maybe we want to reach out as much as possible to hospitals,"
"We do have some volunteer doctors but I think we need more. And then especially when talking about the POTADS in the areas outside Jakarta … we need the support from the local government there. There's a lot of things to be done."
Undoubtedly though, one of the hardest challenges children with DS face, is getting a proper education. In accordance with Indonesian law, people with Down syndrome are entitled to the same education as any other child, but in reality it is not so easy to find a school willing to take a disabled child.
Whilst in many respects, Evi functions and behaves like other children her age, people were quick to judge her based on her disability. At the moment, Evi does go to a mainstream school but Vitri had to work very hard to enrol her there.
"They thought, oh Down syndrome is automatically like below IQ of standard and that's the main challenge" Vitri said.
"I don't want to her to go to a special needs school because she could do more than that" she said.
"I actually almost plead – but not plead – to the person in charge of the school … 'Look you should see the kid first, you should see Evi, she has disability, like her motor skills are not as good as normal kids but that's fine, you are able to teach her. She can still read, she can write, not as good as a normal kid at her age but she can do it.'"
"The teachers, the ministers, they see that and they give her a chance to go to that particular school."
According to Dr Faragher, not only is inclusive schooling important for DS learners but it is also an immense benefit to the other children in schools.
"We know that learners with Down syndrome learn wherever they're taught but they learn more in an inclusive school setting so it's important for them, it's important for them socially but it's absolutely critical for the other kids in the class, the research is clear that they benefit."
"Socially building an inclusive society begins in school and so if you've grown up alongside people from all sorts of diverse backgrounds, it helps you understand that we're all together in society and so when people grow up to be plumbers and lawyers and teachers and doctors, they're familiar with the breadth of the whole community and what people bring."
Evi continues to attend Mutiara Harapan Islamic School and says when she grows up she wants to be a doctor. However, Vitri says that her family's passion for singing and music has rubbed off on Evi so she wouldn't be surprised if Evi pursues music in the future.
Watch Evi as she makes a smoothie, plays with her toys and sings us a song. Music: Redhead by Jahzzar.
"I think she hasn't showed any interests in anything except like singing, art and musicals, she has a great interest in that.
"So I think that's the aspiration I want [for Evi] and then two languages is definitely – because music itself is a universal language – so the two languages, she picks up like lyrics in both English and Bahasa Indonesian."
Ms Handayani says that, as well as more support from the Indonesian government, collaboration with other countries on research and policy would immensely improve the rights and opportunities of people with Down syndrome in Indonesia.
"I think we need a lot of support … from other parts of other countries, could be Australia, could be Singapore, could be anywhere to help us, not talk to the government, to share ideas, you know, what they do in their country and how we can support the disability kids?"
Not all Indonesian children with DS have had the support and love that Evi has received from her family and she is quite lucky in this respect. There is no doubt that Evi's whole family and especially Vitri will continue to fight for Evi's right to education and equal opportunities.
"We work double as hard as other parents" Vitri said, "but we get double the joy."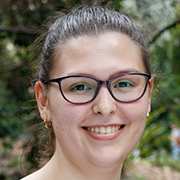 Meaghan Crooks is in her final year studying Science (Statistics) and Journalism. She aims to explore how science and society work together in Indonesia whilst testing her journalistic ability in a different culture and environment.