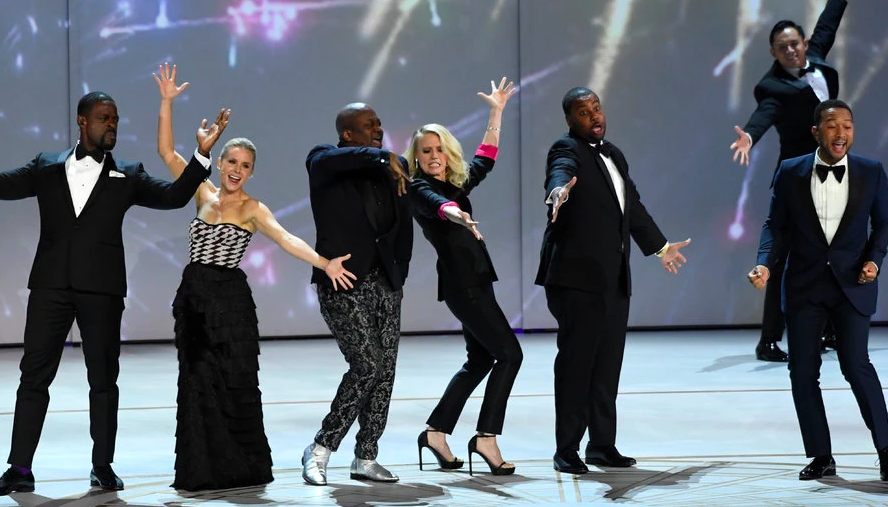 70th Primetime Emmy Awards recap and full list of winners
Betty White made an appearance and there was an even on-stage marriage proposal – but our very own Hannah Gadsby stole the show.
Yesterday's 70th annual Emmy Awards were the most ethnically diverse in history, which formed the focal point of the award's opening.
The show began with a celebrity musical skit titled "We Solved It" – referencing the diversity of award nominees. Unfortunately, despite an ensemble of celebrity talent including Andy Samberg, Tituss Burgess, Sterling K. Brown, Kristen Bell, Rupaul, Ricky Martin and John Legend all joining the stage, the one-joke, self-deprecating song missed the mark. Especially when in retrospect, the diversity of nominees did not translate into actual wins on the night.
Following the skit was the opening monologue, presented by co-hosts and Saturday Night Live stars Michael Che and Colin Jost. The monologue touched on the #MeToo movement, Roseanne's cancellation and Netflix's domination. It got the job done, but Che and Jost were stiff, awkward and low in energy, which only intensified as the night went on.
Some monologue highlights:
Che: "It is an honour to be here sharing this night with the many, many talented and creative people in Hollywood who haven't been caught yet."
Jost: "This year the audience is allowed to drink in their seats. I hope you're excited about that. Because the one thing Hollywood needs right now is people losing their inhibitions at a work function."
Che: "'Blackish' is nominated. 'Blackish' is also how I've been asked to behave tonight."
Che: "'The Handmaid's Tale' is nominated. I don't know if you've seen it, but 'The Handmaid's Tale' takes place in an imaginary future where an entire group of people are violently forced to work and make babies against their will. It's what black people call history.
Jost: "Television obviously has more choices than ever before. This year, Netflix will spend 8 billion dollars on programming. They now have 700 original series, which makes me realise that the show I pitched them, must have really sucked."
The undeniable highlight of the show was the heartwarming and unprecedented on-stage marriage proposal. Director Glenn Weiss proposed to girlfriend Jan Svendsen on stage as he gave his acceptance speech for Directing in a Variety Special. "You wonder why I don't call you my girlfriend?" he called out to an unsuspecting Svendsen in the crowd. "It's because I want to call you my wife."
Svendsen met him on stage and accepted his proposal (thank god). It was very sweet and had audience members like Leslie Jones and Claire Foy in tears. It also resulted in one of the funnier moments of the show, when Best Actor in a Drama winner Matthew Rhys later joked that his The Americans co-star and girlfriend Keri Russell had just told him that if he proposed, she would "punch him clean in the mouth."
Another obvious highlight was the Emmy's recognising Betty White, who, at 96-years-old, is as funny and remarkable as ever. The "first lady of television" and eight-time Emmy winner received a lengthy standing ovation which she followed with: "I should just quit while I'm ahead!"
Other Betty highlights:
(After Alec Baldwin kissed her hand) "You think I'm gonna miss a chance when I get it?"
"I want to thank Lorne Michaels (Saturday Night Live creator and producer of the Emmy's telecast) for everything he's done with me. I mean, for me."
"It's incredible that you can stay in a career this long and still have people put up with you. I wish they did that at home."
"All I can say is, it's such a pleasant business to be in, and how lucky can I be?"
Please live forever, Betty.
Another winning moment was Henry "The Fonz" Winkler receiving his first ever Emmy in the Supporting Actor category, for his role in HBO's dark comedy Barry – 40 years after his infamous role in Happy Days.
To a standing ovation from the audience, Winkler cited a speech he wrote four decades ago.
"If you stay at the table long enough, the chips come to you. Tonight, I got to clear the table."
"You can go to bed now, daddy won!" he said to his now-adult children.
A low of the show was a recurring, woefully unfunny segment with (even more) Saturday Night Live alum Maya Rudolph and Fred Armsien. The normally funny pair repeatedly took the stage to answer questions from Che and Jost about Emmys history. The delivery and humour was lost on the audience and it was a prime example of how some jokes are really only funny the first time.
Making up for the repetitiveness and lacklustre vibe of the show, Australian comedian and Nannette star Hannah Gadsby undeniably delivered the funniest 30 seconds of the night. Gadsby presented the Outstanding Director for a Drama Series award alone.
"Here's a surprise," she said as she stepped on stage.
"This is not normal. The world's gone a bit crazy. I  mean, for somebody like me, a nobody from nowhere, gets this sweet gig – free suit, new boots – just because I don't like men."
"That's a joke of course. Just jokes fellas. Calm down. #NotAllMen. Just a lot of 'em."
"It is just jokes, but what are jokes these days? We don't know. Nobody knows what jokes are, especially not men. Am I right fellas? That's why I'm presenting alone."
Stephen Daldry won the award for The Crown. However, he wasn't there to accept the award.
"Probably because of me. So I think I'll just leave now?" she said as she exited the stage.
"And…well done him."
I know all of the internet agrees when I say: Hannah Gadsby is an icon and should host the 2019 Emmy's.
Gadsby was the only successful Australian on the night, with sole Australian nominee Yvonne Strahowski from The Handmaid's Tale losing to Westworld  actress Thandie Newton in the Supporting Actress in a Drama Series category.
There were some sweet victories for LGBT+ diversity. Rupaul's Drag Race won Best Reality Series, Ryan Murphy's The Assassination of Gianni Versace – which Murphy described as "a show about homophobia: internalised and externalised" – won Best Limited Series, and the Queer Eye fab five were delightful as usual on stage as they presented the Best Actor in a Drama award.
A pre-recorded segment titled "the Reparation Emmys" was another high of the night. The segment saw Che giving Emmy's to veteran stars of black sitcoms who were overlooked by the Academy in the past, including Jimmy Walker (Good Times) and Marla Gibbs (The Jeffersons).
Disappointingly, while the 2018 Emmys may have had the most diverse group of nominees in history – the diversity was not extended to actual wins. In the end, only three awards were handed out to people of colour: Regina King for Seven Seconds in the Actress in a Limited Series or Movie category, Thandie Newton and Rupaul.
And, Game of Thrones won Best Drama. It shouldn't have, but it seemed a fitting end to an uninspired, lacklustre Emmys – that ended up being the least-watched in history.
Full list of winners:
Drama Series: Game of Thrones
Comedy Series: The Marvelous Mrs. Maisel
Actor in a Drama Series: Matthew Rhys, The Americans
Actress in a Drama Series: Claire Foy, The Crown
Supporting Actor in a Drama Series: Peter Dinklage, Game of Thrones
Supporting Actress in a Drama Series: Thandie Newton, Westworld
Writing in a Drama Series: Joel Fields and Joe Weisberg, The Americans
Directing in a Drama Series: Stephen Daldry, The Crown
Best Actor in a Comedy Series: Bill Hader, Barry
Actress in a Comedy Series: Rachel Brosnahan, The Marvelous Mrs. Maisel
Supporting Actor in a Comedy Series: Henry Winkler, Barry
Supporting Actress in a Comedy Series: Alex Borstein, The Marvelous Mrs. Maisel
Writing in a Comedy Series: Amy Sherman-Palladino, The Marvelous Mrs. Maisel
Directing in a Comedy Series: Amy Sherman-Palladino, The Marvelous Mrs. Maisel
Limited Series: The Assassination of Gianni Versace: American Crime Story
Actor in a Limited Series or Movie: Darren Criss, The Assassination of Gianni Versace: American Crime Story
Actress in a Limited Series or Movie: Regina King, Seven Seconds
Supporting Actor in a Limited Series or Movie: Jeff Daniels, Godless
Supporting Actress in a Limited Series or Movie: Merritt Wever, Godless
Writing, Limited Series: William Bridges and Charlie Brooker, "USS Callister", Black Mirror
Directing, Limited Series: Ryan Murphy, The Assassination of Gianni Versace: American Crime Story
Writing, Variety Special: John Mulaney, John Mulaney: Kid Gorgeous at Radio City
Directing, Variety Special: Glenn Weiss, The Oscars
Variety Sketch Series: Saturday Night Live
Variety Talk Series: Last Week Tonight With John Oliver
Reality-Competition Program: RuPaul's Drag Race
Ciara is in her third year and final semester of a Bachelor of Journalism at the University of Queensland. With a passion for social justice, she is committed to producing quality journalism that informs and educates the mass public and promotes social change.