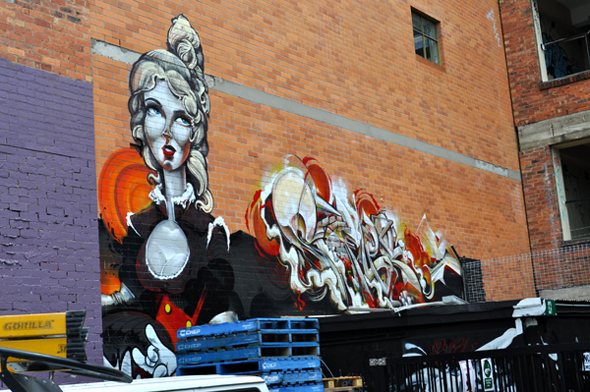 Brisbane graffiti: art or vandalism?
In the world of art, graffiti can be a dirty term. Negative portrayals in the media and links to crime and vandalism have tainted the artists that favour a spray can over a paintbrush
[oqeygallery id=11]
Local council skate parks get a graffiti grind
Local councils are spending over $5.5million of taxpayer money on graffiti removal every year.
Skate parks have emerged as the new trouble spots, with graffiti removal companies being contracted to remove the paint which can cause skateboarders to lose their balance.
Stephen Weis operates Total Anti-Graffiti Solutions, which is contracted to clean all skate parks in the Redland City and Gladstone areas.
Mr Weis said that spray paint buildup on skate ramps needs to be removed in order to ensure the safety of the public.
"We believe that in Ipswich someone fell in the skate park and because it had paint in it and they were able to sue the Ipswich City Council.
"With more information getting around of this [injuries] happening councils may find that they have to be more proactive in these areas," Mr Weis said.
Ipswich City Councillor Trevor Nardi stated that although he was unaware of any injuries caused by graffiti in skate parks, the council was motivated to ensure graffiti is removed from public areas.
"The Ipswich City Council is very proactive and has graffiti teams in place who provide graffiti kits for residents," Mr Nardi said.
The council's strict anti-graffiti stance has angered legitimate graffiti artists.
To counteract illegal graffiti councils have designated legal graffiti walls but one local Brisbane graffiti artist Travis Vinson said that graffiti walls are being deliberately closed by councils.
"Even if a wall is legal the council will find a loophole and shut it down. Sometimes the council don't even ask the owners and will trespass on their property and paint it all green, because it is in public view," Mr Vinson said.
Mr Vinson believes that closing legal public graffiti spaces has infuriated artists, sparking them to target council property.
"Our society has become so overwhelmed with control that the council has virtually put an end to all legal graffiti walls."
To find out more about graffiti in your area visit the Brisbane City Council website here.
[polldaddy poll=5617946]