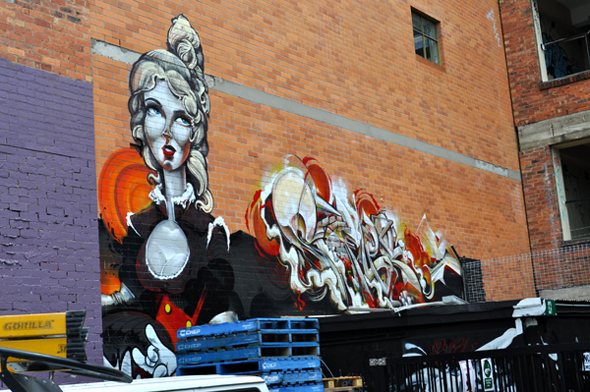 Brisbane graffiti: art or vandalism?
In the world of art, graffiti can be a dirty term. Negative portrayals in the media and links to crime and vandalism have tainted the artists that favour a spray can over a paintbrush
[media-credit name="Image courtesy of Joel Fergie" align="alignleft" width="590″]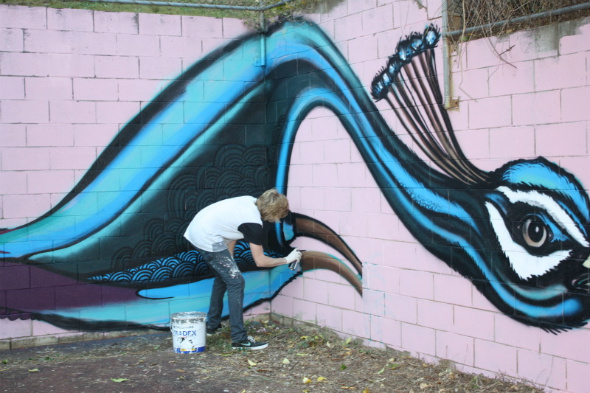 [/media-credit]
Aerosol artist Joel Fergie painting a mural
Spraying success
Starting off with small projects some seven years ago, Joel Fergie continues to master his craft and has successfully established a name for himself in the world of art- just call him Aerosol Joel.
Different to graffiti- Mr Fergie says graffiti is a typography-based art that is not so much about the art, rather the artist- aerosol art is more refined and can take weeks to complete. "The fact that I have permission to work on a wall means that I have as much time as I need to make sure my work is exactly how I want it," he explains.
Fellow street artist Travis Vinson, from Street Art Sales agrees that tagging is a self focused aspect of aerosol art stating that there are, "Graff writers who would never paint legally due to lack of skills or just because they want to destroy rather than create. It usually comes down to morals or social acceptance."
Another important difference that further removes aerosol art from the 'vandalism' based side of spray can art, is that it is very much legal. Mr Fergie has been commissioned to paint murals for several local small businesses that want to bring something unique to their brand, such as the Kenmore Football Club, Alen's Espresso, Extreme Skates and an Ipswich animal nursery.
Alen's Espresso owner Judy Beganovic says the inspiration for an aerosol mural came from a café she saw in America and explains the quirky nature of Mr Fergie's rendition, which features a judge riding a scooter across the Story Bridge. She states, "80% of our customers are police or they're lawyers. [Joel's] put all the various departments of government around our area, so it's really personalised our business towards our customers and they love it," adding, "It's a real talking point."
Contrary to the negative stigma surrounding aerosol art due to its association with graffiti, Mr Fergie's work has received a warm reception. "Through the feedback I receive, I would say that generally people really appreciate the colourful, decorative side to graffiti."
When asked which is his favourite, Mr Fergie chose a colourful mural he did for the Kenmore Football Club; "I was asked to brighten up a run down storage shed with playful cartoon characters and colourful text," but adds, "For me every mural I do, feels better than the last, because I'm constantly developing my work. It's hard to ever really be satisfied with things you have painted in the past."
And what does the future hold for "Aerosol Joel" and his artwork? "It's just a hobby. Fortunately, quite often I'm rewarded for doing something I really love. Who knows where it will take me in the future."
Take a look at some of Mr Fergie's and other street art below .
[oqeygallery id=10]