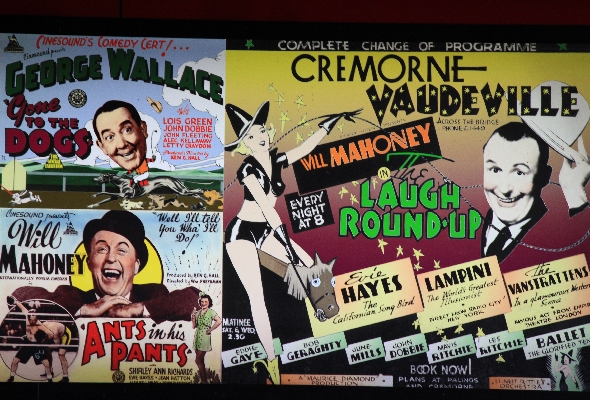 Brisbane's music scene past
A brief history on Brisbane's entertainment scene.
Brisbane's local music scene is in a bit of a slump. The city's never matched the cultural superiority of Melbourne or even come close size and prestige of Sydney.
Iconic venues have closed down, record stores have for-closed and music fans only support bands that have been hyped (instead of listening to music for music's sake). I talked with some local historians to get a better perspective of Brisbane's music scene.
Theatre was Brisbane's original night club. "Audiences in the 1840s were rowdy, riotous and poorly behaved" says Dr Clay Djubal, an expert of Brisbane's Vaudeville days. There were fisticuffs in the stalls and members of the audience were known to unexpectedly leap on stage. The conservatives at the time deemed theatre as an immoral activity.
By the late 1880s, minstrel companies were becoming less popular and were eventually replaced by vaudeville. "Brisbane was still small at this point. Entertainers Mo & Stiffy were the biggest names in Australian entertainment" said Dr Djubal. "With their "blue" comedy and double entendres – they were the old time equivalent of Lady Gaga." While residents of Brisbane might only see these performers once or twice in their lives, Stiffy & Mo were well known amongst everyone in town.
Lessons From the Past
"From what I know about today's scene, it's all about 'what's cool'. That wasn't a big deal with Mo & Stiffy. People saw them because they were entertaining." – Dr Clay Djubal
Cloudland was Brisbane's first "big" permanent entertainment venue. Constructed in 1940, it's architect wanted it have "the best ballroom in the southern hemisphere" says Brisbane council historian Jack Ford. "It was the place to be for the young and trendy" he said, "It held thousands of balls, socials and alcohol fuelled jazz performances". In time, it was even host to a Buddy Holly performance on his only tour of Australia. But in 1982, it was covertly demolished by the Dean Brothers, a "no questions asked" demolition group favoured by the local government.  The demolition took place in the dead of night – despite there being no permit and in spite of its National Trust listing.
Lessons From the Past
"There seems like there's so many places to go now days. Back in the day, your choices were Cloudland or a few local pubs. Everyone seemed to stick together more" – Jack Ford
This demolition, and several others like it, were ordered under the rule of Queensland Premier Joh Bjelke-Petersen. The Premier's "uncompromising conservatism" is what Pig City author Andrew Stafford claims "invigorated Brisbane's music scene". The stifling social atmosphere, which was "very anti-left", saw a surge in political music similar to the Thatcher years. "Between the corruption and police brutality" says Mr Stafford, "Brisbane musicians like The Saints or Radio Birdman forged a political edge to their songs." And many of their fans were the very same students being harassed by the police in the protests that dominated the time.
Lessons From the Past
"Back then, the music had a purpose. It had a message. Now days, there's no point. It's just a bunch guys on stage signing about nothing" – Andrew Stafford
To get the perspective of someone involved in the modern scene, I talked to Campbell Smith, bassist from local upcoming band Millions. "There just doesn't seem to be much support here. We'll have a packed show in Sydney or Melbourne, but we play here and the crowd's half empty." I talked to Campbell about what I'd learnt from Brisbane's entertainment history. "Yeah, that makes sense. there's so many bands out there now days. People are only gonna see you if you've been hyped up." When I asked Campbell about writing political music, he laughed "That's so 1970's".
Brisbane is still a hotbed of entertainment. There's international acts, theatrical performances and a teeming network of nightclubs. Brisbane's entertainment scene has survived riotous theatre goers, illegal demolitions and the crippling hand of right wing politics. The scene isn't dead – it's merely in hibernation.