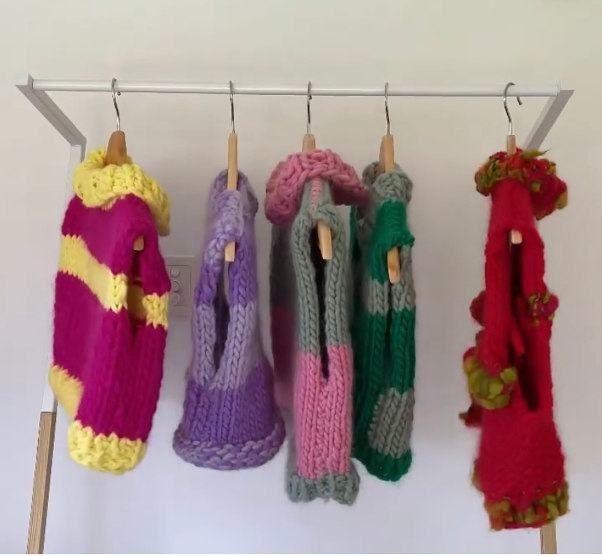 Creating a more sustainable world: 'One Knit at a Time.'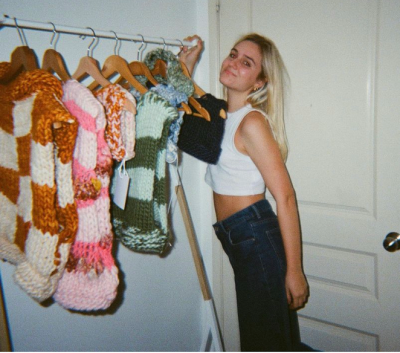 PICTURED: Amelia Scott, owner of 'AMELIA DESIGNS.'
We live in a world where 'fast fashion' has become the norm; Fashion Nova, Shein, Zara and Pretty Little Thing, are brands most Australians would be familiar with. All these fashion companies have one thing in common: fast fashion.
The Australian Design Institute defines 'fast fashion' as "an approach to the design, creation, and marketing of clothing fashions that emphasises making fashion trends quickly and cheaply available to consumers."
The problem with 'fast fashion' is that it is an industry that is completely unsustainable for the environment and has already caused detrimental impacts. Impacts from the 'fast fashion' industry include: "over 92 million tonnes of waste produced per year and 79 trillion litres of water consumed." (Peters, 2020).
The 'fast fashion' industry doesn't seem to be slowing down, "as of 2019, the current report shows that 62 million metric tons of apparel were consumed globally" It is reported that "57% of all discarded clothing ends up in landfill." (Le, 2020).
Whilst these statistics are concerning, there are solutions to the issue and many believe that 'fast fashion' needs to be replaced with 'slow fashion.' 'Slow fashion' is about "producing clothes with trendless designs and premium, long-lasting quality." (Marquis, 2021).
Parsons School of Design student and budding fashion designer, Amelia Scott decided she wanted to make a change and create a fashion line that was centred around 'slow fashion' and sustainability.
Amelia was accepted into fashion design at Parsons School of Design, New York City just before the pandemic began. When Australia closed its borders, she was forced to study over zoom. During lockdown, like many others she was stuck at home which was when the idea for 'AMELIA DESIGNS' began to blossom.
"I'd always wanted to learn to knit, so I asked my grandmother to teach me," says Amelia on how 'AMELIA DESIGNS' began.
Amelia explains that she's always been against 'fast fashion' because of the environmental impact and the fact that it rips off small designers. What originally started as a hobby for Amelia, quickly became her first fashion business.
"I really loved knitting and started to experiment with cool colours and different designs such as cropped knits, vests and scarves and thought why not start selling them!"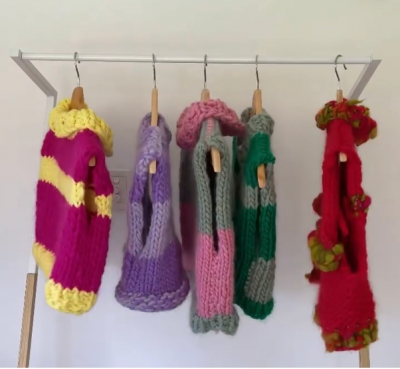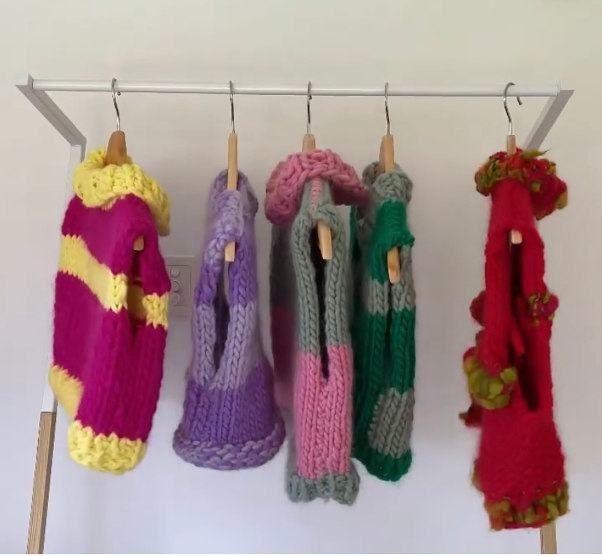 PICTURED: AMELIA'S KNITS
Amelia started selling her knits through her Instagram page, 'AMELIA DESIGNS' and posts regular TikToks documenting her creative process and latest collections.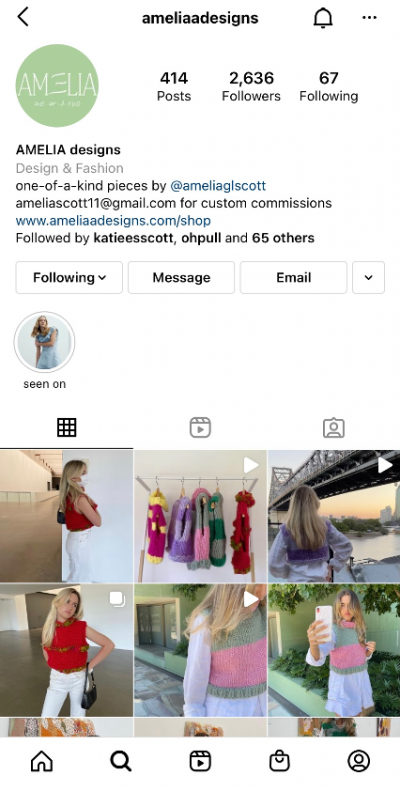 PICTURED: 'AMELIA DESIGNS' Instagram page.
Amelia has found that by promoting her brand on a range of social media platforms (particularly TikTok) has given her the opportunity to connect with international stylists, collaborate with influencers and gain international customers.
Every single one of Amelia's knits is unique, knitted by hand and made with 100% merino wool. The wool she uses is ethically sourced and sustainably dyed.
Amelia believes that whilst she is a small business owner, "you have to be the change you wish to see even if you're a small brand because the fashion industry can't keep operating the way it is."
Amelia explains that "whilst fast fashion may seem like the cheaper option, we are paying the price, maybe not in money but it's costing the environment."
In an effort to support more local Australian businesses, Amelia plans to start using South Australian yarn that she spins herself. "I am always looking for new ways to create a more sustainable and improved product for my customers."
Amelia explains the importance of supporting small businesses especially during the time of the COVID-19 pandemic, "I try to make every effort to support small local businesses because I know how hard it can be and frequently, I find the quality and sustainability aspect of the product to be much better."
Amelia's top tips for sustainable shopping include, "vintage shopping, following influencers that promote slow fashion, not buying from 'fast fashion' companies and buying basics that you can layer and create multiple outfits with."
Amelia thinks that sustainability is the future and that "it is the only option going forward and that we need to do everything we can to help the environment." "Fast fashion needs to end and the only way to make that happen is to stop being consumers of it and switch to slow fashion." Amelia really is changing the world, one knit at a time.
AMELIA DESIGNS can be found on Instagram: @ameliaadesigns
References
Le, N. (2020, July 20). The Impact of Fast Fashion on the Environment. Retrieved from Princeton Student Climate Initiative : https://psci.princeton.edu/tips/2020/7/20/the-impact-of-fast-fashion-on-the-environment
Marquis, C. (2021, May 4). What does 'slow fashion' actually mean? Retrieved from Forbes: https://www.forbes.com/sites/christophermarquis/2021/05/14/what-does-slow-fashion-actually-mean/?sh=4da2210c73b4
Niinimäki, K., Peters, G., Dahlbo, H. et al. The environmental price of fast fashion. Nat Rev Earth Environ 1, 189–200 (2020). https://doi.org/10.1038/s43017-020-0039-9
Scott, A. (2021, October 4). Amelia Scott on AMELIA DESIGNS. (O. Scott, Interviewer)
The Australian Institute of Style. (2020, January 31). What is fast fashion? Everything you need to know. . Retrieved from The Australian Institute of Style: https://australianstyleinstitute.com.au/shopping-habits-say-fast-fashion-ethics-sustainability/