Ditch the cheap trends and check out these online thrift stores for a more sustainable wardrobe
Have you ever spent hours and hours searching through the piles of clothes at a vintage market only to walk away empty handed? As enjoyable as it can be to find that one-of-a-kind designer skirt in your exact size, thrifting can also be a tiring and sometimes disappointing experience. But what if there was a way you could find the best vintage items all from the comfort of your own home? That's right, thrift stores have now joined the online shopping world, making it easier than ever to find your one-off piece that is destined to be yours. 
The best part of thrift shopping is that it's one of the best ways to combat fast fashion and incorporate more sustainability into your wardrobe. According to the UN Environment Programme, the fashion industry is the second-biggest consumer of water and is responsible for 2-8 percent of global carbon emissions. Thrifting provides a great way to keep clothes out of landfills, contribute to charities, lower your carbon footprint, preserve water, reduce chemical pollution, and much more
Although there's no perfect solution to fighting fashion waste, opting for second-hand pieces over new items is a great place to start. So, waste no time in checking out some of the top online thrift stores to help you build a more sustainable wardrobe. 
According to Depop, they aim to reshape the way fashion is made and experienced by promoting and developing culture that's based around creativity, circularity, equity and exchange. A hybrid between Instagram and eBay, the easy-to-use app enables users to both sell and purchase items while also creating a social profile, giving them the ability to follow others that share their same style— it can't get much easier than that. From designer brands to preloved vintage items, Depop is guaranteed to have something for everyone.
Poshmark
Like Depop, Poshmark is a social marketplace for both selling and buying second-hand items. Serving as your one-stop shop for all things fashion, home decor, beauty, and more, Poshmark has everything you could ever want. Although Poshmark only recently launched in Australia, the platform has quickly become a favourite for online thrift shoppers with their specific algorithms aiming to personalise each user's feed to feature the best items based on their style. In doing so, shoppers can attain instant gratification for minimal effort— while simultaneously doing their part to save the environment.
Charity shops
Charity shops have been around forever, remaining the forefront for cheap and accessible second-hand items. Thanks to the demand for an online presence, shoppers are now able to support their favourite charities all from the comfort of their own home. Lifeline, The Salvation Army, and Australian Red Cross are just a few of the many charities that have launched online, some even offering exclusive deals and items for online purchases only. Supporting deserving charities while also shopping sustainably, what more could you want?
Swop Clothing Exchange
Shopping sustainably has never looked trendier than Swop Clothing Exchange. If you're looking for a designer piece or something a little more on the pricey side, then Swop is the place for you. Along with their popular stores in Brisbane, Sydney and Melbourne, Swop can also be found online, making it even easier to find the perfect piece for your next event. Their perfectly curated collection of premium pre-loved clothes upholds their commitment to stocking clothes for all bodies, genders, and walks of life.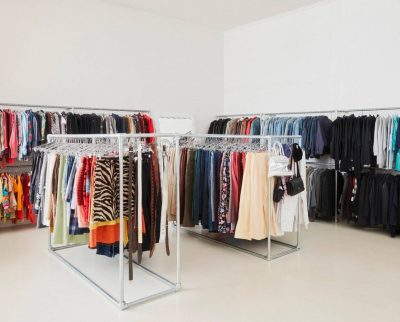 The Closet
The Closet claims to be Australia's largest online fashion thrift store. With a mission to help reduce the devastating impact of non-sustainable fashion consumption, The Closet provides shoppers with quality pre-loved fashion whilst saving them up to 90% of what they would have paid for the same items at a shopping mall. Another perk of the online thrift store is their money back guarantee policy as well as free shipping over $30. So, if you're looking to help save the planet while also saving money, then The Closet is the place for you. 
However, it is important to remember that what may start off as something with good intentions, can quickly result in an exacerbation of the problem. As thrifting was designed to slow down the lifespan of clothes, abusing its function, for example, donating a bunch of your clothes for the sole purpose of buying even more, will only do more harm than good in the end.
"We can swap out our entire wardrobe by dumping what we don't want at a second-hand store with the hopes that it'll be put to good use. Instead of buying less, we trick ourselves into thinking we can shop our way out of the problem by donating again and again," says Anna Fitzpatrick, a Ph.D. student and project coordinator at the London College of Fashion's Centre for Sustainable Fashion.
So, by ensuring that each purchase, whether at a thrift store or not, is made with the right intentions, is the first step in creating positive changes to the way we choose to shop and the future of sustainable fashion.
Journalism and PR Student