Easton Pearson gives Gen Y a slice of their fashion pie
Easton Pearson is the latest design house to open up a pop up shop for their diffusion line EP by Easton Pearson in Brisbane's Fortitude Valley.
The diffusion line was set up in 2009 but the precedent for what a diffusion line should look like hadn't evolved as much by then as it has now, and so it didn't have enough of a separate identity to Easton Pearson explained Lydia Pearson, one half of the design duo.
"This is the first season where it has the identity that we really really hoped that it would have, where it would feel young and fresh and light hearted and appealing to a much younger demographic."
Considering that more than 5.5 million Australians fall into the Gen Y category, or approximately 25 per cent of the population, this could prove to be a sound investment for more designers like Brisbane's Easton Pearson, whose customer has grown up with the brand and now have daughters of their own that want something similar to mum but more suited to their lifestyle.
"[The diffusion line] is much less embellished than Easton Pearson and that's partly because of the way it does appeal to a younger customer but also it's designed independently to the Easton Person line," said Pearson. "So it really does have an individual spirit even though the themes are set at the same time. So we try more and more to give it a separate route to travel."
[media-credit id=61 align="aligncenter" width="474″]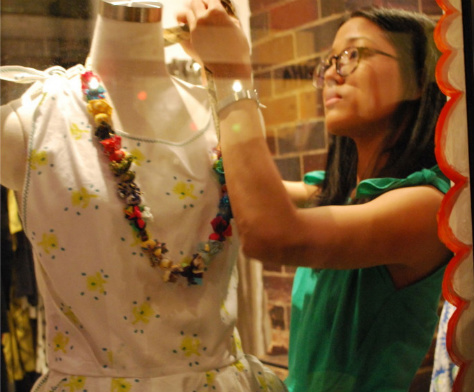 [/media-credit]
A shop assistant fixes a mannequin at the EP by Easton Pearson store launch.
Other Australian designers that have jumped on the lucrative diffusion bandwagon include Collette by Collette Dinnigan, Dion Lee for major retailer Cue, Arnsdorf for Sportsgirl and even Alex Perry who has in the past expressed concern about producing an inexpensive collection with the same design standards of his mainline.

Dion Lee told smh.com that his venture with the diffusion line made his main collection much stronger and focused as a whole: "'There is so much development that goes into my mainline collections that it made sense to have something simpler and more pared back."

Other international diffusion lines such as Marc by Marc Jacobs, Theyskens Theory and See by Chloe have helped set the standard for other designers to live up to in terms of commercial ability, quality and affordability. Three main considerations when targeting a younger audience, which many of the secondary lines do often described as a younger sister.

This is especially relevant when bearing in mind that Generation Y will by 2015 become Australia's most significant retail spending syndicate according to research by Jones Lang LaSalle in 2003.

Easton says that this was one of the main considerations for the label: "There were so many girls who would love to wear our clothes but couldn't afford them and we really felt that there was room in the collection for things that were of a slightly younger spirit."

EP by Easton Pearson can be found on Winn Lane , Fortitude Valley just across from the popular Flamingo café .

Easton Pearson is the latest design house to open up a pop up shop for their diffusion line EP by Easton Pearson in Brisbane's Fortitude Valley, and look set to take on Generation Y one colourful playsuit at a time.