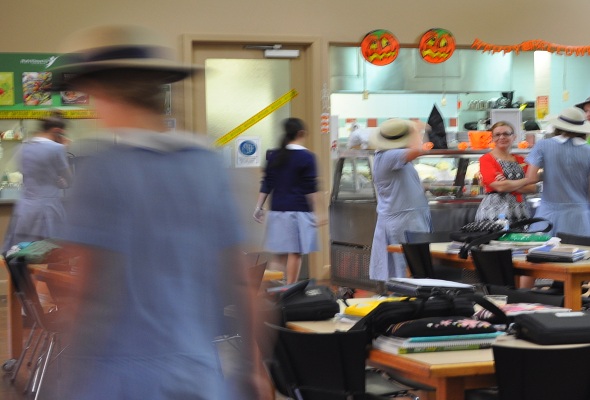 Education cuts put knife to reform
Spotlight on how the state is administering a $620m restructure to move Year 7 to the first year of high school.
The recent announcement that Queensland has slashed $4m from education puts the spotlight back on how the state is administering a $620m restructure to move Year 7 to the first year of high school.
The latest budget estimates hearing reveal that funding from community education programs has been cut and that 50 teaching jobs have been cut across Queensland.
John-Paul Langbroek, the Education Minister told the ABC  that the cuts were necessary for the state government to focus on front line services, such as putting more teachers in classrooms.
More teachers will assist current overcrowded classrooms, but the government are also anticipating more teachers in classrooms in 2015, when  year 7 moves to high school.
The Queensland Government believes that the resources supplied by high schools will be of greater benefit to Year 7 students – who will now get an extra year of specialised learning.
Queensland education has long been under discussion as a low-achieving state compared to interstate counterparts, evidence by Queensland performing below average across the board on the Year 7 NAPLAN tests.
While the NAPLAN results are concerning for Queenslanders, Julie Brown Queensland Teacher's Union Vice President believes the concern is with Queensland having the lowest kindergarten attendance rates in Australia.
She believes that moving Year 7 into high school is a step in the right direction, but as kindergarten is not free in Queensland "we will never catch up".
School teachers are more divided on the issue, with some excited about the new changes, and others concerned about the security of their job, and the well-being of their students.
Shalom College principal asserts the move is "essential for students travelling interstate" while special education teacher Christine Robin remains adamant that her students are simply not ready to be interacting with older students, and that every year spent in primary school greatly benefits them.
While some principals dismiss financial concerns for their school, boarding schools will be greatly impacted as they they canvass housing options to accommodate more students.
With almost two years to go until the state-wide move takes place, and the potential for more budget cuts and changes, the full impact of the Queensland Government's decision will not be known for a number of years.